Last updated on August 30th, 2022 at 01:35 am
'Hey Jude' by The Beatles is one of the iconic classics that is fun to play on guitar and if you are looking for its chords then you are at the right place.
Below you will find its chords, strumming pattern, and everything you need to know to learn this song from start to end.
---
Hey Jude Chords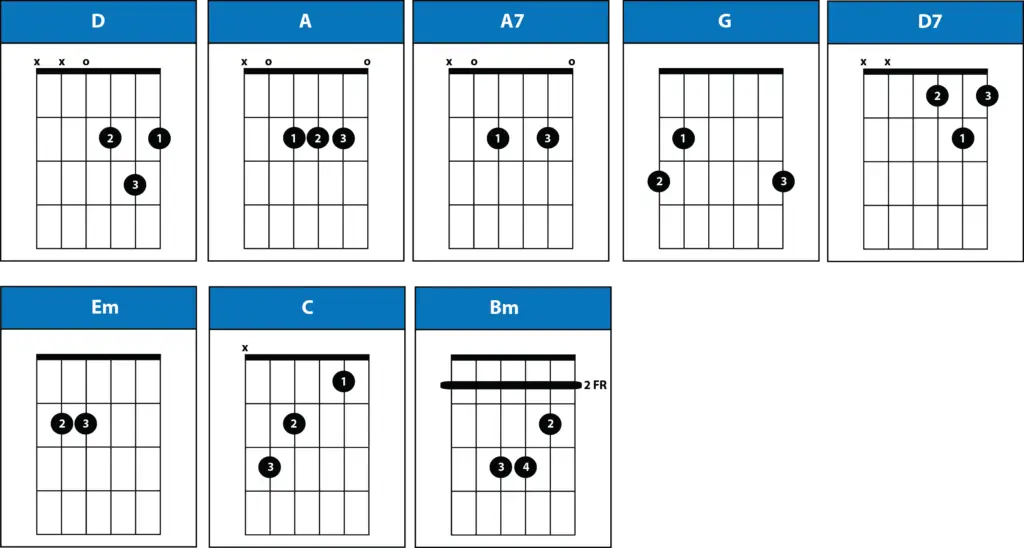 As you can see the chords for Hey Jude by The Beatles are D, A, A7, G, D7, Em, C, and Bm.
Except for the B minor chord, the rest all are open chords and are pretty easy to play.
Note: This is a Capo version, so to play along make sure to use a capo on the 3rd fret.
Hey Jude Strumming Pattern

The strumming pattern is pretty easy for this song which goes as D-D-D-DU. Do refer to the video mentioned above to get a visual representation of this pattern.
---
Song - Hey Jude
Artist - The Beatles
Chords - D, A, A7, G, D7, Em, C, and Bm
Key - D
Tuning - Standard
Capo - 3rd Fret
---
Hey Jude Lyrics with Chords
[Verse 1]
Hey 

[D]

Jude, don't make it 

[A]

bad
Take a 

[A7]

sad song and make it 

[D]

better
Re

[G]

member to let her into your

 [D]

heart
Then you can sta

[A]

rt to make it 

[D]

better
[Verse 2]
Hey

 [D]

Jude, don't be a

[A]

fraid
You were

 [A7]

made to go out and 

[D]

get her
The

 [G]

minute you let her under your 

[D]

skin
Then you be

[A]

gin to make it 

[D]

better
[Chorus]
And

 [D7]

anytime you feel the 

[G]

pain, hey 

[Bm]

Jude, re

[Em]

frain
Don't carry the 

[A7]

world upon your 

[D]

shoulders


[D7]

For well you know that it's a

 [G]

fool who 

[Bm]

plays it 

[Em]

cool
By making his 

[A7]

world a little 

[D]

colder


[D7]

Na na an 

[A7]

na na na na na na na
[Verse 3]
Hey 

[D]

Jude, don't let me 

[A]

down
You have 

[A7]

found her, now go and 

[D]

get her
Re

[G]

member to let her into your

 [D]

heart
Then you can sta

[A]

rt  to make it

 [D]

better
[Chorus]


[D7]

So let it out and let it 

[G]

in, hey 

[Bm]

Jude,
Be

[Em]

gin you're waiting for 

[A7]

someone to per

[D]

form with


[D7]

And don't you know that it's just 

[G]

you, hey 

[Bm]

Jude, you'll 

[Em]

do
The movement you 

[A7]

need is on your 

[D]

shoulder


[D7]

Na an 

[A7]

na na na na na na na yeah
[Verse 4]
Hey

 [D]

Jude, don't make it 

[A]

bad
Take a 

[A7]

sad song and make it 

[D]

better
Re

[G]

member to let her under your 

[D]

skin
Then you'll be

[A]

gin to make it


[D]

Better better better better better better, oh
[Outro]


[D]

Naa na an 

[C]

na na na, 

[G]

na, na na na na, hey

 [D]

Jude (Repeat)