While the sound of the '90s was dominated by the grunge movement, alternative rock would begin coming into its own as a genre. People were fed up with the glamorous sound of hard rock, and thus a more introspective style of rock began to form. Not based around mind-melting riffs, but instead evoking moods and ideas.
Today we've compiled the best of them, so without further ado, here are over 50 best alternative rock songs of the 90s!
Top Best Alternative Rock Songs of the 90s
Smells Like Teen Spirit by Nirvana
Perhaps the most iconic alt-rock song of all time, "Smells Like Teen Spirit" by Nirvana was a major hit in both the alternative and mainstream music circles.
Leaning towards a more gritty sound paired with rebellious lyrics, "Smells Like Teen Spirit" is a song all about nothing at all. Instead, it was written to be a rallying point, capturing the anger of the 90s and bottling it up for the distressed people of the world to stand by.
Creep by Radiohead
Modern music legends Radiohead would find their start in 1993 with their debut album, Pablo Honey. Despite being a mostly straightforward rock record, they'd occasionally show their more experimental side on it.
Nowhere was this more obvious than "Creep," a sad, slow, and cloying tune about self-deprecation that became a huge hit and kickstart one of the greatest bands of all time.
Loser by Beck
"Loser" by Beck is a song people like attributing meaning to when the reality is much simpler. Beck would come up with the backing track, and then improvise raps over it.
The result was so silly that he'd call himself a loser in the chorus. Despite this, the guitar riff and drum loop for the song would be so iconic that they'd stick around far longer than the joke, resulting in the song's reputation today. 
Under the Bridge by Red Hot Chili Peppers
Red Hot Chili Peppers aren't known for their lyrics, but "Under the Bridge" is an exception. Slowing things down for a more smooth sound, this song captures feelings of depression and loneliness. It depicts this through the imagery of driving under a bridge alone, overwhelmed by loneliness, accompanied only by the wind.
Losing My Religion by R.E.M.
"Losing My Religion" has been misinterpreted many times on account of its title, but don't get it twisted. R.E.M have gone on record saying this song is about love, that being unrequited love.
It's a sad song, where losing your religion is meant to represent being at the end of one's rope. Despite its cryptic writing, it successfully captures the meaningless pursuit and pain of failure.
Basket Case by Green Day
Where Nirvana became the voice of generational anger towards the system, Green Day became the voice of discontent towards the lack of care for mental health.
"Basket Case," for example, is a song about being unable to function because of stress and anxiety, a heightened feeling for many during the 90s. Paired with blaring alt-rock goodness, you get a song that's as fun as it is impactful.
Wonderwall by Oasis
Fans of alt-rock need no introduction to Oasis. Often called the modern-day Beatles (much to the chagrin of the band), Oasis were superstars in the English rock scene. Every single they'd put would be a hit, but "Wonderwall" was a smash unlike any other. Combining a catchy sound with sweet, sentimental lyrics, it would quickly grow into an endearing classic.
Zombie by The Cranberries
"Zombie" by The Cranberries brandishes a smooth and tense alt-rock sound, using it to commentate about ethno-poliitical conflicts in Ireland.
It's a topic far too deep to explain in this listing, but what anyone can appreciate is the sheer anguish and pain that comes across through the singer's impassioned vocals. Intense and clever, it's a fantastic example of alt-rock excellence.
Black Hole Sun by Soundgarden
"Black Hole Sun" by Soundgarden is a song that's not about anything. Most of the lyrics are wordplay, to immerse you into the dream world that the song is tries to paint.
Paired with the droning instrumentals and smooth sound mixing, it successfully transports the listener into a surreal head space, earning it a spot on this list.
Everlong by Foo Fighters
Foo Fighters have a long catalog of iconic songs, but "Everlong" is easily one of the band's best works. Like many 90's alt-rock hits, it's cryptic and artistic, prompting the listener to draw their own meaning from the song.
Foo Fighters does an excellent job capturing a smooth vibe, packing the tune with dreamy guitar riffs and aggressive drumming that crafts the picture of a beautiful moment perfectly.
Heart-Shaped Box by Nirvana
Cryptic lyrics and bizarre sentiments would make up Nirvana's next great hit, "Heart-Shaped Box." Leaning towards their more brooding side, Nirvana would once again break all expectations with this single.
Despite that, to this day, many still debate what the lyrics actually mean. Despite this, it still sounds great and lives up to the hype even now.
Last Goodbye by Jeff Buckley
A good breakup song is timeless, and "Last Goodbye" by Jeff Buckley just happens to be one of the all time classics. It's straightforward in its writing and idea, but the execution is perfect. Equal parts smooth and painful, Jeff looks hard for any reason to keep the relationship going, but eventually gives in. A phenomenal song, one that perseveres to this day.
Closer by Nine Inch Nails
A running theme in alt-rock is introspection, and unfortunately, that tends to come with an unhealthy amount of self-loathing. "Closer" by Nine Inch Nails is an example of this, where the lead singer hates their own existence to a painful degree.
They find an escape in mindless s*x, forcing themselves into a torturous cycle. With a more experimental sound, it makes for a surprisingly enjoyable listen.
Come as You Are by Nirvana
Kurt Cobain of Nirvana was naturally distrustful of people, one of the many feelings that would lead to the fall of the band. "Come as You Are" was an early sign of this, mocking friendships with a non-judgemental but sarcastic facade.
Many different interpretations exist of this song as typical with Nirvana, but this is the most common. Regardless, it's still a fantastic example of alt-rock done right.
Song 2 by Blur
"Song 2" by Blur is a fascinating song because it's actually a parody of American radio rock culture. It's meant to spoof the types of catchy songs you'd hear on American radio, all while indulging in said ideas. Surprisingly, it became a hit in America, adding an ironic twist to what's a pretty simple song. 
90s Alt Rock Love Songs
90s alt-rock love songs reveal some unexpected takes on the concept of love. These songs often explore themes that are deeper than simply being in or out of a romantic relationship. These tracks dive into ideas such as heartache and self-love while questioning societal norms around what it means to be in love with another person or oneself.
Heart-Shaped Box – Nirvana
Fade Into You – Mazzy Star
Last Goodbye – Jeff Buckley
Glory Box – Portishead
There She Goes – The La's
The Book of Love – The Magnetic Fields
Nightswimming – R.E.M.
Laid – James
Into My Arms – Nick Cave and the Bad Seeds
Disco 2000 – Pulp
90s Alt Rock Songs by Females
90s alt-rock produced some of the most beloved songs, including those by female artists who have been unjustly left out of conversations about 90s alt-rock. Although not given recognition equal to that of their male peers in 90s alt-rock, these talented female songwriters and performers created tracks that remain timeless masterpieces. It is time that we recognize the immense talent behind them and give credit where it's due. Here are some of our favorite female-led 90s alt-rock songs.
Violet – Hole
You Oughta Know – Alanis Morissette
Rebel Girl – Bikini Kill
Seether – Veruca Salt
Dreams – The Cranberries
What's Up? – 4 Non Blondes
Doll Parts – Hole
Celebrity Skin – Hole
Who Will Save Your Soul – Jewel
Only Happy When It Rains – Garbage
90s Alt Rock Wedding Songs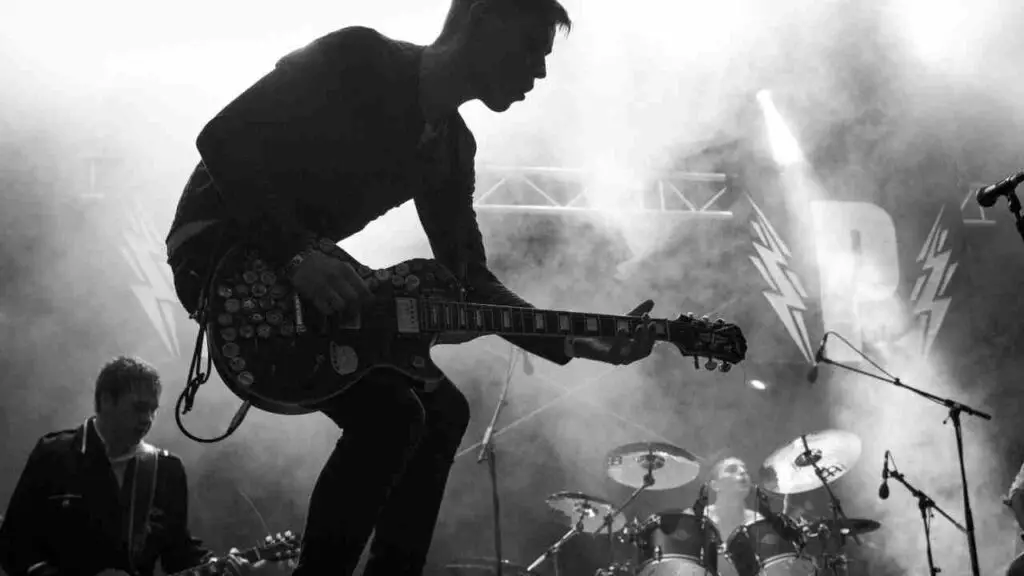 90s alt-rock wedding songs are a great way to change up the traditional wedding atmosphere with an edgy, modern flair. From the 90s hit ballads that express true love and devotion to 90s classics that provide a level of finesse you can shake your hips to, couples can select 90s alt-rock favorites to transport them back in time while still providing an enjoyable experience for their big day.
Although alt-rock wedding songs tackle more serious themes than today's popular choices, these soundscapes bring more emotion and excitement than standard wedding songs. That said, check out some of the best 90s alt-rock wedding songs to create the perfect soundtrack for your nuptials.
Today – The Smashing Pumpkins
Everlong – Foo Fighters
Drive – Incubus
I'll Be – Edwin McCain
Good Riddance – Green Day
90s Alt Rock Karaoke Songs
90s alt rock is seeing a resurgence in modern culture and that includes karaoke nights. Thanks to the accessibility of streaming services and the classics from the era, singing 90s alt-rock songs is easier than ever. 
The best part? 90s alt-rock karaoke songs are a guaranteed crowd-pleaser, no matter who you are or where you're from. So if you haven't yet been to one,  we suggest you try out some of these hits and join in on the fun! Here are our top picks for 90s alt-rock karaoke songs.
Black Hole Sun – Soundgarden
Basket Case – Green Day
Boulevard of Broken Dreams – Green Day
Monkey Wrench – Foo Fighters
Interstate Love Song – Stone Temple Pilots
Black – Pearl Jam
Red Hot Chili Peppers – Under the Bridge
More Than Words – Extreme
Losing My Religion – REM
Hand In My Pocket – Alanis Morissette
Forgotten Alt Rock Songs of the 90s
While many famous alt-rock songs from the era remain timeless classics, there are just as many gems that have gone overlooked by casual fans. Despite not achieving the same level of notoriety as their peers, these underrated songs feature some of the genre's best songwriting, guitar work, and production and are equal contenders for our attention. 
Here, we've compiled some of the best forgotten alt-rock songs from the 90s so that more people can experience these treasures.
Cellophane – Knapsack
Handslide – Pushmonkey
Wait – Huffamoose
Hand In Your Head – Money Mark
Bombshell – Papa Vegas
Big Chair -Reacharound
Body Be – Johnny Q. Public
Little Pink Stars – Radish
The Rich, Dark, Sultry Red of Hate – Lifter
I Want It All – Eve's Plum
Wrapping Up
As you saw the 90s was an era of transformation in the landscape of alt-rock music. This decade had some of the genre's most influential and beloved tracks, both from male and female artists alike.
So no matter what type of alt-rock you're looking for – wedding songs, karaoke jams, or forgotten classics – you can find something for everyone in the music of this era. If you haven't already, take some time to explore these classic works and let them transport you back in time. You won't regret it!  ­­­­­­­­­­  
Happy listening!