Every top-selling performer seems to have that one breakout song that propels them to the top. For Kelly Clarkson, that would be 'Breakaway'. The winner of the first American Idol has done well for herself and has some great songs in her collection.
Fortunately, the chords for Breakaway are simple enough for beginners to play. This is one of those acoustic guitar tunes that can be a lot of fun to strum.
The studio version of this song is in the key of C but Kelly Clarkson likes to bring it up a full step to D major in her live shows. This is probably because her voice is matured from getting voice lessons.
Most of the videos I saw had the guitarists putting a capo on the second fret and playing the same chords as you will see below. But you can also play this without the capo. This song may look simple but you still need to get the timing of the chords and strumming. Try to play it slower until you play it without thinking about the chords. So, let's take a look at the chords and strumming pattern for Breakaway.
Breakaway Chords – Am-G-C-F-D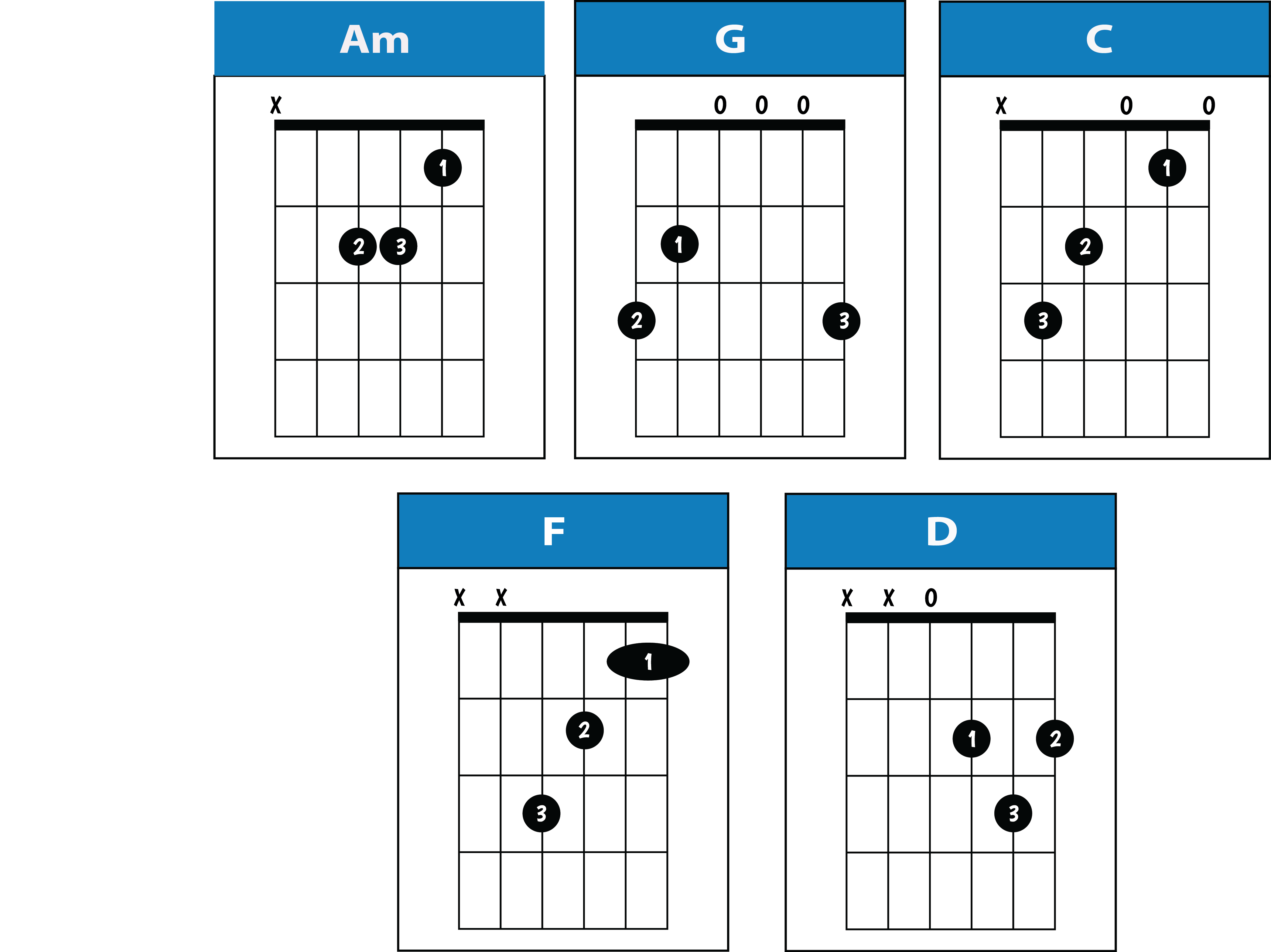 Breakaway Strumming Pattern – D DU DU
Song – Breakaway
Artist – Kelly Clarkson
Capo – 2nd Fret
Tuning – Standard
Key – C
[Intro]
[Am]Da-da-da, un, [G]da-da,
[C]Da-da-da, un, [F]da-da
[Am]Da-da-da, un,
[G]da-da-da[F]da Repeat x2
[Verse]
[Am]Grew up in a [G]small town
[C]And when the rain would [F]fall down
[Am]I'd just [G]stare out my [F]window
[Am]Dreaming of what [G]could be
[C]And if I'd end up [F]happy
[Am] I [G]would [F]pray
[Am]Trying hard to [G]reach out
[C]But when I tried to [F]speak out
[F]Felt like [G]no one could [F]hear me
[Am]Wanted to [G]belong here
[C]But something felt so [F]wrong here
[Am]So [G]I'd [F]pray
[Am]I could [G]break away[D] [F] [G]
[Chorus]
[C]I'll spread my wings and I'll [G]learn how to fly
I'll do [Am]what it takes 'til [F]I touch the sky
[C]Make a wish, take a chance, [G]make a change
And [Am]break [G]away[F]
[C]Out of the darkness and [G]into the sun
But [Am]I won't forget all the [F]ones that I love
I'll [C]take a risk, take a chance, [G]make a change
And [Am]break [G]away[F]
[Instrumental]
[Am]Da-da-da, un, [G]da-da
[C]Da-da-da, un, [F]da-da
[Am]Da-da-da, un, [G]da-da-da[F]da
[Verse]
[Am]Wanna feel the [G]warm breeze
[C]Sleep under a [F]palm tree
[Am]Feel the [G]rush of the [F]ocean
[Am]Get onboard a [G]fast train
[C]Travel on a [F]jet plane, [Am]far [G]away[F]
And [Am]break [G]away[D] [F] [G]
[Chorus]
[C]I'll spread my wings and I'll [G]learn how to fly
I'll [Am]do what it takes til' [F]I touch the sky
[C]Make a wish, take a chance, [G]make a change
And [Am]break [G]away[F]
[C]Out of the darkness and [G]into the sun
[Am]But I won't forget all the [F]ones that I love
I'll [C]take a risk, take a chance,
[G]make a change, and [Am]break [G]away[F]
[Bridge]
[G]Buildings with a hundred floors
[C]Swinging around [F]revolving doors
[G]Maybe I don't know where
they'll [C]take [F]me, but
[G]Gotta keep moving on, [C]moving [F]on
Fly [D]away, break [F]away [G]
[Chorus]
[C]I'll spread my wings
And I'll [G]learn how to fly
[Am]Though it's not easy to [F]tell you goodbye
[C]Take a risk, take a chance,
[G]make a change and [Am]break [G]away [F]
[C]Out of the darkness and [G]into the sun
[Am]But I won't forget the [F]place I come from
I gotta [C]take a risk, take a chance,
[G]make a change and [Am]break [G]away[F]
[Am]Break [G]away[F]
[Am]Break [G]away[F]