If you're a beginner guitar player, you may be frustrated with how hard it is to find songs that are catchy and easy to play. In an effort to help, I've found 15 acoustic guitar songs for beginners that will make your practice sessions much more fun.
These songs do not require any complex guitar chords or fretboard knowledge. However, you must know the basic guitar chords.
To make your work easier, I have linked each song with its tabs, chords, and video lesson so that you can easily refer to it without searching for it.
So, here are the songs.
List of Easy Acoustic Guitar Songs
1. "Hurt" by Johnny Cash
Released in 2002, 'Hurt' is a slow-paced, melodious, and acoustic guitar-driven song by Johnny Cash, that sounds simple but is quite powerful.
This song was originally written by American Industrial Rock band, Nine Inch Nails for their 1994 album The Downward Spiral. Later in 2002, Johhny Cash covered this song which became a huge commercial success to which Reznor praised Cash by saying "that song isn't mine anymore."
It is a great pick for beginners because it has fewer chords, an easy strumming pattern, and does not require any advanced guitar techniques.
The most important part of the song is its intro which has a chord progression that goes as Am, C, and D.
The good news is, for most parts of this song, this intro repeats over and over. It is only in the chorus section, the chord progression changes to Am, F, C, and G.
Meaning, there are very few finger movements involved in this song and this is one more reason that makes it one of the best guitar songs for beginners.
Here is an awesome video lesson by Marty Music that you can refer to learn this song step by step.
2. Turn The Page by Bob Seger
"Turn The Page" is a classic by Bob Seger from his sixth studio album "Back in 72". I highly recommend you add this song to your learning list.
Much like "Hurt" this is also a slow-paced song that revolves around four open chords: Em, D, A, and C. The good thing about this track is, it consists of a cool picking pattern that you can work upon to improve your skill such as 'alternate picks between strings'.
Besides this, the chord progression: Em, D, C, and Em, repeats throughout the song except for the chorus where there is a slight change.
3. Someone Like You by Adele
Adele is one of the queens of writing songs about heartbreak and 'Someone Like You' is one of those songs with a similar theme but different sound.
Originally this song is recorded with only a piano but you can easily play it on guitar with just four open chords: G-D-Em-C and an upbeat strumming pattern that goes as D-DU-UDU-UDU-UDU.
Moreover, the song is sung with a mid-paced tempo that actually makes it a ideal pick beginners.
4. Fix You by Coldplay
"Fix You" is a melancholic, powerful, and guitar-driven song that has only 6 open chords which are: C – Em – Am – G – F – C/E and a couple of strumming patterns that sound awesome. This is also one of the best songs Coldplay has ever produced.
This song also features an effortless guitar solo that adds a lot to the song and above all, it is fun to play it on an electric guitar with little distortion and a delay effect.
Here is the tabs for the guitar solo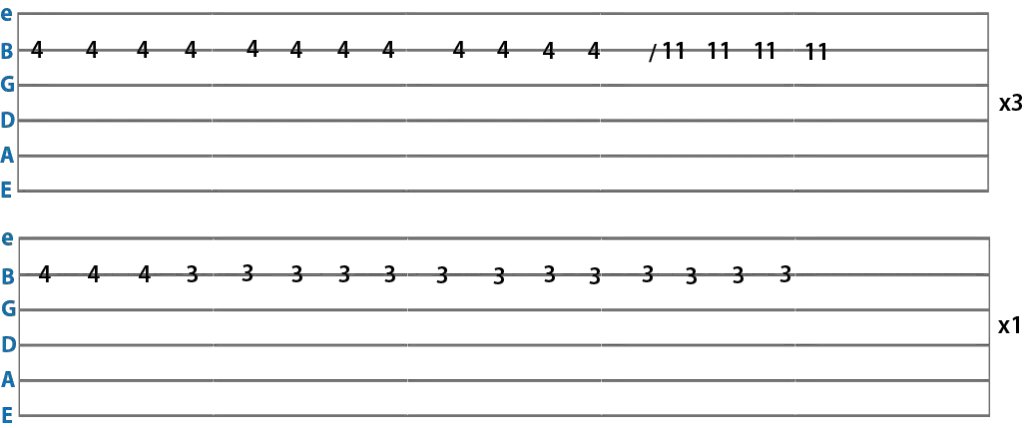 As you can see in the tab above, the whole solo is played on just the second string and does not require any techniques except a single slide.
To play it correctly you have to pick the fourth fret of the second string 12 times then slide to the eleventh fret and play it four times. This is the first section of the solo and it repeats three times as you can see above.
Similarly in the second part, you have to pick the fourth fret three times and the 3rd fret thirteen times. Now, if you play it all together it will sound exactly like it is in the song.
Here is an great video lesson by Guitar Zero to Hero that you can refer to learn all the parts of this song step by step.
5. Let it Be by The Beatles
I don't think any other band has done a better job than the Beatles in terms of writing easy guitar songs for beginners. "Let it Be" is one of those songs as it deals with the most popular open chords on the guitar: C, F, Am, and G.
This song also features a short guitar solo that you can follow along, it is in the A minor pentatonic scale.
If you like to sing while strumming the chords, then this is an excellent song to showcase your voice as well as your guitar playing.
6. Jamming by Bob Marley
Reggae is a type of music that puts most people at ease and in good mood. Learning this iconic song by Bob Marley can be a good introduction to reggae for beginner guitarists.
The only difference between reggae and other genres is the rhythm, which may take some to get used but with some practice, you should be able to easily jam with a reggae rhythm.
You may find the chords of this song a little bit difficult than the previous songs we have mentioned, however, it is a great start for beginner guitarists to practice a wide variety of chords while jamming to a catchy tune.
7. Hey There Delilah by Plain White T's
This was a number one hit song in 2007 that hit a chord with a lot of fans and still to this day, holds a special place in the hearts of many.
This song requires a little bit of fingerpicking and does not require a pick. Speaking of the chords, it has only four: D, G, A, and Bm that repeats throughout the song.
Aside from that, this is a great song for beginner guitarists who are new to fingerpicking because they can be hugely benefitted by working upon the fingerpicking pattern found in the song.
To play the fingerpicking pattern correctly, you are required to use your thumb to hit the bass notes first, and your middle and ring finger ( or whatever fingers work ) to pluck the other strings together to fill out the notes.
Note: This is one of those songs that will help you find your own style of fingerpicking so, do not be afraid to practice the patterns slowly at first, until you get a true feel of the speed.
Lesson ( Fingerpicking Version )
8. Let Her Go by Passenger
This is another easy song that makes a great addition to this list of popular guitar songs because of its simple song structure and easy chord progression.
Released in 2012, "Let Her Go" is the second single from Passenger's fourth album studio album, "All The Little Lights".Regardless of how many times you listen to this song, it just instantly puts you in a good mood.
In total the song has only five chords: Fm7-C-G-Am-Em and to exactly sound and get the feel like the original song, you have to use a capo on the 7th fret. It also features a tempting guitar intro that you can either use your fingers or pick to play it.
9. Tears in Heaven by Eric Clapton
This is one of the greatest songs by one of the best guitarists, Eric Clapton. This song is closely related to his personal life as it is about his son who tragically died from a fall.
The main feature of this song is the melody at the beginning, which requires fingerpicking and is essential for beginner guitarists to learn it.
Here is the tab for the Melody

As you can see above, the melody might look difficult to play but trust me it is very easy. You just have to remember all the notes and their finger position and practice it slowly until you feel comfortable playing it at the original speed. Below I have mentioned the best video lesson of this song that you can watch to learn this melody and the rest of the parts.
Note: Remember to always use your thumb for the bass notes and other four fingers for the treble notes when playing finger-style.
10. Polly by Nirvana
If you like acoustic rock and Nirvana then this is the song for you. "Polly," like many other Nirvana songs, uses a fairly standard chord progression and is thus essential for any guitarist's playing collection.
There are mainly two parts to this song, the intro riff ( which is also used for the verse ) and the chorus riff.
The intro and the verse riff have the chord progression that goes as Em-G-D-C and a strumming pattern that goes: D-XU-DUXU-DUXU-UDU.
For the chorus, the chord progression goes as D-C-G-Bb and the strumming pattern goes as DUXU-UDU-DUXU-UDU.
Here 'X' represents string muting, 'D' represents down strums and 'U' represents up strums.
11. Knocking On Heaven's Door by Bob Dylan
One more awesome guitar song by Bob Dylan that you may want to check out. This song is very relaxing to listen to and is the perfect choice if you are looking for songs with four chords.
Released in 1973, Dylan wrote this song for the American film, "Pat Garrett and Billy the Kid" which later became one of the most popular tracks by Bob Dylan.
This song also has a very popular cover version by Gun and Roses that you may also want to check out. Both the original and the cover version uses the same four chords: G-D-Am-C. Besides that, it is one of those crowd-pleaser songs that you can play anywhere.
12. Good Riddance by Green Day
Green Day is known for their unique sound and their punk-rock attitude. They have had many hits including American Idiot and Boulevard of Broken Dreams.
Good Riddance is a different kind of song by them, basically a good-bye song with an acoustic rock touch to it.
It is in the key of G major and has only five open chords: G-Cadd9-D-C-Em. The strumming pattern of this song requires you to do some picking which may trick you a little bit, but except that it is a must-learn song for every beginner guitarists out there.
13. All of Me by John legend
All of Me is one of the most successful songs by John Legend from his fourth studio album "Love In The Future". Originally it is recorded with a piano but also sounds great on an acoustic guitar.
This is a great song for guitarists who don't like barre chords and complex strumming patterns. All you need to play this song is just five open chords:  Em, C, G, D and Am with a capo on the first fret.
If you don't like to use a capo then check out these 12 No Capo Guitar Songs.
14. Hallelujah by Jeff Buckley
Hallelujah is one more great song that you can consider adding to your repertoire. This song is originally written by Leonard Cohen and is covered by many prominent artists like John Cale and Jeff Buckley.
However, for this list, we have chosen Jeff Buckley's version because it is the easiest one to play on guitar.
If you take a look at the lyrics, you will notice that the structure of this song varies a little from modern-day songs since it has five verses and five chorus sections.
But, the good news here is the chord progression stays the same for all the similar sections ( meaning one chord progression for all the verses and one progression for all the chorus sections ).
For the verse, the chords used are: C – Am – F – G – E7 and for the chorus the, chords are F – Am – C – G.
15. Free Fallin' by Tom Petty
Co-written by Tom Petty and Jeff Lynne, Free Falling' is the opening track from the album "Full Moon Fever". This song is very easy to play on guitar compared to all the songs mentioned above because it requires just three chords to play. The chords are D, G, and A with a capo on the third fret.
Note: You can also play this song without the capo but it requires you play some barre chords.
There is also a popular cover version of this song by John Mayer that you can work upon. This version uses the fingerpicking technique that you may find a little bit tricky, but it is worth learning.
Wrapping Up
I hope that you liked these 15 easy and catchy acoustic guitar songs as much as I enjoyed writing them for you. I will be updating this page with more songs in the future so do not forget to come back and give it a check.