The 70s was a decade filled with incredible music. Many different genres and styles emerged and flourished during this time.
Male singers were at the forefront of this musical renaissance, with many of them becoming household names. Be it pop, rock, soul, or disco, these singers had a profound impact on the music industry.
And while there are too many great male singers from the 70s to list them all, we've compiled a list of some of the best ones. So without further ado, here are the 100+ best male singers of the 70s.
---
Top Best Male Singers of the 70s
There are many great male singers out there but the ones mentioned below are considered to be the best of the best. These are the singers that defined an era.
Note: This list is based on album sales, impact on the music industry, and overall vocal ability.
Elton John
Bob Dylan
David Bowie
Freddie Mercury
Marvin Gaye
Mick Jagger
Bruce Springsteen
Michael Jackson
Robert Plant
Bob Marley
Black Male Singers of the 70s
The industry owes big time to these black male singers of the 70s mentioned below. They have helped shape R&B, Funk, and Soul into what it is today.
This didn't come easy though as they had to fight for their place in a very white-dominated industry. And while some of them may not have gotten the credit they deserved at the time, their influence can still be felt today. And we think it's only right to give them the credit they are due.
Here is a list of some of the best black male singers of the 70s.
Marvin Gaye
Michael Jackson
Ray Charles
James Brown
Stevie Wonder
Lionel Richie
Smokey Robinson
Prince
Al Green
Curtis Mayfield
70s Male Country Singers
Since the genre's inception, country music has always been dominated by male singers. And the 70s was no different as some of the biggest names in country music came out of that decade. From legends like Johnny Cash to up-and-comers like Willie Nelson, the 70s saw it all.
And as there are too many great male country singers of the 70s to list them all, we've narrowed it down to our top 10 favorites. If you're a fan of country music, make sure to check them out.
Johnny Cash
Merle Haggard
George Jones
John Denver
Kenny Rogers
Charley Pride
Waylon Jennings
Glen Campbell
Conway Twitty
Willie Nelson
70s R&B Male Singers
Imagine a world without R&B. No Marvin Gaye, no Stevie Wonder, no Michael Jackson. It's hard to imagine, right? Well, that's exactly what the world was like before these singers came along and changed the face of music forever.
R&B is a genre that is all about feeling. The best R&B songs are the ones that make you feel something, whether it's happiness, sadness, love, or anger. And these singers mentioned below are the masters of creating those feelings.
While each singer had their own unique style, they all had one thing in common: they knew how to connect with their fans on a deep level. And that's what made them so special. Not to mention their songs still hold up today, which is a testament to their talent.
Luther Vandross
Little Richard
Marvin Gaye
Michael Jackson
Jeffrey Osborne
Isaac Hayes
Stevie Wonder
Teddy Pendergrass
Donny Hathaway
Ronald Isley
Male Duo Singers of the 70s
Gone were the days of the solo artist as the 70s saw the rise of the male duo. These were two singers that joined forces to create some of the most iconic music of the decade.
Among the most popular and successful male duos of the decade were Hall & Oates, The Captain and Tennille, and Peaches and Herb.
Hall & Oates had a smooth soul sound that appealed to both adults and teenagers. Their biggest hits were "She's Gone," "I Can't Go for That (No Can Do)," and "Out of Touch."
The Captain and Tennille were best known for their love ballads, such as "Love Will Keep Us Together" and "Do That to Me One More Time."
Peaches and Herb had a more disco-inspired sound, with hits like "Reunited" and "I Wanna Be With You.
Regardless of their musical style, all of these duos had massive success and one thing in common: they always had great chemistry.
Hall & Oates
The Captain and Tennille
The Pipkins
Peaches and Herb
Los Olimareños
Jagger–Richards
Sonny and Cher
China Crisis
Folk Male Singers of the 70s
Folk music has been around for centuries. It is believed to have originated in the British Isles and then spread to other parts of Europe and the world. But it wasn't until the late 60s and early 70s that folk music became popular in the United States.
The revival began as a small, grassroots movement, and grew into a nationwide phenomenon. Folk musicians like Bob Dylan and Joan Baez helped to popularize the genre, and it soon became mainstream.
Today the genre may have lost some of its lusters, but in the 70s it was at its peak. And singers like James Taylor, Simon and Garfunkel, and Crosby, Stills, Nash & Young were leading the way.
John Prine
Phil Ochs
Gordon Lightfoot
Richard Thompson
Donovan Leitch
Don McLean
Arlo Guthrie
Paul Simon
Neil Young
Townes Van Zandt
British Male Singers of the 70s
British music of the 1970s was built on the rock and roll of the previous decade. But as the 70s progressed, other genres began to emerge and take hold. Glam rock, punk rock, and disco all had their moment in the spotlight.
And as usual, the British music scene was led by some of the biggest names in the business. The Rolling Stones, Led Zeppelin, and David Bowie were just a few of the legends that came out of that decade. Resulting in what is arguably the greatest decade in British music history.
So, if you're a fan of British music, then we present you with a list of our favorite British male singers of the 70s. You might recognize some of them, but hopefully, you'll also discover some new artists as well.
Elton John
David Bowie
Cat Stevens
John Lennon
Andy Gibb
Eric Clapton
Billy Ocean
Freddie Mercury
Peter Gabriel
Jeff Lynne
Male Soul Singers of the 70s
Soul music has been around since the early 1960s, but it didn't become mainstream until the 1970s. This was partly due to the civil rights movement and the Black Power movement, which helped to bring black artists and their music to the forefront. Some of the biggest soul stars of the 70s were Stevie Wonder, Marvin Gaye, Al Green, The Temptations, and The Supremes.
These singers drew inspiration from gospel music and the blues, creating a unique blend that spoke to the struggles and joys of everyday life.
In the 1970s, soul music was a unifying force for African Americans and played an important role in the Black Power movement. It also helped to break down racial barriers and brought people together from all walks of life.
That said, soul music is still going strong today, and the singers listed are responsible for that.
Ray Charles
Barry White
Michael Jackson
Marvin Gaye
Luther Vandross
Teddy Pendergrass
James Brown
Smokey Robinson
Curtis Mayfield
Stevie Wonder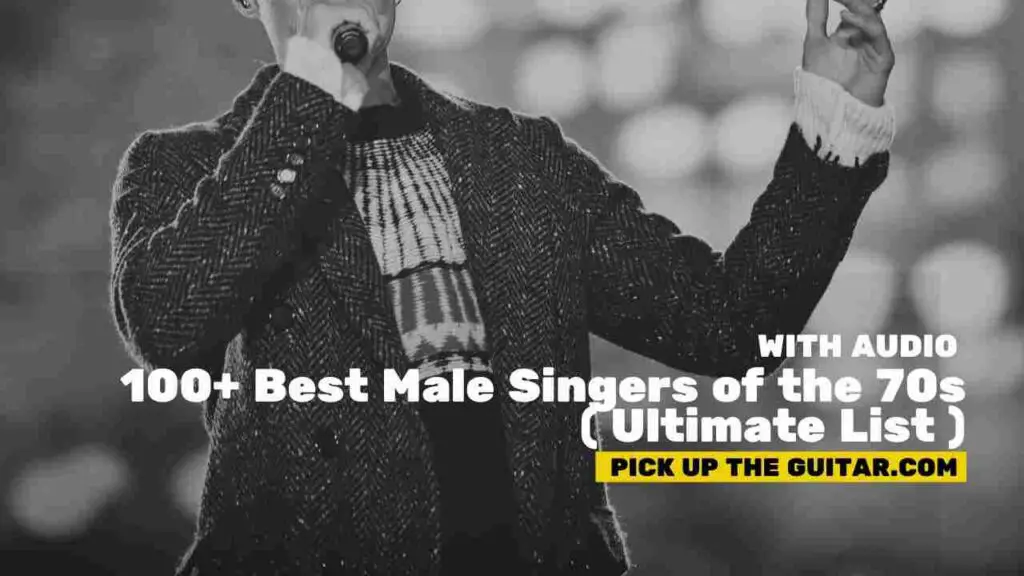 Pop Male Singers of the 70s
In the 1970s, pop male singers were all the rage. There were so many talented singers who had amazing voices and captured the hearts of fans everywhere.
Some of the biggest names in pop music during that decade were Elton John, David Bowie, and Rod Stewart. These singers had a unique sound that was unlike anything else at the time, and they quickly became some of the most popular artists in the world.
Each of them released several hit albums and singles that topped charts around the globe. They also performed sold-out concerts to adoring fans and won numerous awards for their music. Though the pop music landscape has changed significantly since the 70s, these singers' contributions to the genre will never be forgotten.
Freddie Mercury
Frank Sinatra
Bob Dylan
Michael Jackson
Billy Joel
Bing Crosby
Elvis Presley
Art Garfunkel
Andy Williams
Prince
70s Male Singers with Long Hair
Although the era of big hair and bigger ego began in the 1980s, there were a few male singers in the 1970s who had truly massive hair. And we're not just talking about Afros. We're talking about cascading locks that would make even the most diehard hair band fan envious.
These singers usually had a more laid-back and mellow vibe, and their music was often rooted in folk or country. Among the most popular were Mick Jagger, David Bowie, and Elvis Presley. But there were also many lesser-known singers who rocked some serious mane. Here is a list of our favorites.
Michael Jackson
Jackson Browne
Carlos Santana
Bob Marley
Dave Mason
Rick Derringer
Neil Young
Brian Jones
Alice Cooper
John Lennon
70s Rock Singers Male
What makes a truly great rock singer? Is it the ability to hit all the high notes? Is it the raw emotion in their voice? Or is it something else entirely? Well, all the technical things can be taught but a really great rock singer can't be invented. You either have it or you don't.
Fortunately, there were plenty of male singers in the 1970s who had that certain something that made them special. Freddie Mercury, Robert Plant, and Peter Gabriel were just a few of the rock legends that came out of that decade. Their need to communicate their emotions through music changed the face of rock forever.
So, if you're a fan of rock music, then check out these powerhouses that will leave you awestruck.
David Bowie
Bob Dylan
Paul McCartney
Van Morrison
Harry Nilsson
Robert Smith
Dave Mason
Billy Gibbons
Warren Zevon
Jackson Browne
American Male Singers of the 70s
From blues of the south to the folk music of the north, America has given birth to some of the greatest singers in the world. Be it jazz, country, rock, or pop, there are American singers who have excelled in every genre.
Barry Manilow in particular was one of the biggest stars of the 1970s. He released his first album in 1973 and had a number one hit with "Mandy." His hits from that decade include "I Write the Songs," "Can't Smile Without You," and "Copacabana (At The Copa)."
Elton John was also very popular in the 1970s. He had a number one hit in America with "Your Song" in 1970 and continued to have success throughout the decade. Some of his biggest hits from the 1970s include "Rocket Man," "Crocodile Rock," and "Don't Let the Sun Go Down on Me.
While these two singers were some of the biggest names in America, there were also many other talented American singers who released great music in the 1970s. Have a look!
Bob Seger
Dion DiMucci
Smokey Robinson
Tom Petty
Lionel Richie
Bob Dylan
Bruce Springsteen
James Brown
Michael Jackson
Prince
Gay Male Singers of the 70s
Gay male singers of the 1970s were pioneers in the LGBTQ+ community. They were out and proud, and used their music to advocate for equality and acceptance. These singers helped to break down barriers for LGBTQ+ people and paved the way for future generations of queer artists.
Though there were many openly gay singers in the 1970s, Elton John was by far the most successful. He came out in a Rolling Stone interview in 1976 and continued to enjoy massive success in both America and the UK.
He is a six-time Grammy Award winner and has sold over 300 million records worldwide. His music has been featured in movies such as The Lion King and Billy Elliot. And in 1992, he was inducted into the Rock and Roll Hall of Fame.
Other popular gay singers of the 1970s include:
Elton John
David Bowie
Freddie Mercury
Arthur Conley
Barry Manilow
Dave Wakeling
Billy Preston
Dug Pinnick
Dave Davies
Eric Emerson
High Pitched Male Singers of the 70s
There's something about singers with high-pitched voices that just brings a smile to your face. They might not all be everyone's cup of tea, but there's no denying that they have a talent that is unique.
These singers can reach notes that most people can only dream of, and they use their voices to create music that is truly beautiful. And while their voices might be different from the norm, they are still able to connect with their fans on a deep level.
So, whether you're a fan of high-pitched singers or not, there's no denying that they have a special place in the music industry. And these are some of the best that the 1970s had to offer.
Michael Jackson
Freddie Mercury
Ian Gillan
Robert Plant
Jon Anderson
Frankie Valli
Geddy Lee
Curtis Mayfield
Art Garfunkel
Eddie Kendricks
Male Christian Singers of the 70s
One of the great things about Christian music is that it has something for everyone. Whether you're a fan of rock, pop, or country, there's a Christian artist out there that you'll love.
Christian music or "gospel" as it's sometimes called, is all about spreading the word of God through song. And while some Christian artists are more focused on the message than the music, there are others who create truly beautiful tunes that are sure to resonate with you.
So, in this section, we present you with some of the best male Christian singers of the 1970s. These artists may not be as well-known as some of the other singers on this list, but their music is just as good. Give them a listen!
Bill Gaither
Steve Green
Cliff Richard
Andrew Culverwell
Bob Dylan
Michael English
Don Moen
Glen Campbell
Bryan Duncan
Japanese Male Singers of the 70s
Japan is a country with a rich musical history. From traditional Japanese music to J-pop, there's something for everyone. And in the 1970s, there was a new genre of music that was taking the country by storm: disco.
Japanese disco or "city pop" as it's sometimes called, was a new and exciting sound that blended Western disco with traditional Japanese instrumentation. And while it was popular in Japan, it never really caught on in other countries.
But that doesn't mean that Japanese disco isn't worth listening to. In fact, we think it's some of the best music of the 1970s. Check out these Japanese male singers and see for yourself!
Akira Fuse
Kyu Sakamoto
Damo Suzuki
Yukio Hashi
Saigo Teruhiko
Kiyoshi Maekawa
Char
Teruhiko Aoi
Ichiro Araki
Joji Ai
Wrapping Up
So, there you have it folk, a list of some of the best male singers of the 1970s. This was just a small sampling of all the great talent that was out there, but we hope you enjoyed it nonetheless.
Be sure to check out their songs and see what all the fuss is about. And if you're a fan of female singers, be sure to check out our list of the best female singers of the 1970s as well. Thanks for reading!