The 1980s was undeniably an iconic decade for music. It was a time when many new genres and subgenres of music were born, and when many established musicians found new success.
It was also a decade when the male singer was king. From hair metal gods to pop superstars, the 80s was a time when it seemed like every guy with a microphone was on top of the world.
So, if you are a fan of the 80s or just looking for some great male singers from that decade, then this list is for you. From legendary figures like Michael Jackson and Prince to one-hit wonders like Terence Trent D'Arby, here are the 100+ best male singers of the 80s.
---
Top Best Male Singers of the 80s
There are many great singers out there but these 10 mentioned below are considered the best of the best from the 80s. These are the singers that have stood the test of time and are still popular today.
Note: This list is based on nothing but the highest record sales, number of hit songs, and influence over other artists.
| No. | Top 80s Male Singer | Record Sales |
| --- | --- | --- |
| 1 | Michael Jackson | 400 Million |
| 2 | Elton John | 250 Million |
| 3 | Phil Collins | 150 Million |
| 4 | Prince | 150 Million |
| 5 | Billy Joel | 150 Million |
| 6 | David Bowie | 140 Million |
| 7 | George Michael | 120 Million |
| 8 | Lionel Richie | 100 Million |
| 9 | Bryan Adams | 100 Million |
| 10 | Paul McCartney | 100 Million |
Source – Wikipedia
80s Male Country Singers
Since the genre's inception, country music has been dominated by male singers. From legends like Johnny Cash and Hank Williams to modern superstars like Luke Bryan and Jason Aldean, country music has always been a man's world.
And in the 1980s, that was especially true. While there were a few female stars like Dolly Parton and Reba McEntire, for the most part, the decade belonged to the boys.
Among the most successful and popular male country singers of the 80s were George Strait, Randy Travis, and Ricky Skaggs. But there were many other greats as well, including Dwight Yoakam, George Jones, and Merle Haggard.
Randy Travis
Vince Gill
Earl Thomas Conley
T. G. Sheppard
Johnny Lee
Steve Wariner
John Anderson
Dan Seals
Dwight Yoakam
Chris LeDoux
Black Male Singers of the 80s
The music industry owes big time to the black community as they have given birth to some of the most successful genres including blues and R&B. Since the beginning, black musicians have been groundbreaking and boundary-pushing.
At the same time, it's also been a struggle for black artists to get the recognition they deserve. For every Michael Jackson or Prince, there are countless other talented black musicians who have been relegated to obscurity.
Still, there were many great black male singers in the 1980s, including Luther Vandross, Lionel Richie, and Teddy Pendergrass. And, of course, let's not forget about the king of pop himself, Michael Jackson.
Lionel Richie
Luther Vandross
Rick James
Stevie Wonder
Billy Ocean
Teddy Pendergrass
Keith Sweat
Michael Jackson
Michael Bivins
Prince
80s Male Rock Singers
A decade of big hair and even bigger egos, the 1980s was the heyday of rock. Bands like Bon Jovi, Def Leppard, and Guns N' Roses dominated the airwaves, while others like Metallica and Megadeth were changing the face of heavy metal.
And at the center of it all were the rock stars – the larger-than-life frontmen who commanded the stage and the attention of millions of adoring fans. Doesn't matter if they were good or bad, these singers were the undisputed kings of the 80s.
Here are just a few of the most popular and successful male rock singers of the decade:
Steven Tyler
Ozzy Osbourne
Chris Cornell
Jon Bon Jovi
Eddie Vedder
Bruce Dickinson
Rob Halford
David Lee Roth
Michael Stipe
Nick Cave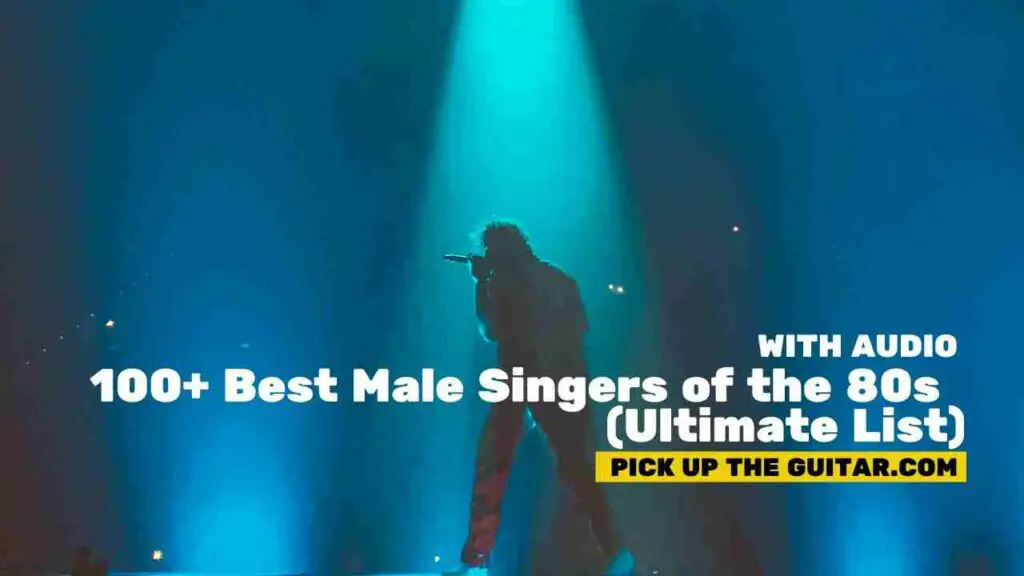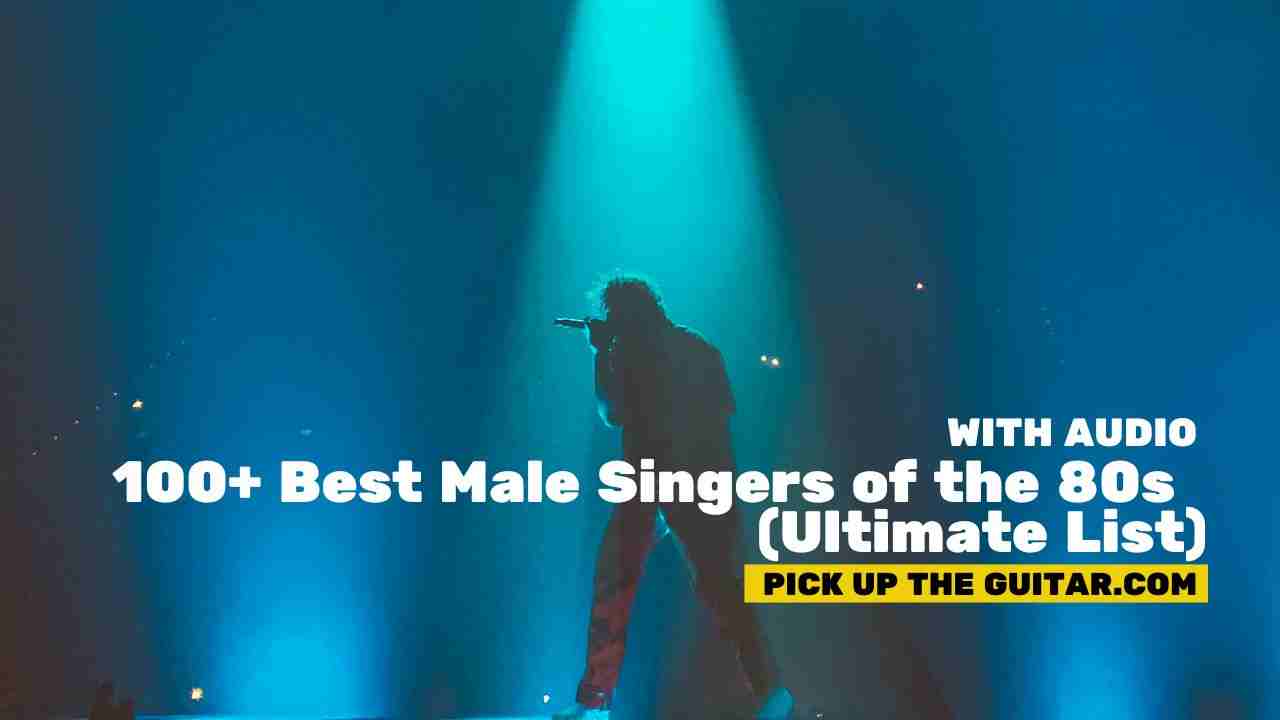 80s Male Singers with Long Hair
In the 1980s, it wasn't just the music that was over the top – the fashion was too. Big hair, tight jeans, and leather jackets were all the rage, and nowhere was this more apparent than in the world of hair metal.
Bands like Mötley Crüe, Poison, and Whitesnake defined an era of excess, and their singers were the embodiment of that excess. With their long hair, tight pants, and penchant for make-up, these guys were the epitome of 80s metal.
And while some of them have since toned down their look, they will always be remembered as the guys with big hair. Here are just a few of the most famous long-haired male singers of the 1980s:
Sebastian Bach
Bret Michaels
Bob Weir
Mick Jagger
Axl Rose
Brian May
Bob Dylan
Dave Mustaine
Steven Tyler
80s Male Pop Singers
We are not ashamed to admit that we love a good pop song. Whether it's catchy, heartwarming, or just downright campy, there's something about pop music that just makes us feel good.
And in the 1980s, there was no shortage of great pop singers. From Michael Jackson and Prince to Madonna and Whitney Houston, the 80s was a golden age for pop music.
But it wasn't just the superstars who ruled the airwaves. There were also many less famous but still hugely successful male pop singers in the 80s, including George Michael, Lionel Richie, and Billy Ocean.
Still today, their songs remain as popular as ever, and their influence can still be felt in the world of pop music.
Huey Lewis
George Michael
Paul McCartney
Jackson Browne
Lionel Richie
Peter Gabriel
Robert Palmer
Bruce Springsteen
Rick Astley
Billy Idol
80s Male R&B Singers
Imagine a world without R&B. No Marvin Gaye, no Stevie Wonder, no Prince. It's hard to picture, isn't it?
Thankfully, we don't have to live in that world, because R&B has been a part of our lives for decades. To many, it's the soundtrack of their lives and to others, it's the only genre that truly understands them.
And as we are all too aware, the 80s was a golden age for R&B. With artists like Luther Vandross, Michael Jackson, and Prince leading the way, R&B reached new heights in popularity and influence.
Though the genre has changed a lot since the 80s, these singers laid the foundation for what R&B would become.
Michael Jackson
Ray Charles
Barry White
Luther Vandross
Stevie Wonder
Marvin Gaye
Billy Ocean
Jackie Wilson
Jeffrey Osborne
Isaac Hayes
80s Male Duo Singers
There's something about male duos that just seems to work. Whether it's on stage, in the studio, or on screen, two guys seem to have a certain magic when they're together. Take a look at any list of the greatest musical duos of all time and you'll see what we mean. And when it comes to the 80s, the decade had its fair share of great male duos.
From Simon & Garfunkel to Hall & Oates, the 80s era saw it all. But if we had to pick just one, we'd have to go with Wham!. Consisting of George Michael and Andrew Ridgeley, Wham! Was one of the biggest pop acts of the decade.
And, of course, let's not forget about the other big male duo of the 80s: Tears for Fears. Comprised of Roland Orzabal and Curt Smith, Tears for Fears were one of the most successful bands of the decade, thanks to hits like " Everybody Wants to Rule the World" and " Shout".
Wham!
Communards
Pet Shop Boys
eurythmics
Hue And Cry
Roxette
Coldcut
Tears for fears
Go west
Yazoo
UK Male Singers of the 80s
In this section, we present you with a list of the greatest male singers from the United Kingdom that became popular in the 1980s.
The UK has been a powerhouse in the music industry and has given the world some of the biggest names including The Beatles, Elton John, David Bowie, and Freddie Mercury. Maybe not all of them were active in the 80s, but they definitely left their mark on the decade.
As for singers who did find success in the 80s, there were many. George Michael, Sting, and Duran Duran were among the biggest names of the decade. But there were also many great one-hit wonders like Tears for Fears and A-ha.
Brian May
Phil Collins
George Michael
Elton John
David Bowie
Gordon Sumner
Rick Astley
Shakin' Stevens
Simon Le Bon
Nick Rhodes
80s Male Folk Singers
Folk in its most traditional sense might be a thing of the past, but in the 1980s, there was a renewed interest in the genre thanks to the popularity of "new folk" artists like Suzanne Vega and Tracy Chapman.
And while the vast majority of these new folk singers were women, there were still a few men who managed to break through, including Billy Bragg, John Prine, and Steve Earle.
Today, the new folk movement is largely forgotten. But these male singers from the 80s helped to keep the genre alive and paved the way for a new generation of artists.
John Prine
Arlo Guthrie
Donovan Leitch
Tom Paxton
James Taylor
Ralph McTell
Paul Simon
Al Stewart
Stephen Stills
Don McLean
Australian Male Singers 80s
Australia has always been a hotbed for musical talent, and in the 1980s, that was especially true. From pop to rock to country, Australia had it all.
And while there were many great Australian bands in the 80s, including INXS and Midnight Oil, it was the solo artists that really shone. Among the most successful Australian male singers of the 80s were Men at Work's Colin Hay, Crowded House's Neil Finn, and INXS's Michael Hutchence.
But there were many other greats as well, including Jimmy Barnes, John Farnham, and Shane Howard. Here are some more:
John Farnham
Rick Springfield
Nick Cave
Jimmy Barnes
Paul Kelly
Slim Dusty
Kamahl (Malaysian Born Aistralian Singer)
Peter Garrett
Colin Hay
Wayne Pride
80s Male Singers One Hit Wonders
Every decade has its fair share of one-hit wonders, and if you look at the list of male singers from the 1980s, you'll find that there are more than a few.
These artists came out of nowhere with a massive hit song, only to disappear just as quickly. Though time in the spotlight was brief, they left an indelible mark on the decade.
In many many cases, these one-hit wonders were never able to replicate their success. But in a few rare instances, they were able to turn their brief moment in the sun into a long and successful career.
Here's a look at some of the biggest one-hit wonders of the 1980s, including Toni Basil, A Flock of Seagulls, and Soft Cell.
Thomas Dolby (Song – She Blinded Me With Science)
Toni Basil (Song – Mickey)
Michael Sembello (Song – Maniac)
John Waite (Song – Missing You)
Bruce Willis (Song – Respect Yourself)
Robbie Nevil (Song – C'est La Vie)
Johnny Kemp (Song – Just Got Paid)
Don Johnson (Song – Heartbeat)
Robbie Dupree (Song – Steal Away)
Jack Wagner (Song – All I Need)
Eddie Murphy (Song – Party All the Time)
Gay Male Singers 80s
While the LGBT community has always been a part of the music industry, it was not until recently that they have begun to receive the mainstream recognition they deserve. In the 1980s, however, there were a few gay male singers who managed to find success.
These singers helped break down barriers and pave the way for other LGBT artists. Among the most successful gay male singers of the 80s were George Michael, Elton John, and Boy George.
George Michael
Andy Bell
Freddie Mercury
Elton John
Mark Almond
Boy George
Michael Stipe
Neil Tennant
Barry Manilow
Morrissey
High Pitched Male Singers 80s
There is something about a high-pitched male voice that just makes the ladies swoon. Whether it's the result of good genes or years of training, there are some singers out there who can hit some seriously high notes.
While their voices may not be to everyone's taste, there's no denying that high-pitched male singers are popular.
And most of them seem to come from the 80s when hair metal was all the rage. Here's a look at some of the most popular high-pitched male singers from the 1980s, including Vince Neil, Steven Tyler, and Bret Michaels.
Freddie Mercury
Vince Neil
Axl Rose
Michael Jackson
Prince
Sting
John Denver
Bruce Dickinson
Robert Plant
Rob Halford
80s Hong Kong Male Singers
There was a time when Hong Kong was known for its powerhouse of male singers. From Jacky Cheung to Aaron Kwok, these singers were dominating the Cantopop scene in the 80s and 90s.
Sadly, many of these singers have retired or are no longer active in the music industry. But their contributions to Cantopop will never be forgotten.
Some of the most famous names from that era include Leslie Cheung, Andy Lau, and Jacky Cheung. They all started their careers in the 80s and achieved massive success.
Leslie Cheung
Jacky Cheung
Leon Lai
Andy Lau
Sam Hui
Jackie Chan
Dave Wang
Adam Cheng
Jordan Chan
Hot 80s Male Singers
How do you define "hot"? Is it the way they look? The way they sing? The way they move on stage? We will leave that to you! But here is our list of the hottest male singers from the 80s. These singers fit the definition of "heartthrob" and were adored by millions of fans around the world.
From George Michael to Duran Duran, the 80s were full of heartthrobs. But if we had to pick just one, it would have to be Prince. Not only was he an incredible singer, but he was also a talented musician and an amazing stage performer. He was the total package and definitely one of the hottest male singers of the 80s.
Of course, we can't forget about other hot male singers like Rick Springfield and Billy Idol. These guys may not be as popular as they once were, but they definitely made their mark on the 80s.
Prince
Rick Springfield
Huey Lewis
Corey Hart
Kenny Loggins
Rick Astley
George Michael
Bryan Adams
Billy Idol
Wrapping Up
So, there you have it, folks! These are just a few of the many male singers who made the 80s such a special decade. And while there are too many to list them all, we hope this has given you a good starting point.
Did we miss any of your favorites? Let us know in the comments below!