No matter what era you explore in music, you are going to find a bevy of talented male singers. And the '90s was no different, as the decade was loaded with incredible vocalists that spanned all genres.
Be it with their group or as a solo artist, these guys know how to hold a note, write a catchy song, and get the entire world singing along.
So, if you are a male vocalist yourself or just want to take a trip down memory lane, check out our list of the best male singers of the '90s.
---
Top Best Male Singers of the 90s
There are many male singers out there but the ones mentioned below are considered the best of the decade. These are the singers who have made an impact not just during the '90s but even today.
Note: This list is based on nothing but the highest record sales and overall impact on the music industry of each individual singer.
| No. | 90s Male Singer | Record Sale |
| --- | --- | --- |
| 1 | Michael Jackson | 700 Million |
| 2 | Elton John | 250 Million |
| 3 | Eminem | 220 Million |
| 4 | Enrique Iglesias | 150 Million |
| 5 | George Michael | 120 Million |
| 6 | Bryan Adams | 100 Million |
| 7 | Robbie Williams | 77 Million |
| 8 | Kurt Cobain | 75 Million |
| 9 | Tupac Shakur | 75 Million |
| 10 | Ricky Martin | 70 Million |
| 11 | Snoop Dogg | 37 Million |
90s Country Male Singers
It's no secret that country music is a genre that is heavily dominated by male artists. From legends like George Strait to newcomers like Luke Combs, country music has always been a man's world.
And the '90s was certainly no different, as the decade was filled with some of the biggest names in country music. Some of these names include George Strait, Garth Brooks, and Tim McGraw. These artists not only ruled the charts but also helped shape the sound of country music for years to come.
Here's a look at the top 10 best male country singers of the '90s, including their biggest hits.
Garth Brooks
Keith Urban
Tim McGraw
Vince Gill
Alan Jackson
Billy Ray Cyrus
Trace Adkins
Brad Paisley
Kenny Chesney
George Strait
Male R&B Singers of the 90s
Imagine a world without the likes of Usher, R. Kelly, or Boyz II Men. It's hard to even fathom, but all three of these artists got their start in the '90s and went on to become some of the biggest R&B stars of all time.
And they are certainly not the only ones, as the '90s was a decade that saw the rise of many other R&B greats. With their smooth vocals and catchy tunes, these artists dominated the charts and created some of the most iconic R&B songs of all time. Still today, their music is being played on the radio and used in popular TV shows and movies.
Here are the best male R&B singers of the '90s.
Jon B.
Luther Vandross
Usher
Keith Sweat
Johnny Gill
Babyface
R. Kelly
Brian McKnight
Tevin Campbell
Maxwell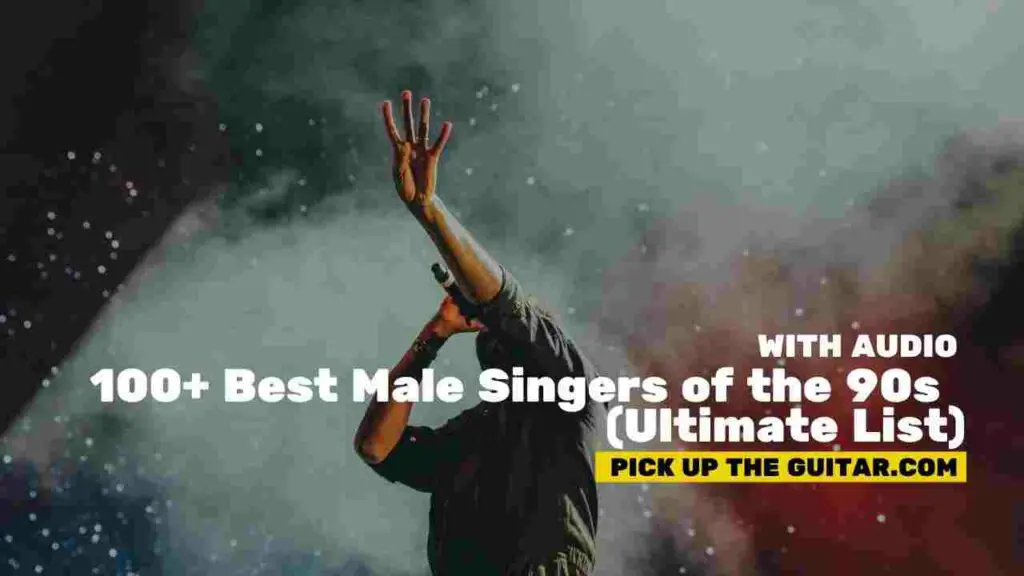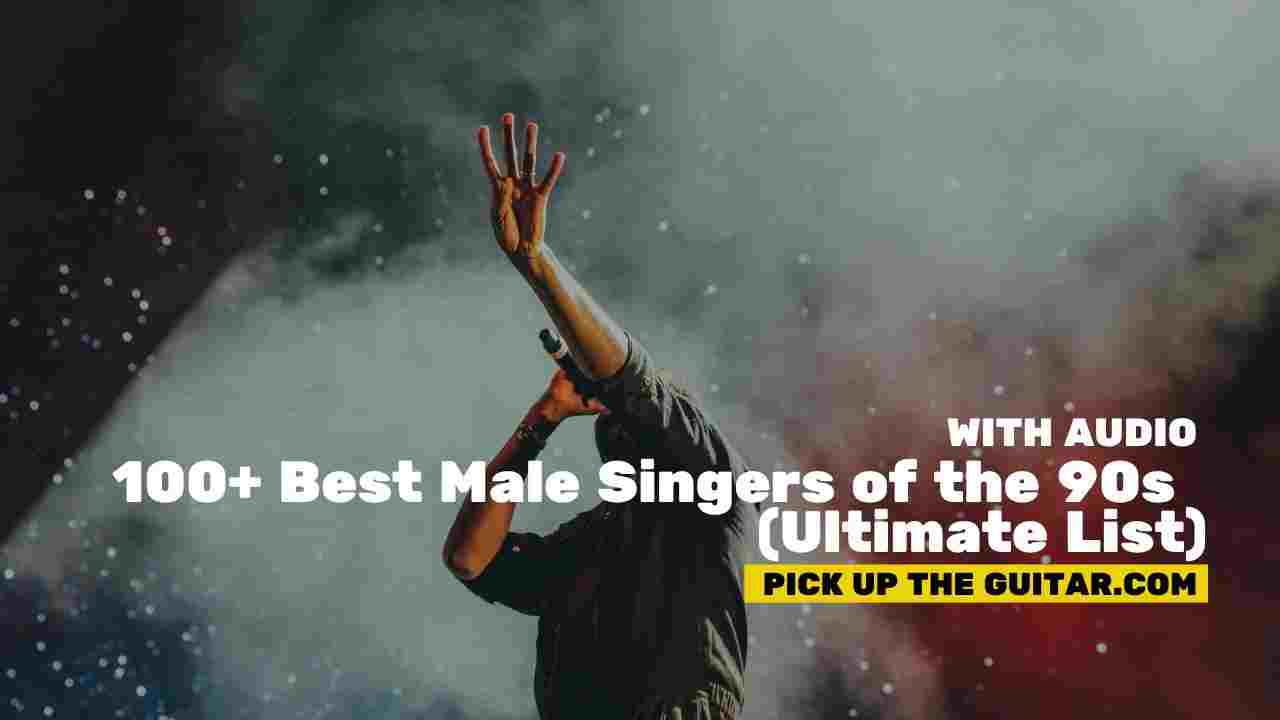 Black Male Singers of the 90s
The music industry owes a big debt to the black community, as they have been creating some of the most iconic and influential music for decades. Since the early days of jazz and blues, black musicians have been shaping the sound of popular music.
At the same time, black artists have also been fighting for equality and recognition in the music industry. And while there is still a long way to go, the '90s was a decade that saw the rise of many black artists in the mainstream.
From R&B and hip hop to pop and rock, these artists were unafraid to experiment with their sound and create something new. And their impact is still being felt today, as they have inspired a new generation of black artists.
So, to celebrate their contributions, we have put together a list of the best black male singers of the '90s. we are sure that you will recognize many of these talented artists.
Snoop Dogg
Usher
Tupac Shakur
Darius Rucker
Babyface
Anthony Hamilton
Bobby Brown
Aaron Hall
Alfonzo Hunter
Brian McKnight
Early, Mid, Late Male Singers of the 90s
Most people think of the early 1990s as the era of grunge music. While that is true for the most part, there were also many great male singers who emerged in the early, mid, and late parts of the decade.
Early in the decade, singers like Seal and Michael Bolton were popular. Seal's soulful voice and Michael Bolton's powerful ballads were both huge hits.
Later in the 1990s, singers like Chris Cornell and Eddie Vedder became famous. Chris Cornell was the lead singer for Soundgarden, and Eddie Vedder was the lead singer for Pearl Jam. Both bands were considered to be pioneers of grunge music.
And finally, in the late 1990s, boy bands like *NSYNC and the Backstreet Boys became wildly popular. These groups were known for their catchy pop songs and dance routines.
Even though the early, mid, and late 1990s all had different styles of music, they had one thing in common: great male singers.
Early 90s Male Singers
Snoop Dogg
Eminem
Vanilla Ice
Kurt Cobain (Nirvana)
Ricky Martin
Mid 90s Male Singers
Michael Bublé
Enrique Iglesias
Keith Urban
Adam Levine
Sean Paul
Late 90s Male Singers
John Legend
Tom DeLonge
Chris Martin (Coldplay)
Kanye West
Ne-Yo
Male Christian Singers of the 90s
Christian music is a genre that is often overlooked but it has produced some very talented artists over the years. Whether by choice or not, many of these artists have remained relatively unknown to the mainstream world. And while some Christian artists have found success in the mainstream, they are often pigeonholed as "Christian artists" and not given the credit they deserve.
So, in order to shine a light on some of these talented singers, we have put together a list of the best male Christian singers of the '90s. These are the artists who have inspired other Christian singers and helped shape the sound of the genre.
While some of these singers are no longer active, their music continues to live on and is still being played in churches all around the world.
Chris Tomlin
TobyMac
Matthew West
Michael W. Smith
Matt Redman
David Crowder
Larry Norman
Mark Hall (Casting Crowns)
Bart Millard(MercyMe)
Reuben Morgan(Hillsong Worship)
90s Male Pop Singers
We are not ashamed to say that we love pop music. It's catchy, it's fun and it always puts a smile on our faces. And while the genre is often looked down upon by music snobs, we think that pop music is just as valid as any other genre.
And as we are sure you will agree, the '90s was a golden era for pop music. With their catchy hooks and danceable beats, these artists ruled the charts and created some of the most iconic pop songs of all time.
Even today when people hear these songs, they can't help but sing along and feel the nostalgia. So, we are unable to resist putting together a list of the best male pop singers of the '90s. Here it is.
Michael Jackson
Robbie Williams
Sean Combs (aka Puff daddy)
Ricky Martin
Michael Bublé
Seal
Tone Loc
Adam Levine
Lenny Kravitz
Nick Cave
90s Male Singers One Hit Wonders
Every decade has its fair share of one-hit wonders and the '90s was no different. These artists came out of nowhere with a catchy song that took the world by storm. And while their follow-up hits never quite lived up to the success of their debut, they still managed to make a lasting impact on the music world.
In many many cases, these one-hit hit wonders were never able to replicate their earlier success and eventually faded into obscurity. But in other cases, they managed to reinvent themselves and find success later on in their career. So, without any further ado, here is our list of the best one-hit wonders of the '90s.
Tom Cochrane (Song – Life Is a Highway)
Lou Bega (Song – Mambo No. 5)
Joan Osborne (Song – One of Us)
Vince Gill (Song – House of Love)
Marc Cohn (Song – Walking in Memphis)
Sir Mix-a-Lot (Song – Baby Got Back)
Billy Ray Cyrus (Song – Achy Breaky Heart)
Shawn Colvin (Song – Sunny Came Home)
Sunny Came Home (Song – Single White Female)
Tal Bachman (Song – She's So High)
90s Male Singers with Long Hair
Not all but most of the male singers in the 90s had long hair. This was probably because it was the trend at that time but it could also be because they just looked good with long hair. Whatever the reason, we are not complaining because these guys looked amazing with their flowing locks.
And while some of these guys have since cut their hair, they will always be remembered for their iconic long hairstyles. Check out these 90s male singers with some of the best-looking long hair.
Kurt Cobain (Nirvana)
Lil Wayne
Keith Urban
Dave Mustaine (Megadeth)
Bret Michaels
Dave Grohl (Foo Fighters)
Axl Rose (Guns n Roses)
Sebastian Bach
Scott Stapp (Creed)
Tom Araya (Slayer)
90s Rock Singers Male
It's no surprise that the rock genre is notoriously dominated by male artists. And the 90s was certainly no exception with some of the biggest names in rock coming from this decade.
Be it alternative rock, grunge, or metal, these artists defined a generation with their music. And while some of them have since faded into obscurity, their impact on the genre is still being felt today.
Whether you were a fan of rock music back in the day or not, we are sure that you will recognize many of these iconic singers mentioned below.
Chester Bennington
Bryan Adams
Robert Smith
Ozzy Osbourne
Eddie Vedder
Chris Cornell
James Hetfield
Anthony Kiedis
Billie Joe Armstrong
Billy Corgan
90s Filipino Male Singers
There is something special about Filipino music. It is a unique blend of Western and Eastern influences that results in a sound that is both familiar and foreign at the same time.
Unlike today, where most singers are either pop or R&B, 1990s Filipino male singers were versatile and could sing a wide range of genres, from ballads to rock to rap. They were also known for their powerful vocal ranges and emotive singing styles.
Some of the most popular Filipino male singers of the 1990s include Gary Valenciano, Rey Valera, Joey De Leon, and Francis Magalona. Each of them had their own distinct style that made them stand out from the rest.
Here are some more great male Filipino singers of the '90s that you may not be familiar with.
Arnel Pineda
Allen Pineda Lindo
Bamboo Mañalac
Rico J. Puno
Vic Sotto
Piolo Pascual
Gary Valenciano
Francis Magalona
Lourd de Veyra
Male Duo Singers of the 90s
Whether it's in music, comedy, or business, two men seem to be able to achieve more than one man ever could. And this is certainly true for male duo singers.
In the 1990s, there were many great male duos who achieved massive success with their music. Among the most popular include Simon & Garfunkel, The Beach Boys, and Hall & Oates.
But there were also many other great male duo singers in the 1990s who were not as well-known. These include Lou Bega & Zucchero, Hootie & the Blowfish, and The Righteous Brothers.
No matter how popular or obscure, all of these male duos had one thing in common: they made great music together.
Daft Punk
Brooks and Dunn
Peabo Bryson and Regina Belle
Kid 'n Play
Kris Kross
The Dolphin Brothers
Agnelli & Nelson
Artful Dodger
Flanger
Hue and Cry
Australian Male Singers of the 90s
A land of beaches, BBQs, and great beer, Australia is also a country with a rich musical history. Since the 1950s, Australian musicians have been making a name for themselves on the international stage. Be it pop, rock, or country, Australian musicians have found success in many different genres.
And in the 1990s this continued with many great Australian male singers emerging. While some, like John Farnham and Jimmy Barnes, were already well-known, others, like Nick Cave and Kylie Minogue, found international success in the 1990s.
Even though the 1990s was a long time ago, the impact of these Australian male singers is still felt today. Their music has stood the test of time and continues to be enjoyed by fans all over the world.
Keith Urban
Russell Morris
John Farnham
Jimmy Barnes
Daniel Johns
Michael Hutchence
Ben Lee
Jason Donovan
Adam Garcia
Colin Hay
Gay Male Singers of the 90s
The 1990s were a time when openly gay male singers were becoming more mainstream and accepted in the music industry. Prior to the 1990s, there were very few openly gay male singers, and those who were out typically had to sing alternative or indie music.
This began to change in the early 1990s with the success of singers like Boy George and George Michael. By the middle of the decade, there was a new generation of openly gay male singers who were popularizing dance music, including RuPaul, Cazwell, and Scissor Sisters.
These singers helped to break down barriers for LGBTQ people in the music industry and paved the way for future generations of LGBTQ performers.
George Michael
Elton John
Boy George
Jimmy Somerville
Marc Almond
Rufus Wainwright
RuPaul
Cazwell
Wrapping Up
So, there you have it folks, the ultimate list of great male singers from the 1990s. From pop to rock to R&B to rap, these singers ran the gamut of genres and styles. And while some were more popular than others, they all had one thing in common: they made great music.
Do you have a favorite male singer from the 1990s? Let us know in the comments below.