If you are looking for All Of Me chords without the capo and landed here then look no further. In this post, I will show you the accurate chord progression and strumming pattern of this song which is easy.
All Of Me is one of John Legend's best selling songs of all time and with 1.1 billion streams on Spotify, this song has become the top love song in recent times. To play this song you need only 5 simple chords, Em, C, D, Am and G. That's all. Below you will find the tabs that is handwritten and as accurate as possible.
All Of Me Chords No Capo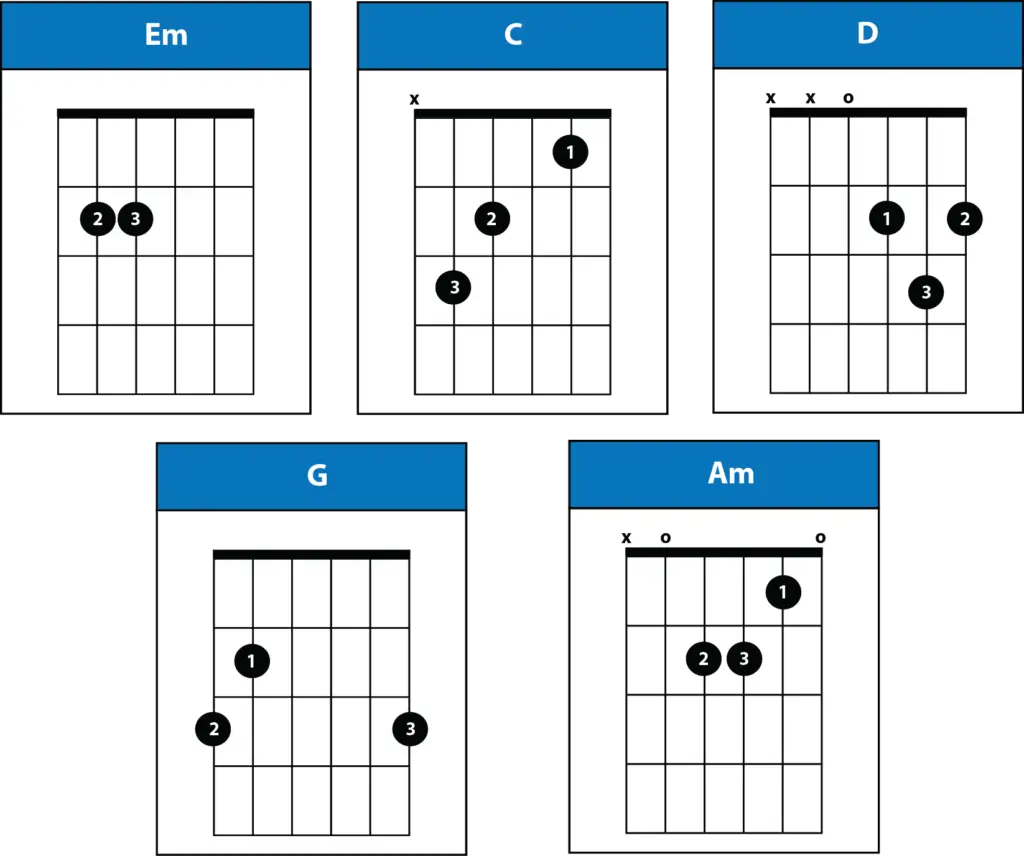 As you see above, the chords of this song without the capo are E minor, C major, D major, G major and A minor. All these chords are open chords that are easy to play.
All Of Me Chords Strumming Pattern

The strumming pattern is pretty simple for this song, it is all down strums. I am sure you can play this pattern easily, if not then refer to the video lesson that I have mentioned at the end of this post.
---
Song – All Of Me
Artist – John Legend
Chords – E minor, C major, D major, G major and A minor ( No capo )
---
All Of Me Lyrics with Chords
[Verse – 1]
[Em]What would I [C]do without your smart [G]mouth
Drawing me [D]in, and you kicking me [Em]out
Got my [C]head spinning, [G]
no kidding, I [D]cant pin you [Em]down
Whats going [C]on in that beautiful [G]mind
Im on your [D]magical mystery [Em]ride
And Im [C]so dizzy, dont [G]know
what hit me, but [D]Ill be [Am]alright
[Pre-Chorus]
[Am]My heads under [G]water
But [D]Im breathing [Am]fine
Youre crazy and [G]Im out of my [D]mind
[Chorus]
Cause [G]all of me
Loves [Em]all of you
Love your [Am]curves and all your edges
All your [D]perfect imperfections
Give your [G]all to me
Ill give my [Em]all to you
Youre my [Am]end and my beginning
Even [D]when I lose Im winning
Cause I give you [Em]all, [C]all of [G]me [D]
And you give me [Em]all, [C]all of [G]you, [D]oh
[Verse – 2]
[Em]How many times [C]do I have to tell [G]you
Even when youre [D]crying you're beautiful [Em]too
The world is [C]beating you [G]down, Im
[D]around through every [Em]move
Youre my [C]downfall, youre my [G]muse
My worst [D]distraction, my rhythm and [Em]blues
I cant stop [C]singing, its [G]ringing, in [D]my head for [Am]you
[Bridge]
[Am]My heads under [G]water
But [D]Im breathing [Am]fine
Youre crazy and [G]Im out of my [D]mind
[Chorus]
Cause [G]all of me
Loves [Em]all of you
Love your [Am]curves and all your edges
All your [D]perfect imperfections
Give your [G]all to me
Ill give my [Em]all to you
Youre my [Am]end and my beginning
Even [D]when I lose Im winning
Cause I give you [Em]all, [C]all of [G]me [D]
And you give me [Em]all, [C]all of [G]you, [D]oh
[Bridge]
[Am]Cards on the [G]table
Were [D]both showing [Am]hearts
[Am]Risking it [G]all, though its [D]hard
[Outro]
Cause I give you [Em]all, [C]all of [G]me [D]
And you give me [Em]all, [C]all of [G]you, [D]oh