Bad Moon Rising by Creedence Clearwater Revival is one of those awesome songs that is super fun to play on guitar and if you are looking for its chords then you are at the right place. In this lesson, I will show you how to play this song using just 3 chords and a simple strumming pattern which is super easy.
---
Bad Moon Rising Chords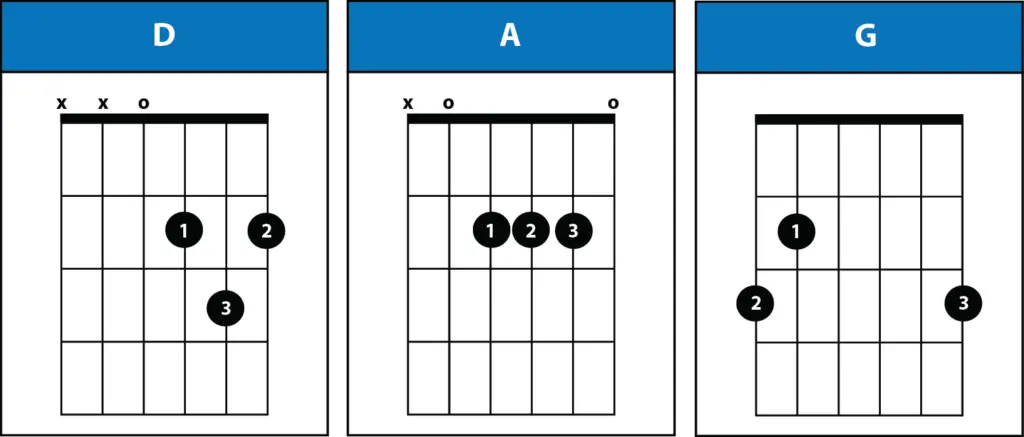 The chords for Bad Moon Rising are D major, A major, and G major. As you can see all these are open chords and very easy to play.
Bad Moon Rising Strumming Pattern
The strumming pattern for Bad Moon Rising is pretty basic yet fun which goes as D-D-DU-DU. Do refer to the video mentioned above to get a visual representation of this pattern.
---
Song – Bad Moon Rising
Artist – Creedence Clearwater Revival
Chords – D major, A major, and G major
Key – D
Tuning – Standard
---
Bad Moon Rising Lyrics with Chords
[Verse 1]
[D]I see the [A]bad [G]moon a-[D]rising
[D]I see [A]trouble [G]on the [D]way
[D]I see [A]earth [G]quakes and [D]lightnin'
[D]I see [A]bad [G]times to [D]day
[Chorus]
[G]Don't go around tonight
Well, it's [D]bound to take your life
[A]There's a [G]bad moon on the [D]rise
[Verse 2]
[D]I hear [A]hurri [G]canes a [D]blowing
[D]I know the [A]end is [G]coming [D]soon
[D]I fear [A]rivers [G]over [D]flowing
[D]I hear the [A]voice of [G]rage and [D]ruin
[Chorus]
[G]Don't go around tonight
Well, it's [D]bound to take your life
[A]There's a [G]bad moon on the [D]rise
[Solo]
| D | A G | D | D |
| D | A G | D | D |
| G | G | D | D |
| A | G | D | D |
[Verse 3]
[D]Hope you [A]got your [G]things [D]together
[D]Hope you are [A]quite [G]prepared to [D]die
[D]Looks like we're [A]in for [G]nasty [D]weather
[D]One eye is [A]taken [Gfor an [D]eye
[Chorus]
[G]Don't go around tonight
Well, it's [D]bound to take your life
[A]There's a [G]bad moon on the [D]rise
[G]Don't go around tonight
Well, it's [D]bound to take your life
[A]There's a [G]bad moon on the [D]rise