This lesson will teach you how to play "Chasing Cars" by Snow Patrol on guitar. There are various lessons for this song but in this post, I will show you an easy way to play this entire song using only 3 chords: Amajor, E major, and D major.
Below you will find Chasing Cars chords, its strumming pattern and everything you need to know to play this song from start to end.
---
Chasing Cars Chords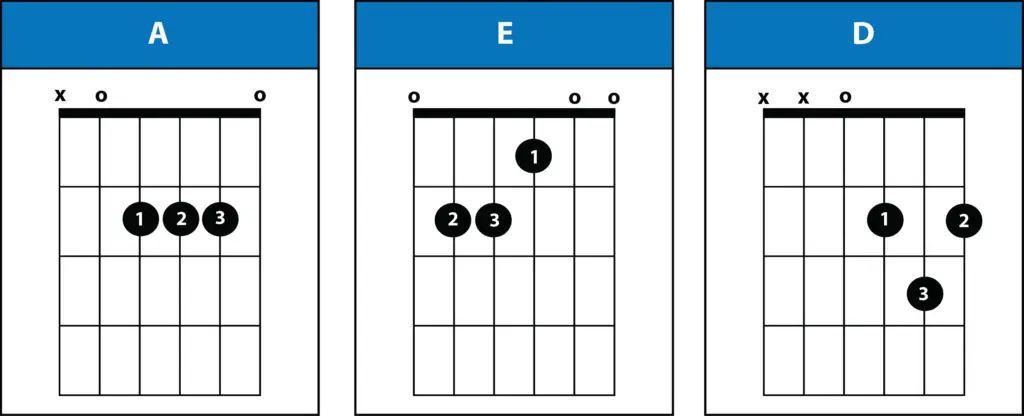 As you can see the chords for Chasing Cars are A major, E major, and D major. The great thing is, this chord progression repeats over and over again throughout the song which is perfect for beginner players.
Strumming Pattern
The strumming pattern is the easiest for this song which goes as DDDD-DDDD ( 1&2&3&4& ). These are all down strums and very easy to play. To listen and watch this strumming pattern, head over to the video mentioned above and skip to 3:05.
---
Song – Chasing Cars
Artist – Snow Patrol
Chords – A major, E major, and D major
Strumming Pattern – DDDD-DDDD ( 1&2&3&4& )
Key – A
Tuning – Standard
---
Chasing Cars Lyrics with Chords
[Verse 1]
[A]We'll do it all [E]
Everything [D]
On our own [A]
[A]We don't need [E]
Anything [D] or anyone [A]
[Chorus]
If I lay [A]here
If I just [E]lay here
Would you lie [D]with me and just forget the world? [A]
[Verse 2]
[A]I don't quite know [E]
How to say [D]
How I feel [A]
[A]Those three words [E]
Are said too much [D]
They're not enough [A]
[Chorus]
If I lay [A]here
If I just [E]lay here
Would you lie [D]with me and just forget the world? [A]
Forget what we're [A]told
Before we get [E]too old
Show me a [D]garden that's burstin' into life [A]
[Verse 3]
[A]Let's waste time [E]
Chasing cars [D]
Around our heads [A]
[A]I need your grace [E]
To remind me [D]
To find my own [A]
[Chorus]
If I lay [A]here
If I just [E]lay here
Would you lie [D]with me and just forget the world? [A]
Forget what we're [A]told
Before we get [E]too old
Show me a [D]garden that's burstin' into life [A]
[Bridge]
All that I [A]am
All that I [E]ever was
Is here in your [D]perfect eyes, they're all I can see [A]
I don't know [A]where
Confused about [E]how, as well
Just know that these [D]things will never change for us at all [A]
[Chorus]
If I lay [A]here
If I just [E]lay here
Would you lie [D]with me and just forget the world? [A]