If you are looking for Country Roads chords without the capo then you are at the right place. In this post, I will show you how to play this classic using easy open chords and a super-easy strumming pattern.
John Denver's platinum-certified single, "Take Me Home, Country Roads" is one of the beloved songs out there. The song is about West Virginia and the great thing is it is super easy to play on the guitar. Below you will find the chord progression with lyrics and strumming pattern which is beginner-friendly.
Note – This lesson is in the key of G. If you want to play it in the original scale i.e, A, then simply clip a capo on the 2nd fret and use the same chords mentioned below.
---
Country Roads Chords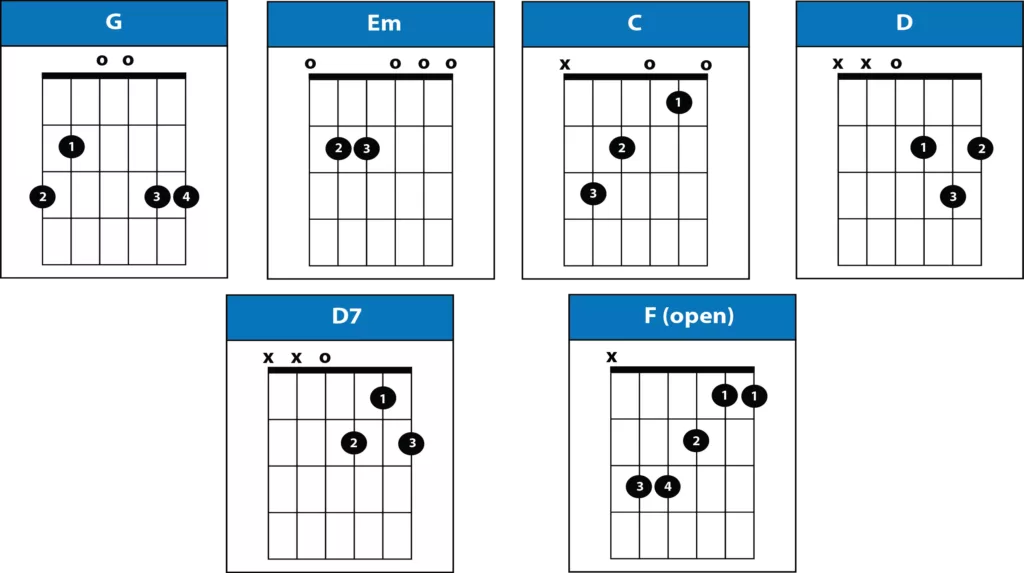 As you can see, the chords for Country Roads without the capo are G major, E minor, C major, D major, D7 and F major.
Don't let the 'F chord' scare you away from playing this song because it appears only once in the bridge section. Simply use the 'F open chord' in that section that you can see above in the chord chart. Other than this the complete song is super easy to play including the strumming pattern.
Country Roads Strumming Pattern

The strumming pattern for country roads goes as D-D-DU-DU. To get a visual representation of this pattern refer to the video that I have mentioned below.
---
---
Song – Take Me Home, Country Roads
Artist – John Denver
Tuning – E B G D A E ( standard )
Chords – G-Em-C-D-D7-F
Strumming Pattern – D-D-DU-DU
---
[Verse 1]
[G]Almost Heaven, [Em]West Virginia
[D]Blue Ridge Mountains, [C]Shenandoah [G]River
[G]Life is old there, [Em]older than the trees
[D]Younger than the mountains, [C]Blowing like a [G]breeze
[Chorus]
Country [G]roads, take me [D]home
To the [Em]place I be[C]long
West Vir[G]ginia, mountain ma[D]ma
Take me [C]home, country [G]roads
[Verse 2]
[G]All my memories [Em]gather 'round her
[D]Miner's lady, str[C]anger to blue [G]water
[G]Dark and dusty, [Em]painted on the sky
[D]Misty taste of moonshine, [C]teardrop in my [G]eye
[Chorus]
Country [G]roads, take me [D]home
To the [Em]place I be[C]long
West Vir[G]ginia, mountain ma[D]ma
Take me [C]home, country [G]roads
[Bridge]
[Em]I hear her [D]voice in the [G]morning hour, she calls me
The [C]radio rem[G]inds me of my [D]home far away
And [Em]Driving down the [F]road, I get a [C]feeling
That I [G]should have been home [D]yesterday, yesterd[D7]ay
[Chorus]
Country [G]roads, take me [D]home
To the [Em]place I be[C]long
West Vir[G]ginia, mountain ma[D]ma
Take me [C]home, country [G]roads

Country [G]roads, take me [D]home
To the [Em]place I be[C]long
West Vir[G]ginia, mountain ma[D]ma
Take me [C]home, country [G]roads
[Outro]
Take me [D]home, (Down) country [G]roads
Take me [D]home, (Down) country [G]roads