Whether it's for playing percussive fingerstyle, classical music, or simply jamming, you can always count on the incredibly versatile DADGAD tuning.
While I was looking for topics to write about, I thought why not give you some songs in DADGAD to keep you engaged at home.
So, in this post, I have listed 12 popular DADGAD tuning songs that you can easily learn and play on the guitar.
Most of the songs mentioned below are pretty easy and will not take much time to learn.
To make your work easier, I have linked each song with its video lessons so that you can easily refer to it without searching for it.
So, before we begin, let's first tune to DADGAD.
How to tune to DADGAD tuning?
Tuning to DADGAD is really simple, all you have to do is tune your 1st, 2nd, and 6th string down a whole step from standard tuning. Here is the step-by-step instruction below.
First, tune your 6th (low e) string down a whole step to D.
Here your A, D, and G strings will remain the same.
Next, tune the B string down a whole step to A.
Finally, tune the high E string down a whole step to D.
You are now tuned to DADGAD tuning. let's look at the songs.
Here are 12 popular Songs in DADGAD Tuning
1. Kashmir by Led Zeppelin
Written by Jimmy Page and Robert Plant, 'Kashmir' is probably one of the best songs recorded in DADGAD tuning and it should definitely get a place in your playlist. The song contains one of the most recognizable and iconic riffs in the rock history, "the main riff". Apart from that, Robert Plant's intense lyrics and vocal variations brings out the real beauty of this song.
To your surprise, the complete song is built around four riffs ( including the main riff ) despite being an 8 minutes long track and the great thing is they are all quite simple and easy to pull off. Let's take a look at the main riff.
Here is the tab for the Main Riff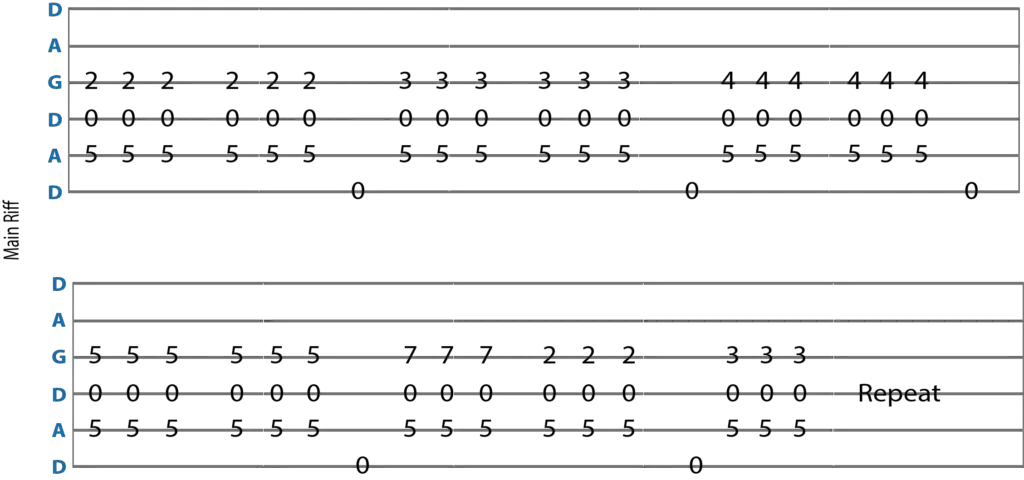 As you can see, the whole riff is played only on three strings: 3rd, 4th, and 5th with an open note played on the 6th string after every quarter bar.
You can also notice that the 5th note of the 5th (A) string and open note of the 4th string stays fixed throughout the riff. Here, what I mean to say is, the riff doesn't require much finger movements and is easy to play.
I highly recommend you to check this video lesson by Marty Music where you can learn all four riffs and the strumming pattern of this song step by step.
2. Photograph by Ed Sheeran
Featuring Ed Sheeran and Johnny Mcdaid as co-writers, this is the last single from Sheeran's second studio album "X" (multiply) and it is one of his most successful and soothing songs composed in DADGAD tuning.
One of the many great things, Ed Sheeran does is to keep his songs simple and straightforward with easy chord progressions and song structure and this one is no exception.
It is a simple acoustic guitar track with the simplest of song structure but not to forget his flawless vocals, which have gotten this song streamed over 4 billion times on Spotify.
Additionally, the song has a beautiful arpeggiated intro in D-Bm-A-G chord progression, which is followed by a catchy palm-muted strumming section. In terms of lyrics, it is all about heartbreaks but meaningful and quite emotional.
Overall, it is a great song for beginners looking for 4 chord songs in DADGAD tuning. You can learn the whole song by clicking the link below.
3. Knock on Wood by Justin King
When talking about DADGAD tuning, you can't miss out on Justin King. Released in 2001, 'Knock on Wood' is a great percussive style acoustic instrumental from his album 'Le Bleu'.
As the title sounds, this song is a mixture of fingerstyle, tapping, and strikes on the acoustic guitar. It's like playing the drums (percussion) and guitar at the same time. This one will mesmerize you for sure.
Since this song involves some advanced techniques, I won't recommend it for new students or beginners. However, you can still give it a try.
Moreover, it is one of the perfect songs for guitar players who want to improve and polish the techniques like percussive fingerstyle, tapping on acoustic guitar, and building endurance on both picking and fretting hand.
Do give it a listen on youtube and let me know if you liked it or not. To learn it, you can follow along with this video tutorial, by Dave Connell.
4. Circle By Slipknot
When it comes to heavy metal band Slipknot, we expect some heavy riffs and hard-hitting vocals, but here is a song that shows a mellower and emotional side of the band.
Released in 2004, 'Circle' is the 6th track from the band's third studio album 'Vol. 3: (The Subliminal Verses)' and it is in DADGAD tuning. The song is all about how Corey's ( lead singer ) father didn't meet him until he was 30.
Including the freakingly emotive lyrics, this ballad is a treat for acoustic guitar songs lovers because the layering of the crispy strumming and the muddy bass line, mixed with Corey's melodic vocals will blow you away for sure.
Not to forget the drum outro by Joey Jordison, which sound so out of place but definitely makes this song a little different and unique in its own way.
Although, this song can be played in Standard tuning but In order to play it correctly, you have to place a capo on the 2nd fret and tune your guitar in DADGAD tuning.
5. The Only boy awake by Meadows
The Only Boy awake is one more awesome love song in DADGAD tuning by Meadows. It is the second track from his album of the same name 'The Only Boy Awake'.
Although it is a love song, it sounds motivational and inspiring. It amazes me how Meadows arranged the chords and the structure of the song.
There is something you need to pay attention, to play this song right, here it goes. After you tune your guitar to DADGAD, you have to clip a capo on the second fret and once again tune your guitar to F-C-F-A#-C-F ( thickest to thinnest ).
Now, the tuning part is done.
Let's see the structure of the song.
The whole song is based on two fingerstyle patterns that are very easy to play and that's it. All you have to memorize are the two patterns and some easy open chords that you can learn by clicking the link below.
6. Black Mountain Side by Led Zeppelin
From Led Zeppelin's self-titled debut album, here is an astounding instrumental in DADGAD tuning that you can try on an acoustic guitar. Inspired by "Down by Blackwaterside" ( a traditional folk song ), Black Mountain Side is the first song recorded in DADGAD tuning by the band.
With Viram Jasani on Tabla and Jimmy Page on an acoustic guitar, this 2-minute long hypnotic tune almost feels like a dream sequence – giving the feeling of drifting in and out of consciousness. During live concerts, they often combine this trance-like musical piece with another instrumental, 'White Summer' which is also in this amazing DADGAD tuning.
Filled with quirky timings and complex guitar parts, you may find it challenging to pull this song off on an acoustic guitar but the video lesson mentioned above might help you in decoding and learn this incredible piece of art.
7. Dear Maria Count Me In by All Time Low
'Dear Maria Count Me In' is a punk-rock song by American rock band 'All Time Low' released in the year 2007.
It is the 6th single from their second studio album 'So wrong, it's right' and the first song of the band that got featured in Billboard Hot 100.
While searching for songs in DADGAD tuning, I stumbled upon this masterpiece and I instantly became a fan in the first listen. Apart from its awesome music video, the song has a cool chord progression, some great harmonies, and a catchy breakdown.
I am sure if you haven't heard it yet, you will love it on the first listen. Although it is an electric guitar song, you can easily play it on an acoustic guitar. Here is the video where you can see 'All Time Low' performing this song unplugged at the Hurley Studios.
You can watch it for reference or else you can watch the lesson below for a step-by-step guide.
8. Tell Her This by Del Amitri
This is one more DADGAD tuning song by the Scottish alternative rock band, Del Amitri" you are going to love. Many of you might know this song from the TV Series 'Scrubs'.
It was Released in 1995 as the fifth track from their fourth studio album 'Twisted'. If you ask me then it is a simple song with a simple chord progression and a very catchy strumming pattern.
To play this song exactly as Del Amitri plays, you need a capo to be clipped on the 6th fret. If in case you don't have one then I highly suggest getting one, especially for this song.
In total, the song has four chords and a strumming pattern that goes as D-DUD-D-DUD.
Here you can watch Del Amitri performing it live for reference. Below is the lesson you can watch, to learn the whole song. Overall, it is a great song for new learners who wants to try their hands on DADGAD tuning.
9. In Dreams by Ben Howard
Written by singer-songwriter Ben Howard, "In Dreams" is one more fingerstyle song in DADGAD tuning you can learn. It was released in the year 2014 as the 4th track from his second studio album 'I forget Where We Were'.
Like the instrumental Knock on the wood by Justin King, this song is also very technical and based on a fast-paced and cool-sounding finger-picking pattern.
Here is the Tab of the pattern
In Dreams, is based on the fingerpicking pattern that you are seeing above. As you can notice there are only open notes. Once you master this pattern, it will become easier for you to tackle the later parts of the song which include slides, hammer-ons, and pull-offs.
I won't talk much about it but recommend you to watch this video lesson of this song by Bantham Legend. In this video, Bantham has broken down the track into several parts and explained everything, a to z on how to play this song.
10. Drifting by Andy McKee
Released in 2001, Drifting is one more legendary percussive fingerstyle instrumental in DADGAD tuning by Andy Mckee from his first album Nocturne. 
Andy Mckee is known for his mesmerizing fingerstyle playing and released over five albums, mostly instrumentals.
All his tunes are a piece of art and involve some of the most complicated guitar techniques like clapping the body of the guitar while playing, tapping, natural harmonics, etc. 
Many of the techniques I have mentioned above can be easily applied to an electric guitar but it will take a lot of practice to execute it on an acoustic. 
So, all I want to say is, like his other songs, 'Drifting' also involves all the techniques I have mentioned above and I don't recommend this one for new learners. 
However, if you are already into percussive fingerstyle then it is a great song for exploring this style on a deeper level and polishing the skills you already possess. 
11. Black and White by Niall Horan
Black and White is one more popular tune in DADGAD tuning by Niall Horan. It was released as the fourth single from his second studio album Heartbreak Weather. 
Niall Horan wrote this song along with Julian Bunetta, Teddy Geiger, Eskeerdo, and Scott Harris. 
If you want a simple and easy-to-learn DADGAD tuning song then this is it. It has the simplest of song structure, chord progression, and strumming pattern. 
Here are the chord diagrams for Black and White

As you can see in the image above, there are only four chords: D-G-A-Bm and as we are playing in DADGAD, only the fingerings are changed. The entire song revolves around these four chords with 2 strumming patterns, one for the verse and another for the chorus. You can learn both the patterns here.
The song also has a beautiful and super easy arpeggiated intro that is played on the 3rd and the 4th string. Below is the tab for it.
Black and White Intro Tab

As you can see, the intro is played only on the 3rd and the 4th string. This intro is repeated through out the song. You can use your index and middle finger to play it. To sound exactly like in the record, you have to use a delay pedal (effect) to get that echo effect.
12. That's When You Came In by Steel Panther
That's When You Came In is a song by Steel Panthers from their album 'Lower the Bar'. The song is in DADGAD tuning and has some really good rhythm that is fun to play.
The song punches right away with amazing acoustic guitar strums by Satchel and power vocals by Michael Saenz. As a result, it hooks you up from the start till the end of the song.
There is nothing much to talk about this tune as it is a simple track with a simple structure until the distortion part kicks in.
Here is a video by Satchel himself explaining the chord progression, the strumming pattern, and everything you need to know about this song.
13. Dueling Ninjas by Trace Bundy
Released in 2004, Dueling Ninjas is an acoustic instrumental by Trace Bundy from his album 'Adapt'. Trace Bundy aka 'The Acoustic Ninja' is known for his amazing acoustic guitar playing and using multiple capos.
His playing style is a mixture of percussive fingerstyle and guitar techniques like hammer-ons, pull-offs, tapping, slides, and harmonics.
This song 'Dueling Ninjas' is a perfect example of his magical capabilities on the acoustic guitar. Like I have mentioned above, this tune is also a blend of a lot of tapping, slides, fast-paced arpeggios, and harmonics.
If you ask me, I am not a big fan of percussive fingerstyle ( of course, because it is difficult ) but this track surely inspired me to learn more about this playing style.
Here is a video where you can watch Trace Bundy performing this song live and here is a video where you can learn the whole instrumental step by step.
14. Abacus by Fionn Regan
Finally, one more easy song in DADGAD tuning that you can learn. Abacus is a great fingerpicking folk tune by Irish singer-songwriter, Fionn Regan. It was released in the year 2006 as the eleventh track from his debut studio album 'The End of History.
You won't find any strumming patterns, any complicated techniques but a couple of beautiful fingerpicking patterns and soothing vocals by Fionn. That's all this song is about.
Here is the Tab for the Intro Fingerpicking Pattern
As you can see, the pattern is quite simple and has no techniques like slides and hammer-ons. This pattern goes for the intro as well as the verse. There is one more pattern that is used for the chorus that you can learn in the lesson below.
Note: To sound exactly like the original song or to play along, you have to first tune your guitar to DADGAD and place a capo on the fourth fret.
Watch the video lesson of Abacus by Joe Gallagher.
Summing Up
There are lots more songs in DADGAD tuning but these are the popular ones. Do, let me know in the comments if the post was helpful. I will be coming up with such posts like this so, don't forget to visit again.