If you are looking for Dynamite chords without the capo and landed here then go nowhere. In this post, I will show you its chords and strumming pattern which is easy.
Dynamite is a great song and sound great on guitar. Without the capo, the song contains few barre chords but is easily playable with some practice. Below you will find everything you need to learn this song from start to end.
---
Dynamite Guitar Chords No Capo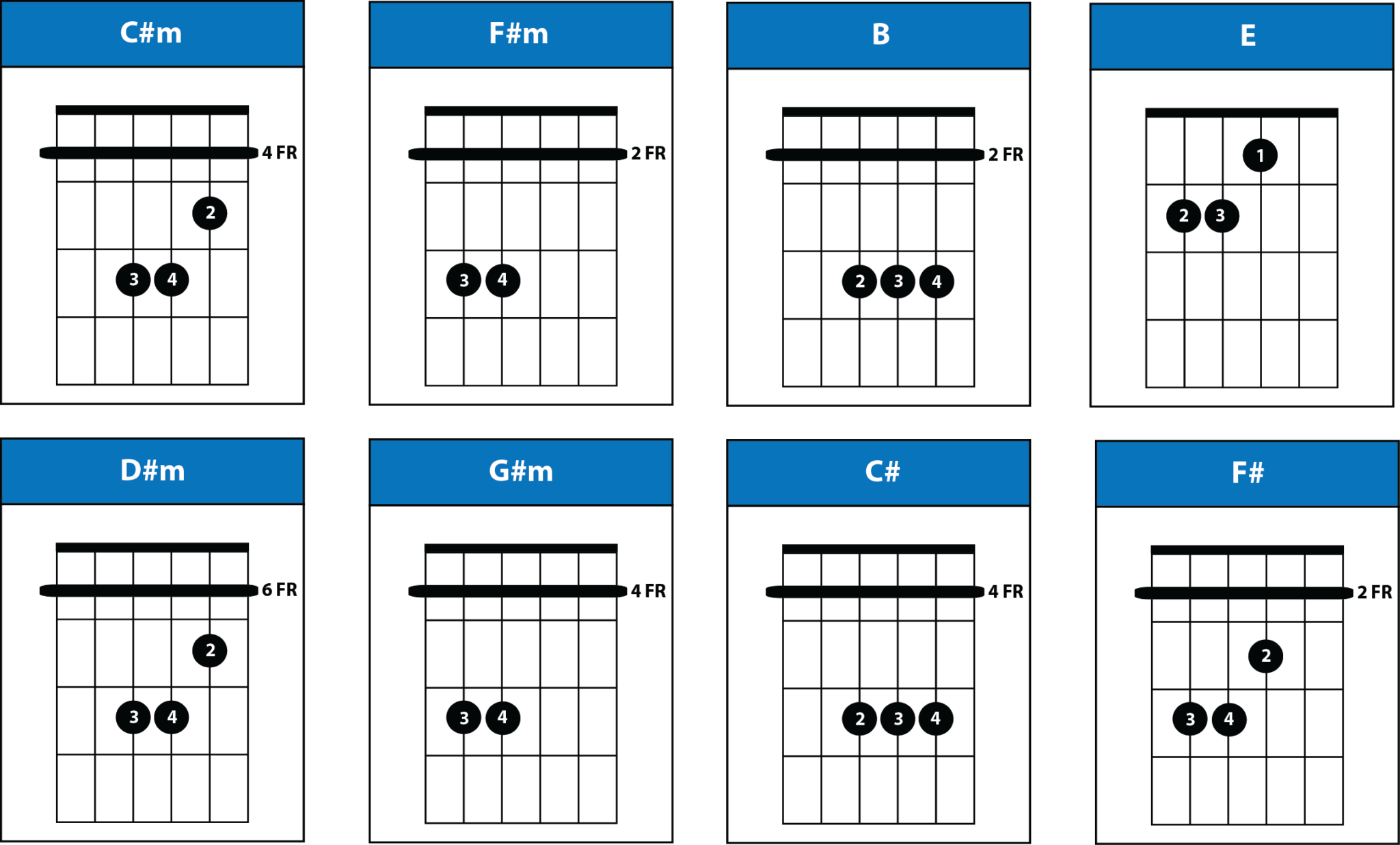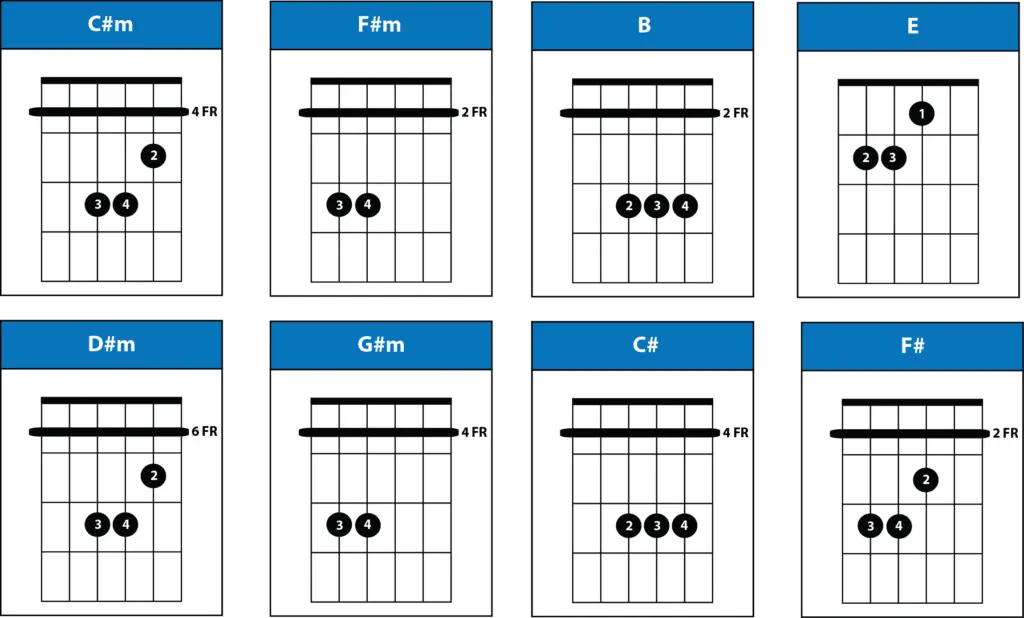 As you can see the chords for Dynamite without the capo are C#m, F#m, B, E, D#m, G#m, C#, and F#. A lot of barre chords but the good news, the whole song revolves around C#m, F#m, B, E chords. It is only towards the end ( when the scale changes ) that the other four chords are used.
Dynamite Strumming Pattern

The strumming pattern is pretty simple for this song. It goes as D-UDUD-UDUD-DU. I am sure you can play this pattern, if not do refer to the video mentioned below for a visual representation.
---
Dynamite Guitar Lyrics with Chords
[Intro]
Cause[C#m]I,I,I'm in the [F#m]stars tonight
So watch me [B]bring the fire and set the [E]night alight
[Verse – 1]
[C#m]Shoes on,  get up in the morn'
Cup of [F#m]milk, let's rock and roll
[B]King Kong, kick the drum
Rolling [E]on like a Rolling Stone
[C#m]Sing song when I'm walking home
Jump [F#m]up to the top, LeBron
[B]Ding-dong, call me on my phone
ice [E]tea and a game of ping pong
[Pre-Chorus]
[C#m]This is getting heavy, can you hear the [F#m]bass boom? I'm ready (Woo-hoo)
[B]Life is sweet as honey, yeah, this [E]beat cha-ching like money, huh
[C#m]Disco overload, I'm [F#m]into that,
I'm good to go
I'm [B]diamond, you know I glow up.
[E]Hey, so let's go
[Chorus]
'Cause [C#m]I, I, [F#m]I'm in the [B]stars tonight [E]
So watch me [C#m]bring the [F#m]fire and set the [B]night alight ( [E]Hey)
[C#m]Shining through the [F#m]city with a [B]little funk and [E]soul
So I'ma [C#m]light it [F#m]up like [B]dynamite, [E]woah-oh-oh
[Verse – 2]
[C#m]Bring a friend, join the crowd, who [F#m]ever wanna come along
[B]Word up, talk the talk, just [E]move like we off the wall
[C#m]Day or night, the sky's alight, so we [F#m]dance to the break of dawn (Hey)
[B]Ladies and gentlemen, I got the medicine so [E]you should keep ya eyes on the ball, huh
[Pre-Chorus]
[C#m]This is getting heavy, can you hear the [F#m]bass boom? I'm ready (Woo-hoo)
[B]Life is sweet as honey, yeah, this [E]beat cha-ching like money, huh
[C#m]Disco overload, I'm [F#m]into that, I'm good to go
I'm [B]diamond, you know I glow up. [E]Let's go
[Chorus]
'Cause [C#m]I, I, [F#m]I'm in the [B]stars tonight [E]
So watch me [C#m]bring the [F#m]fire and set the [B]night alight ( [E]Hey)
[C#m]Shining through the [F#m]city with a [B]little funk and [E]soul
So I'ma [C#m]light it [F#m]up like [B]dynamite, [E]woah-oh-oh
[Post-Chorus]
[C#m]Dyn-na-na-na, [F#m]na-na-na-na-na, na-na- [B]na, life is [E]dynamite
[C#m]Dyn-na-na-na, [F#m]na-na-na-na-na, na-na- [B]na, life is [E]dynamite
[C#m]Shining through the [F#m]city with a [B]little funk and [E]soul
So I'ma [C#m]light it [F#m]up like [B]dynamite, [E]woah-oh-oh
[Bridge]
[C#m]Dyn-na-na-na, na-na, na-na, [F#m]ayy. [B]Dyn-na-na-na, na-na, na-na, [E]ayy
[C#m]Dyn-na-na-na, na-na, na-na, [F#m]ayy. [B]Light it up like [E]dynamite
[C#m]Dyn-na-na-na, na-na, na-na, [F#m]ayy. [B]Dyn-na-na-na, na-na, na-na, [E]ayy
[C#m]Dyn-na-na-na, na-na, na-na, [F#m]ayy. [B]Light it up like [E]dynamite
[Chorus]
'Cause [C#m]I, I, [F#m]I'm in the [B]stars tonight [E]
So watch me [C#m]bring the [F#m]fire and set the [B]night alight ( [E]Hey)
[C#m]Shining through the [F#m]city with a [B]little funk and [E]soul
So I'ma [C#m]light it [F#m]up like [B]dynamite, [E]woah-oh-oh
'Cause [C#m]I, I, [F#m]I'm in the [B]stars tonight [E]
So watch me [C#m]bring the [F#m]fire and set the [B]night alight ( [E]Hey)
[C#m]Shining through the [F#m]city with a [B]little funk and [E]soul
So I'ma [C#m]light it [F#m]up like [B]dynamite, [E]woah-oh-oh