Images and Data Source – Wikipedia
1. Bananarama
| | |
| --- | --- |
| Year | 1981-Present |
| Genres | Pop, Dance Pop, New Wave |
Bananarama are an English pop group from London formed in 1980 by friends Sara Dallin, Siobhan Fahey, and Keren Woodward.
Their success on both pop and dance charts saw them listed in the Guinness World Records for achieving the world's highest number of chart entries by an all-female group.
Between 1982 and 2009, they had 30 singles reach the Top 50 of the UK Singles Chart.
Source (More on) – Wikipedia
---
2. The Bangles
| | |
| --- | --- |
| Year | 1981–1989, 1998–present |
| Genres | Pop Rock |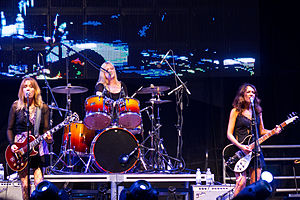 The Bangles is an American pop rock band formed in Los Angeles, California, in 1981.
The band recorded several singles that reached the U.S. top 10 during the 1980s, including "Manic Monday" (1986), "Walk Like an Egyptian" (1986), "Hazy Shade of Winter" (1987), "In Your Room" (1988), and "Eternal Flame" (1989).
The band's classic lineup consisted of founding members Susanna Hoffs (guitar and vocals), Vicki Peterson (guitar and vocals), Debbi Peterson (drums and vocals), with Michael Steele (bass and vocals).
As of June 2018, the band consisted of sisters Vicki and Debbi Peterson, Hoffs, and founding bassist Annette Zilinskas.
Source (More on) – Wikipedia
---
3. Go-Go's
| | |
| --- | --- |
| Year | 1978-Present |
| Genres | New wave, Power Pop, Pop Rock |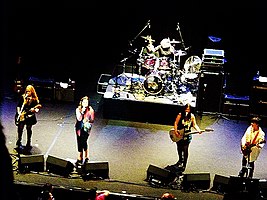 The Go-Go's are an American rock band formed in Los Angeles, California, in 1978.
Except for short periods when other musicians joined briefly, the band has had a relatively stable lineup consisting of Charlotte Caffey on lead guitar and keyboards, Belinda Carlisle on lead vocals, Gina Schock on drums, Kathy Valentine on bass guitar, and Jane Wiedlin on rhythm guitar.
They are widely considered the most successful all-female rock band of all time.
Originating in the Los Angeles punk rock scene in the late 1970s, the quintet's debut album, Beauty and the Beat topped the Billboard album chart – a (still-unequaled) first for an all-female band writing their own material and playing their own instruments.
Source (More on) – Wikipedia
4. Vixen
Vixen is an American rock band formed in Saint Paul, Minnesota, in 1980. During its most commercially successful period from 1987 to 1992, the band consisted of Jan Kuehnemund (lead guitar), Janet Gardner (lead vocals, rhythm guitar), Share Ross (bass guitar), and Roxy Petrucci (drums).
The band's eponymous first album was released in 1988 and reached No. 41 on the Billboard 200. Their second album Rev It Up was released in 1990 and reached No. 52 on the Billboard 200.
Their third album Tangerine was released in 1998. Their fourth album Live & Learn was released in 2006.
Source (More on) – Wikipedia
5. Salt-N-Pepa
| | |
| --- | --- |
| Year | 1985-Present |
| Genres | Hip-Hop, Pop Rap |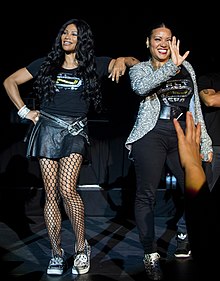 Salt-N-Pepa (also stylized as Salt 'N' Pepa or Salt 'N Pepa) is an American hip-hop group formed in New York City in 1985. Group members included Salt (Cheryl James), Pepa (Sandra Denton), and DJ Spinderella (Deidra Roper).
They were signed to Next Plateau Records and released their single "Push It" in 1987, which hit number one in three countries and became a top 10 or top 20 hit in various countries.
Their debut album, Hot, Cool & Vicious, sold more than 1 million copies in the US, making them the first female rap act to achieve gold and platinum status.
Their fourth album, Very Necessary, sold over 7 million copies worldwide (5 million in the U.S.), making it the highest-selling album by a female rap act in history at the time.
Source (More on) – Wikipedia
---
6. En Vogue
| | |
| --- | --- |
| Year | 1989-Present |
| Genres | R&B, Soul, Funk |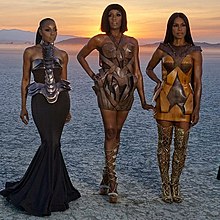 En Vogue is an American R&B/pop vocal group whose original lineup consisted of singers Terry Ellis, Dawn Robinson, Cindy Herron, and Maxine Jones.
Formed in Oakland, California, in 1989, En Vogue reached No. 2 on the US Hot 100 with the single "Hold On", taken from their 1990 debut album Born to Sing.
The group's 1992 follow-up album Funky Divas reached the top 10 in both the US and UK, and included their second US number two hit "My Lovin' (You're Never Gonna Get It)" as well as the US top 10 hits "Giving Him Something He Can Feel" and "Free Your Mind".
Source (More on) – Wikipedia
---
7. Vanity 6
| | |
| --- | --- |
| Year | 1982-1983 |
| Genres | R&B, Pop, Funk |
Vanity 6 was an American female vocal trio that gained popularity in the 1980s. They were protégées of musician Prince. Led by singer Vanity, they are known for their song "Nasty Girl."
Their first single, "He's So Dull", was a minor hit in Australia and the Netherlands, and appeared in the film National Lampoon's Vacation.
The second single, "Nasty Girl", was a hit on both the U.S. R&B chart, peaking at number 7, and U.S. Dance chart, where it hit number one.
It also made an appearance on the Bubbling Under Hot 100 Singles chart."Nasty Girl" was a top 10 hit in the Netherlands, and a top 20 hit in the Flanders region of Belgium.
The song was featured in the film Beverly Hills Cop, although it was not included on the soundtrack. "Nasty Girl" was also featured in the 1983 sex comedy Private School.
Source (More on) – Wikipedia
---
8. The Chicks
| | |
| --- | --- |
| Year | 1989-Present |
| Genres | Country, Bluegrass |
The Chicks (previously known as Dixie Chicks) are an American country music band composed of lead singer Natalie Maines and multi-instrumentalists/vocalist Martie Maguire (née Erwin) and Emily Strayer (also née Erwin and formerly Robison), the latter two of whom are sisters.
The Erwin sisters founded the band in 1989 in Dallas, Texas, with bassist Laura Lynch and vocalist and guitarist Robin Lynn Macy.
They performed bluegrass and country music, busking and touring the bluegrass festival circuits and small venues for six years without attracting a major label.
In 1992, Macy left and Lynch became the lead vocalist. Following a change in repertoire, the Chicks achieved commercial success, beginning in 1998 with the hit songs "There's Your Trouble" and "Wide Open Spaces".
Source (More on) – Wikipedia
9. L7
| | |
| --- | --- |
| Year | 1985-Present |
| Genres | Punk Rock, Grunge, Hard Rock |
L7 is an American all-female rock band founded in Los Angeles, California, first active from 1985 to 2001 and re-formed in 2014.
Their longest standing lineup consists of Suzi Gardner (guitars, vocals), Donita Sparks (vocals, guitars), Jennifer Finch (bass, vocals), and Dee Plakas (drums, vocals).
L7 has released seven studio albums and has toured widely in the US, Europe, Japan, Australia, and South America. "Pretend We're Dead" was heavily played on US alternative radio and entered the top 10 on the Billboard Modern Rock chart in 1992.
Due to their sound and image, L7 is often associated with the grunge movement of the late 1980s and early 1990s.
As an all-female band, L7 formed Rock for Choice in 1991 and have, at times, also been linked to riot grrrl, although they preceded and are outliers of both the grunge and riot grrrl movements.
The band's name, L7, derives from a slang term for square, and was deliberately chosen as a gender neutral sign.[10] A documentary film about the band, L7: Pretend We're Dead, premiered in 2016.
Source (More on) – Wikipedia
---
10. Sister Sledge
| | |
| --- | --- |
| Year | 1971-Present |
| Genres | R&B, Disco, Soul |
Sister Sledge is an American musical vocal group from Philadelphia, Pennsylvania. Formed in 1971, the group consisted of sisters Debbie, Joni, Kim, and Kathy Sledge.
The siblings achieved international success at the height of the disco era.
In 1979, they released their breakthrough album We Are Family, which peaked at number three on the Billboard 200 and included the 1979 US top-10 singles "He's the Greatest Dancer" and "We Are Family". A third single, "Lost in Music", reached the US top 40.
"We Are Family" earned a Grammy Award nomination for Best R&B Performance by a Duo or Group with Vocal.
Source (More on) – Wikipedia