No matter what era you explore in the history of music, you are bound to find some truly amazing female singers that have made an impact on the world. And 2020 was no different as we were spoiled with some incredible vocal performances from a variety of artists.
Be it with their debut album, a much-anticipated return or simply continuing to wow us with their incredible vocal abilities, they have all helped to make 2020 a great year for music.
So, if you are looking for a roundup of the best female singers of 2020, look no further!
From soulful crooners to powerhouse vocalists, these are the singers that defined 2020.
Top Best Female Singers of 2020
There are many amazing female singers in the world, but the ones mentioned below are considered to be the best of 2020. These are the singers that have released exceptional music, delivered stellar performances, and have made a significant impact on the industry.
Note: This list is based on the highest album sales,  chart success, critical acclaim, and overall impact of the artist in 2020.
Taylor Swift
Ariana Grande
Carrie Underwood
Alicia Keys
Katy Perry
Kelly Clarkson
Miley Cyrus
Ellie Goulding
Beyonce´
Selena Gomez
Black Female Singers of 2020
The music industry owes a great debt to black female artists. They have been some of the most influential and groundbreaking artists of all time. From legends like Aretha Franklin and Nina Simone to modern icons like Beyoncé and Rihanna, black female singers have shaped the sound and culture of music.
This didn't come easy as they faced a great deal of adversity and racism. But they persevered and used their platform to speak out against injustice and fight for equality.
Today, there is a new generation of black female singers that are continuing this legacy and carrying the torch forward. They are using their voices to empower other black women and girls and fight against discrimination. And what better way to do that than through music?
Here are some of the best black female singers of 2020:
Beyoncé
Mya Harrison
H.E.R.
Kehlani
Jhené Aiko
SZA
Alicia Keys
Janelle Monáe
Ella Mai
Summer Walker
Female Country Singers of 2020
Since the early days of country music, women have been a staple of the genre. While the industry has seen its ups and downs, female singers continue to dominate the country music scene. And in 2020, there were a number of talented women leading the pack.
One such artist is Carrie Underwood. After winning American Idol in 2005, she quickly rose to become one of the biggest stars in country music. Her powerful voice and down-to-earth personality have won her legions of fans, and she shows no signs of slowing down.
Another notable singer is Miranda Lambert. She got her start as a contestant on Nashville Star in 2003 and has released five studio albums since then. Lambert's soulful voice and hard-hitting lyrics have made her one of the most respected artists in country music.
And finally, there's Maren Morris. She burst onto the scene with her 2016 album, Hero, which introduced the world to her unique brand of country music. Morris' unapologetic attitude and vulnerability have resonated with fans, making her one of the most promising artists in the genre.
Here are some more and the best female country singers of 2020:
Gabby Barrett
Kacey Musgraves
Miranda Lambert
RaeLynn
Carly Pearce
Kelsea Ballerini
Maren Morris
Lauren Alaina
Ashley McBryde
Carrie Underwood
Female Rock Singers of 2020
There is no doubt that women have always been a part of the rock music scene, but in 2020, they really made their presence felt.
These women are not just singing about love and heartbreak; they are writing songs about social justice and political issues that matter to them. They are using their platforms to speak out about important topics like mental health, body image, and gender equality. And their message is clear: girls can rock just as hard as boys.
In an industry that has long been dominated by men, it is refreshing to see so many talented female singers making their mark on the rock music scene.
Miley Cyrus
Gwen Stefani
Lana Del Rey
Avril Lavigne
Kelly Clarkson
Ellie Goulding
Taylor Swift
Christina Aguilera
Anastacia
Carly Rae Jepsen
2020 Female Pop Singers
The rise of female artists in the pop music scene of the 2020s has been nothing short of incredible. Women like Ariana Grande, Taylor Swift, and Selena Gomez have dominated the charts and sold out stadiums around the world.
What makes this era of female pop so unique is that these artists are able to break through the barriers that have traditionally kept women from achieving success in the music industry. They are able to control their own image and message, and they aren't afraid to speak out about important issues like feminism and social justice.
Fans have responded to this new wave of female pop stars by making them some of the most popular musicians in the world. And as they continue to break records and shatter expectations, it is clear that the future of pop music is female.
So, without further ado, here are the best female pop singers of 2020:
Ariana Grande
Selena Gomez
Katy Perry
Charli XCX
Pink
Shakira
HyunA
Farina
IU
Shreya Ghoshal
Female R&B Singers of 2020
Imagine a world without R&B music. It would be a world without soul, without passion, and without heart. R&B is one of the most emotionally charged genres of music, and it has long been dominated by black female singers.
From Aretha Franklin to Mary J. Blige, black women have been the voice of R&B for generations. They have used their music to speak out about important issues like racism, sexism, and inequality. And they have inspired other women to use their voices to fight for change.
And in 2020, there was no shortage of talented R&B female singers. Women like H.E.R., Summer Walker, and SZA released music that was both beautiful and powerful. In fact, SZA's album, Ctrl, was one of the best albums of the year, period.
Alicia Keys
Janelle Monáe
Chrisette Michele
Fantasia Barrino
Raven-Symoné
Nicole Wray
Tiffany Young
H.E.R.
Summer Walker
SZA
New Female Singers of 2020
It's no surprise that every year, there are always new and upcoming female singers who make their mark on the music industry. 2020 was no different. This year saw the rise of several new and talented women who are destined for greatness.
One of the most promising new artists is Billie Eilish. At just 17 years old, Eilish has already released one of the best albums of 2020. When We All Fall Asleep, Where Do We Go? is a haunting and beautiful record that is unlike anything else out there.
What's more, is that Eilish is just the tip of the iceberg. There are plenty of other new and upcoming female singers who are making waves in 2020. Here are just a few of them:
Billie Eilish
Cardi B
Bebe Rexha
Dua Lipa
Alessia Cara
Jessie Reyez
Bhad Bhabie
Ava Max
Destiny Rogers
Julia Michaels
Female Hard Rock Singers of 2020
Girls have always proved they can rock as hard as the boys, and in 2020, they definitely made their presence felt in the hard rock genre. Female-led hard rock bands like Halestorm, The Pretty Reckless, and In This Moment are all headlining festivals and selling out arenas all over the world.
These women are not afraid to get loud and rowdy, and they are definitely not afraid to speak their minds.
But What's behind this resurgence in female-led hard rock? Some say it's a response to the rise of positive feminism while others credit social media for giving these artists a larger platform. Whatever the reason, there's no doubt that these women are killing it!
And while there are too many talented female hard rockers to name them all, here are just a few of the best ones:
Maria Brink
Taylor Momsen
Anneke van Giersbergen
Karyn Crisis
Orianthi
Ellie Rowsell
Becca MacIntyre
Juliet Simms
Amy Love
Georgia South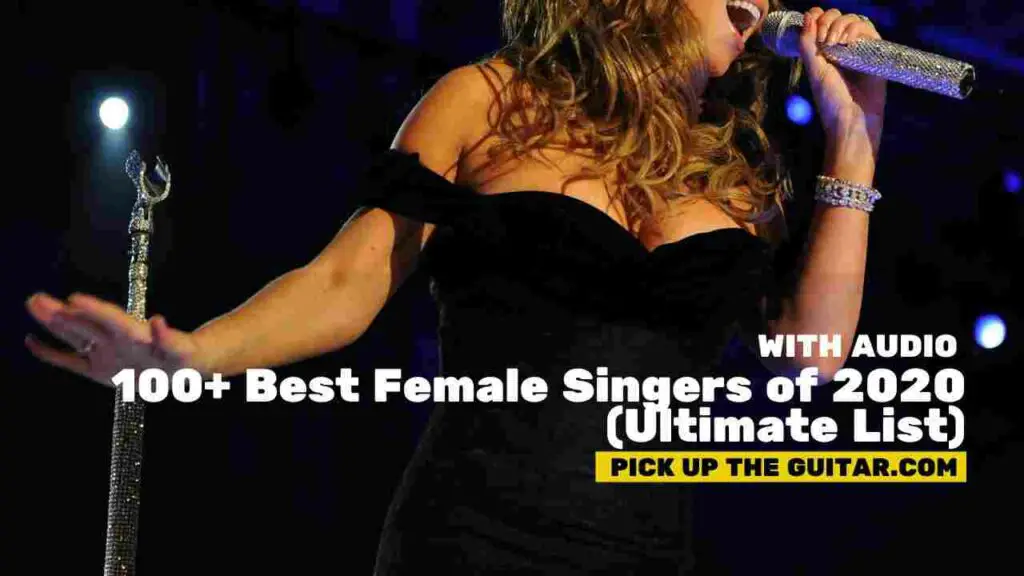 Female Jazz Singers of 2020
Ever since jazz was born in the early 20th century, women have played an important role in the genre. From Billie Holiday to Ella Fitzgerald, female jazz singers have always been at the forefront of the genre.
And as we are talking about the year 2020, it would be criminal to not mention the great Norah Jones. In February of 2020, Jones released her eighth studio album, Pick Me Up Off the Floor. The album was met with critical acclaim, and it cemented Jones's place as one of the greatest female jazz singers of all time.
But Jones is not the only great female jazz singer out there. There are plenty of other talented women making some amazing music in 2020. Here are the best of the best.
Becca Stevens
Simphiwe Dana
Norah Jones
Cyrille Aimée
Kavita Shah
Sirintip
Alicia Keys
Gretchen Parlato
Patricia Kaas
Anoushka Shankar
Hottest Female Singers of 2020
How do you define hot? Is it physical beauty? Is it talent? Or is it a combination of both? We will leave that up to you to decide.
But what we can say for sure is that these women mentioned are all incredibly talented and absolutely beautiful. These are women who are not just pretty but the whole package. Check them out if you don't believe us!
Selena Gomez
Billie Eilish
Bebe Rexha
Katy Perry
Ariana Grande
Ava Max
Dua Lipa
Julia Michaels
Saweetie
Taylor Swift

Canadian Female Singers 2020
Canada is known for many things like maple syrup, hockey, and poutine. But did you know that Canada is also home to some of the best female singers in the world?
From Celine Dion to Alanis Morissette, Canada has produced some truly amazing and talented women. And in 2020, we saw the rise of artists like Alessia Cara, Avril Lavigne, and Nelly Furtado.
Not only these women are insanely talented, but they are also absolutely gorgeous.
Jessie Reyez
Allie X
Alessia Cara
Ruth B
Charlotte Cardin
Kirsten Collins
Avril Lavigne
Carly Rae Jepsen
Shay Lia
Ria Mae
Female Gospel Singers of 2020
Gospel music is a type of Christian music that originated in the United States in the 1920s. The word "gospel" means "good news," and gospel music is traditionally used to spread the Christian message.
Gospel music usually has dominant vocals (usually a soloist) with Christian lyrics. Common instruments include the piano, organ, guitar, drums, and bass guitar.
The female presence in gospel music has been strong since its inception. Female soloists such as Mahalia Jackson, Marion Williams, Clara Ward, Della Reese, Aretha Franklin, Whitney Houston, Celine Dion, and numerous others have helped to shape the sound of the gospel over the years.
And 2020 is no different as the genre saw quite a few talented women making some incredible music. These artists delivered some of the year's best gospel albums while still remaining true to the genre's roots.
Tasha Cobbs
Le'Andria Johnson
Kierra "Kiki" Sheard
Mercy Chinwo
Amber Bullock
Yolanda Adams
Vickie Winans
Sinach
Lauren Daigle
Francesca Battistelli
Female Metal Singers of 2020
In 2020, there were a number of talented female metal singers who made their mark on the industry. Some of the biggest names include Lzzy Hale from Halestorm, Elize Ryd from Amaranthe, and Alissa White-Gluz from Arch Enemy. With their impressive skills and undeniable talent, these women are quickly becoming some of the biggest names in metal.
This is a piece of good news for metal fans as the genre has been dominated by men for far too long. But with these women leading the charge, we are finally seeing a change in the metal scene. And we couldn't be more excited about it!
Alissa White-Gluz
Simone Simons
Tarja Turunen
Cristina Scabbia
Suzuka Nakamoto
Larissa Stupar
Melissa Bonny
Dianne van Giersbergen
Taylor Momsen
Elize Ryd
French Singers Female 2020
From playful verses to heart-wrenching ballads, French music has always had a special place in our hearts. With songs that are both beautiful and emotive, it is no wonder why French music is so popular all over the world.
So, in this section, we present to you some of the best French female singers of 2020. From established veterans to up-and-coming stars, these women are sure to take your breath away with their stunning voices and captivating songs.
Izïa
Zaz
Jain
Poupie
Corine
Cléa Vincent
Alice et Moi
Clara Luciani
Silly Blue Boy
Yelle
Wrapping Up
So, there you have it, folks. 100+ of the best female singers of 2020. There are many others we could have included on this list but we had to keep it at a manageable number. These are the singers that we think are the cream of the crop and the future of music. So, go ahead and check them out. We are sure you will not be disappointed.