Whether you are a beginner, intermediate, or expert ukulele player, there is always something new to discover about this incredibly versatile instrument.
While I was looking for some topics to write about, I thought why not give you some fun ukulele songs to keep you engaged at home.
So, If you are looking to level up your skills or simply want to expand your ukulele repertoire, here are some fun ukulele songs for you to explore.
Most of the songs mentioned below require a maximum of four chords and are relatively easy yet fun to play with simple strumming patterns. To make your work, even more, easier, I have attached each song with its tabs and video lessons, so that you can refer to it without searching for it.
12 Fun Ukulele Songs for Beginners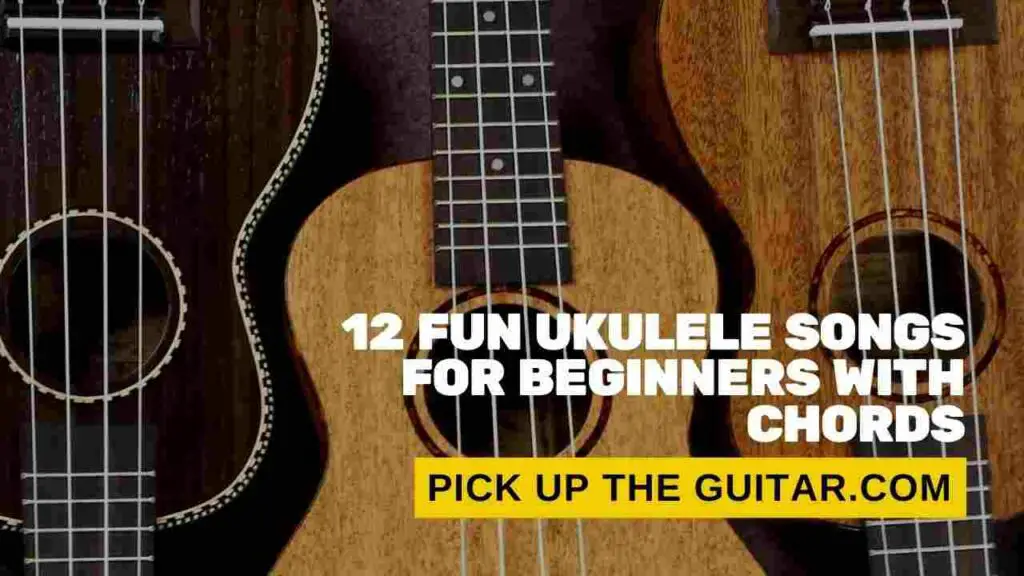 ---
1. Stand By Me – Ben E King
The first song on our list is 'Stand By Me' by Ben E which is an all-time classic and probably one of the sought-after songs among ukulele players even decades after it was released in 1961. 
Backed by King's rich and gospel-infused vocals, it is hard to think of a song more fun and suitable for the ukulele than this one.
What makes this song, even more, ideal to learn is the fact that there are only four easy chords you need to know to play this track from start to end. The chords are C, Am, F, G7, and except for the G7 chord, all others aren't difficult at all.
Besides, it also has a great melody line, simple song structure, and an easy to follow strumming pattern which is perfect for beginners and intermediate players.
[Tabs] [Video Lesson]
2. You've got a friend – Carole King
Probably one of the most popular songs ever made, You've Got a Friend is a song by Carole King that you can dedicate to anyone. You can sing it to your mom, dad, best friend or lover.
It can be used to express any relationship like friendship or love for someone.
Going back to its structure, this song has quite a lot of chords and variations throughout the song which might take you some time to go all through it but it is definitely a fun-to-play song and it is a must-add to your repertoire.
[Tabs] [Video Lesson]
3. Riptide – Vance Joy
Vance Joy's 2013 hit song is without a doubt one of the most played songs in ukulele jam sessions. Thanks to its positive feel and catchy tune, Riptide is a song that will stick into your mind and never let go.
The good news about it is that there are only four chords in this song: Am, G, C, and F that repeats over and over again for most parts, so there's no frustration when playing this song.
Some people find the rhythm in this song to be a bit tricky but once you get the hang of it, you can play this song perfectly from start to end.
[Tabs] [Video Lesson]
4. Uptown Funk – Mark Ronson feat. Bruno Mars
Another insanely funky song "Uptown Funk" by Mark Ronson feat. Bruno Mars that you can rely upon when playing in a ukulele jam session. Written by Ronson, Jeff Bhasker, Philip Lawrence, and Bruno Mars, this song is really fun to play.
The best thing is, the entire song has only two chords with some variations here and there, and once you get the strumming pattern and its picking patterns right ( up to speed ) you are good to go.
Note: There are few twists and turns in the strumming pattern of this song, so it may take some time to get the grip of it but with a little practice it can be done.
[Tabs] [Video Lesson]
5. Wonderwall – Oasis
This song needs no introduction but still, if you're a beginner and haven't heard this song before, then let me tell you that it's one of the best songs to learn when just starting out. The reason for that is that not only is it an eternal crowd-pleaser but it is also a pretty easy song to play.
The entire song consists of five chords and they are Em, G, D, A, and C, all basic chords and easy to play. The strumming pattern is the main highlight of this song which is a bit tricky but very catchy and a must learn.
Do give this song a shot if you haven't yet because you're definitely going to love playing it.
[Tabs]
6. Country Roads – John Denver
If there's one song that is popular with people who are learning how to play the ukulele, then it has to be Country Roads.
Written by John Denver and Bill Danoff, this song will be a favorite of yours once you start playing it because it has a really easy and consistent strumming pattern along with an easily singable chorus that just sticks into your head.
There are various versions of this song that use different chords but the four chords that sound great in this song are G, Em, C, and D. You just have to practice the chord switching a bit between these chords and you are halfway there.
[Tabs] [Video Lesson]
7. All Of Me – John Legend
Another simple and timeless classic by John Legend that you can play anytime and anywhere. As a beginner, this song is just going to impress everyone around you because of its catchy tune and soulful lyrics.
It has a really simple chord progression which goes as Em, C, G, D, and Am, that's all. The strumming pattern is also consistent throughout the song so there's nothing to think about and all you have to do is focus on hitting the right chords at the right time.
As I have mentioned above, you have to just practice switching between the chords. If you have just started playing the ukulele then this is the song I would recommend you to learn.
[Tabs] [Video Lesson]
8. Perfect – Ed Sheeran
Released in 2017, "Perfect" by Ed Sheeran is another fun song to play on the ukulele from his 'Divide' album. It is a beautifully written love song which actually is a dedication to his then girlfriend-now wife Cherry.
Although it's not an easy song, but with some practice, you can master it in no time. The key to this song is that once you get the strumming pattern right, the entire song just falls into place because of its slow tempo and consistent rhythm.
There are four chords used in this song G, Em, C, and D. Make sure you practice switching between these chords to play this song smoothly without pausing in between.
As far as the strumming pattern is concerned, it is really simple, it follows a Down Up pattern throughout the whole song. Follow along with the lesson mentioned above to learn the whole song from start to end.
[Tabs]
9. Knocking On Heavens Door – Bob Dylan
Bob Dylan's song, "Knockin' on Heaven's Door" is a song that has been covered by numerous artists, but it is most famously known for its cover by Guns N' Roses.
The intro of this song deceives listeners into thinking this song will be quite complicated to learn but it is actually quite easy.
It has only four chords Am7, D, C, and G with the same chord progression throughout the whole song. The rhythm of this song is also on point and very easy to follow. Most importantly though, this song is really fun to play on the Ukulele.
[Tabs] [Video Lesson]
10. Sweet Home Alabama – Lynyrd Skynyrd
Sweet Home Alabama is another popular song that is incredibly easy to play. A lot of people from different age groups know this song, it's a kind of staple among musicians.
The song is made up of mainly just three chords that you will see in most songs, G, C, and D. Once you memorize these chords you will find it easy to play and sing along. The song also has a very cool and distinctive rhythm that's quite catchy and easy to play.
Also, the changes of chords throughout the song aren't something that is very hard to understand and follow, which makes it a great choice for people who are just starting out.
[Tabs] [Video Lesson]
11. Pumped Up Kicks – Foster The People
Released in 2011, this song is the breakthrough hit by Indie Pop Band "Foster The People". Even if you're not a fan of indie music, there is still every chance that you would know Pumped Up Kicks by heart because it's just that catchy.
Just like most of the songs mentioned above, this one also has 4 simple chords A, D, G, and Em which repeat over and over again throughout. This makes It an excellent song to learn on the ukulele and to play along with.
The strumming pattern for this song is also quite easy and commonly used in the majority of songs which goes as DD-UU-DU. Most importantly this song goes very well when played on Ukulele.
Besides, this is one of those songs that everybody knows so if you ever want to impress your friends while camping or just hanging out, bust out the ukulele and play Pumped Up Kicks.
[Tabs] [Video Lesson]
12. One Love – Bob Marley
Bob Marley is a legend and a worldwide reggae icon and one of his most famous songs, "One Love" is a song for those who want to get into the reggae style.
Recorded in 1977, One Love was first released on Bob's ninth studio album 'Exodus' and is pretty simple to play. It is in the key of C and the chords used are C, G, Am, and F.
These are the same chords used in the majority of songs which makes it easy for anyone to figure out how to play this song.
One Love is a little tricky rhythmically because it uses the reggae strumming and it can be challenging if you haven't played it before but it is doable with little practice. Here is the video lesson of the whole song you can refer to.
[Tabs] [Video Lesson]
Wrap Up
So, I hope you enjoyed this article about the fun ukulele songs for beginners. If you have any suggestions or songs that I should add, please let me know via our contact us page.