In this tutorial, you will learn how to play the song "Here Again" by Elevation Worship.
The song is in the key of D major and is a moderately-paced worship song that is easy to learn. This song can be played with a capo on the 2nd fret, or without a capo. But this lesson is based on without capo.
Below you will find its chords, strumming pattern, lyrics, and everything you need to learn this song from start to end.
---
Here Again Chords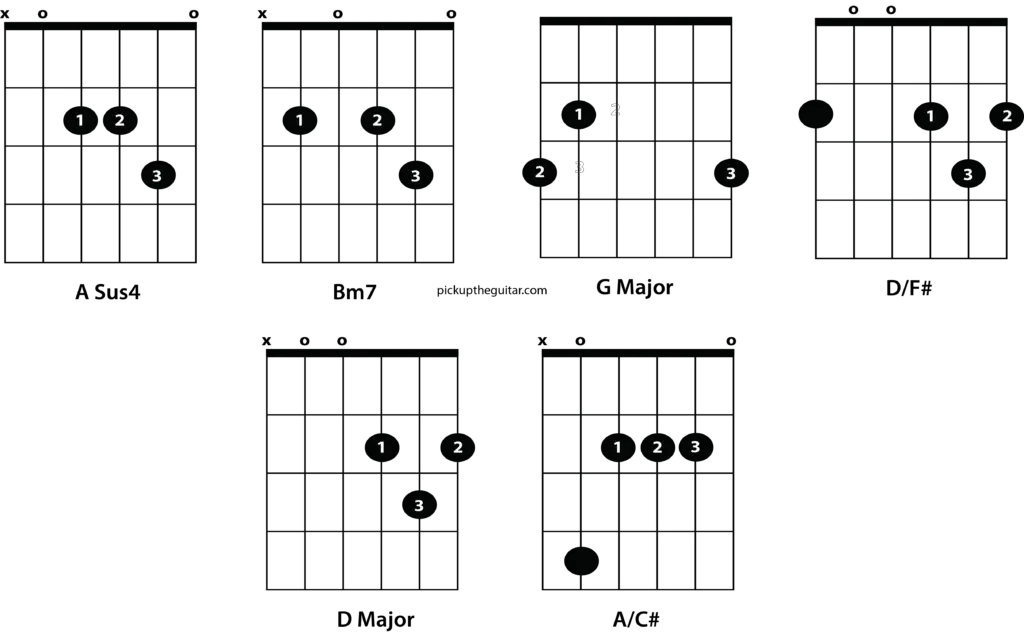 As you can see the chords for Here Again are Asus4, Bm7, G Major, D/F#, D, and A/C#. All pretty simple chords and very easy to play. Do refer to the video mentioned above for a visual representation.
Here Again Strumming pattern
The strumming pattern is pretty simple too. It goes as D-UDUD-UDUD-DU. Again refer to the video mentioned above to learn this pattern. It starts exactly at 3:17.
---
Here Again Chords with Lyrics
[Intro]
[Asus] [Bm7] [G] x2
[Verse – 1]
[Asus]Can't go [Bm7]back to the [G]beginning
[Asus]Can't [Bm7]control what [G]tomorrow will bring
[Asus]But I [Bm7]know here in the [G]middle
[Asus]Is the [D/F#]place where you [G]promise to be
[Chorus]
[D]I'm not enough
[Asus]Unless you come
[Bm7]Will you meet me here [G]again
[D]Cause all I want
[Asus]Is all you are
[Bm7]Will you meet me here [G]again
[Instrumental]
[Asus] [Bm7] [G] [Asus] [D/F#] [G]
[Verse – 2]
[Asus]As I [Bm7]walk now through the [G]valley
[Asus]Let your [Bm7]love rise [G]above every fear
[Asus]Like the [Bm7]sun shaping the [G]shadow
[Asus]In my [D/F#]weakness your [G]glory appears
[Chorus]
[D]I'm not enough
[Asus]Unless you come
[Bm7]Will you meet me here [G]again
[D]Cause all I want
[Asus]Is all you are
[Bm7]Will you meet me here [G]again
[Instrumental]
[D] [A/C#] [Bm7] [Asus] [G]
[Bridge]
Not for a [D]minute
Was I [A/C#]forsaken
The Lord is in this [Bm7]place
The [Asus]Lord is in this place
Come Holy [D]Spirit
Dry bones [A/C#]awaken
The Lord is in this [Bm7]place
The [Asus]Lord is in this [G]place
[Chorus]
[D]I'm not enough
[Asus]Unless you come
[Bm7]Will you meet me here [G]again
[D]Cause all I want
[Asus]Is all you are
[Bm7]Will you meet me here [G]again