There's no doubt that "Here Comes the Sun" is one of The Beatles' most iconic and beloved songs. But is it an easy song to play on the guitar?
Well, some guitar players might find the song relatively simple to play, while others may find it a bit more challenging. The main melody of the song is relatively straightforward, but there are some tricky chord progressions in the bridge.
If you're a beginner guitarist, it might be a good idea to start with some easier Beatles songs before attempting "Here Comes the Sun."
But in this lesson, you will learn an easy way to play this song using only 6 open chords and an easy strumming pattern. Here it goes.
---
Here Comes The Sun Chords (Capo – 7)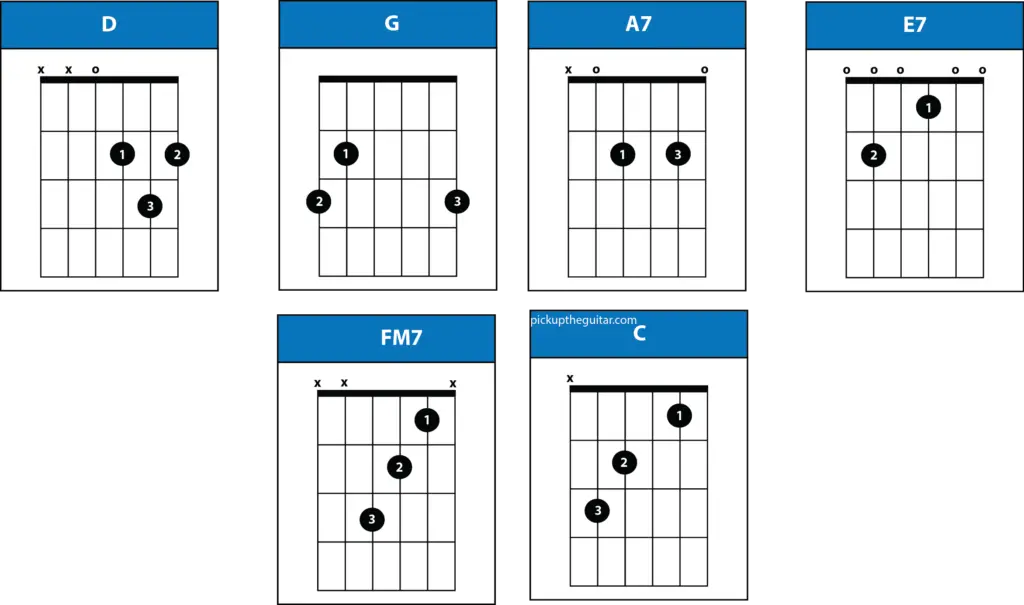 As you can see above the chords for Here Comes The Sun by the Beatles are D Major, G Major, A7, E7, F Major 7, and C Major. These are all simple and open chords and are easy to play. Note: This is the easy version of the original song.
Here Comes The Sun Strumming Pattern

There is no one definitive strumming pattern for Here Comes The Sun by the Beatles. However, a good starting point is to use the one mentioned above which goes as D-DU-U-DU. Refer to the video mentioned above to get a visual representation of this pattern.
Here Comes The Sun Lyrics with Chords
---
[Chorus]
[D]Here comes the sun, doo da doo doo
[G]Here comes the [E7]sun, and I say
[D]It's all right
[Verse 1]
[D]Little darling, it's been a [G]long cold lonely [A7]winter
[D]Little darling, it feels like [G]years since it's been [A7]here
[Chorus]
[D]Here comes the sun, doo da doo doo
[G]Here comes the [E7]sun, and I say
[D]It's all right
[Verse 2]
[D]Little darling, the smile's [G]returning to the [A7]faces
[D]Little darling, it seems like [G]years since it's been [A7]here
[Chorus]
[D]Here comes the sun, doo da doo doo
[G]Here comes the [E7]sun, and I say
[D]It's all right
[Bridge]
[FM7]Sun, [C]sun, [G]sun, here it [D]comes
[FM7]Sun, [C]sun, [G]sun, here it [D]comes
[FM7]Sun, [C]sun, [G]sun, here it [D]comes
[FM7]Sun, [C]sun, [G]sun, here it [D]comes
[FM7]Sun, [C]sun, [G]sun, here it [D]comes
[Verse 3]
[D]Little darling, I feel that [G]ice is slowly [A7]melting
[D]Little darling, it seems like [G]years since it's been [A7]clear
[Chorus]
[D]Here comes the sun, doo da doo doo
[G]Here comes the [E7]sun, and I say
[D]It's all right
[Outro]
[D]Here comes the sun, doo da doo doo
[G]Here comes the [E7]sun, and I say
[D]It's all right