In this lesson, we will look at how to play Hallelujah by Leonard Cohen on guitar.
Hallelujah is a great song with great lyrics and ear-pleasing chord progression. The good news is you need only 5 simple chords to play the complete song.
Below you will find its chords, strumming pattern, and everything you need to know to learn this song from start to end. So, let's look at its chords first.
---
Hallelujah Chords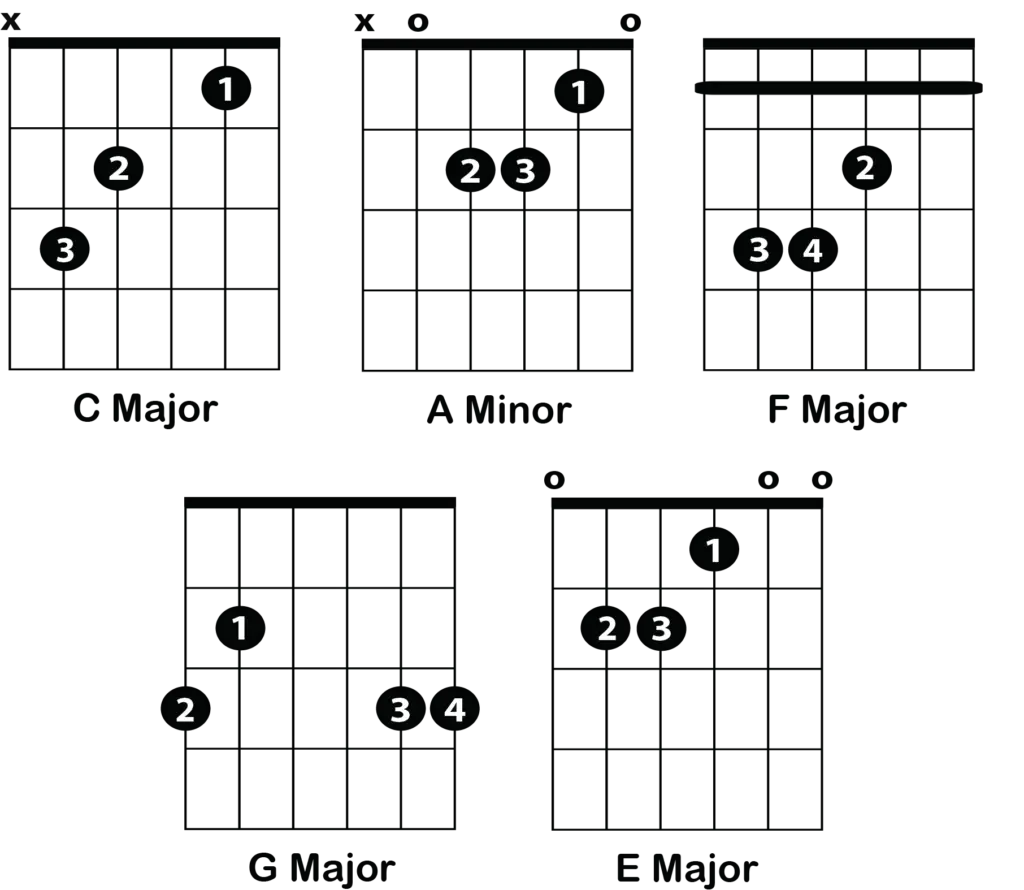 The chords for Hallelujah are C major, A minor, F major, G major, and E major. As you can see all these are basic chords and very easy to play.
Hallelujah Strumming Pattern

The strumming pattern is pretty simple for this song. It goes as D-UD-UD-UD-U. Refer to the video mentioned at the end of the post to learn this strumming pattern.
Hallelujah Lyrics with Chords
After you are done memorizing the chords and the strumming pattern, go over the lyrics with chords and try to play along with the song.
---
[Intro]
C Am C Am
[Verse 1]
I [C]heard there was a [Am]secret chord
That [C]David played and it [Am]pleased the lord
But [F]you don't really [G]care for music, [C]do you? [G]
Well, it [C]goes like this the [F]fourth, the [G]fifth
The [Am]minor fall and the [F]major lift
The [G]baffled king com[E]posing halle[Am]lujah
[Chorus]
Halle[F]lujah, halle[Am]lujah,
halle[F]lujah, halle[C]lu-u-[G]u-u-[C]jah [G]
[Verse 2]
Your [C]faith was strong but you [Am]needed proof
You [C]saw her bathing [Am]on the roof
Her [F]beauty and the [G]moonlight over[C]threw ya [G]
She [C]tied you to her [F]kitchen [G]chair
She [Am]broke your throne and she [F]cut your hair
And [G]from your lips she [E]drew the halle[Am]lujah
[Chorus]
Halle[F]lujah, halle[Am]lujah,
halle[F]lujah, halle[C]lu-u-[G]u-u-[C]jah
[Verse 3]
You [C]say I took the [Am]name in vain
[C]I don't even [Am]know the name
But [F]if I did, well [G]really, what's it [C]to ya? [G]
There's a [C]blaze of light in [F]every [G]word
It [Am]doesn't matter [F]which you heard
The [G]holy or the [E]broken Halle[Am]lujah
[Chorus]
Halle[F]lujah, halle[Am]lujah,
halle[F]lujah, halle[C]lu-u-[G]u-u-[C]jah
[Verse 4]
I [C]did my best, it [Am]wasn't much
I [C]couldn't feel, so I [Am]tried to touch
I've [F]told the truth, I [G]didn't come to fool ya[C] [G]
And [C]even though it [F]all went [G]wrong
I'll [Am]stand before the [F]lord of song
With [G]nothing on my [E]tongue but halle[Am]lujah
[Outro]
Halle[F]lujah, halle[Am]lujah,
halle[F]lujah, halle[C]lu-u-[G]u-u-[C]jah
Hallelujah Full Video Tutorial