In this lesson, we will look at how to play Nothing Else Matters by Metallica on guitar the right way.
Nothing else matters is one of those songs that every guitarist learns at some point in their life and for good reasons.
First, it has one of the best fingerpicking pattern which is an exercise in itself. Second, it has the catchiest chord progression which is super easy to play.
That said, here are everything you need to know to learn this song from start to end.
---
Nothing Else Matters Intro
The intro uses mostly the open string and will not take much time to learn. Here is a detailed video tutorial of the intro.
Nothing Else Matters Chords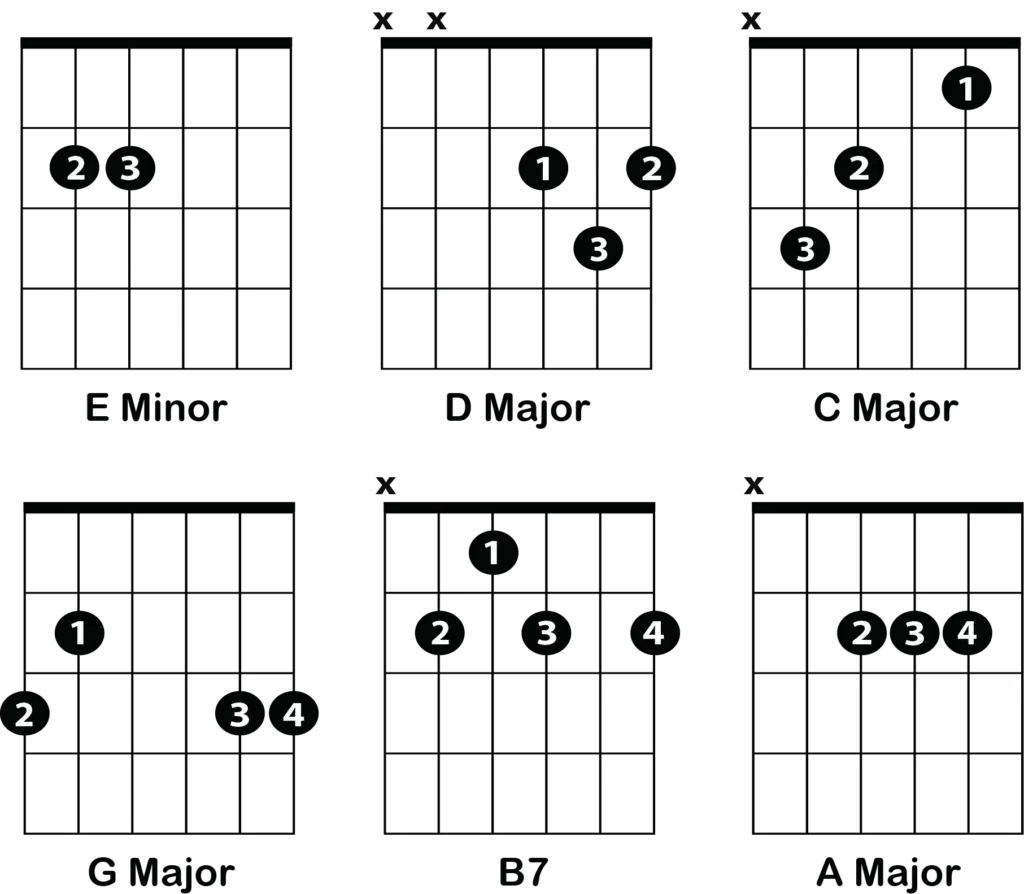 As you can see, the song has only 6 open chords and they are E minor, D major, C major, G major, B7 and A major. Once you master these chords and you are half way there from learning the whole song.
Nothing Else Matters Strumming Pattern

The strumming pattern is also pretty simple. It is in 3/4 timing and goes as D-DUDU-D-DUDU. Do refer to the video I have mentioned at the end of the post to learn this pattern.
Nothing Else Matters Lyrics with Chords
[Verse]
[Em] So close no matter [D] how far [C]
[Em] Couldn't be much more [D] from the heart [C]
[Em] Forever trusting [D] who we are [C]
[G] And [B7] nothing else [Em] matters
[Em] Never opened [D] myself this way [C]
[Em] Life is ours, we live it [D] our way [C]
[Em] All these words I don't [D] just say [C]
[G] And [B7] nothing else [Em] matters
[Em] Trust I seek and I [D] find in you [C]
[Em] Every day for us [D] something new [C]
[Em] Open mind for a [D] different view [C]
[G] And [B7] nothing else [Em] matters [C] [A]
[Chorus]
[D] Never cared for what they [C] do [A]
[D] Never cared for what they [C] know [A]
[D] But I [Em] know
[Verse]
[Em] So close no matter [D] how far [C]
[Em] Couldn't be much more [D] from the heart [C]
[Em] Forever trusting [D] who we are [C]
[G] And [B7] nothing else [Em] matters [C] [A]
[Chorus]
[D] Never cared for what they [C] do [A]
[D] Never cared for what they [C] know [A]
[D] But I [Em] know
[Verse]
[Em] Never opened [D] myself this way [C]
[Em] Life is ours, we live it [D] our way [C]
[Em] All these words I don't [D] just say [C]
[G] And [B7] nothing else [Em] matters
[Em] Trust I seek and I [D] find in you [C]
[Em] Every day for us [D] something new [C]
[Em] Open mind for a [D] different view [C]
[G] And [B7] nothing else [Em] matters [C] [A]
[Chorus]
[D] Never cared for what they [C] say [A]
[D] Never cared for games they [C] play [A]
[D] Never cared for what they [C] do [A]
[D] Never cared for what they [C] know [A]
[D] And I [Em] know
[Vesre]
[Em] So close no matter [D] how far [C]
[Em] Couldn't be much more [D] from the heart [C]
[Em] Forever trusting [D] who we are [C]
[G] And [B7] nothing else [Em] matters
[Outro]
Em
Nothing Else Matters Full Tutorial