If you are looking for Love Story chords and landed here then go nowhere. In this post, you will find everything you need to learn this song from start to end.
Taylor Swift has been in the music industry for over 15 years and she has achieved a lot in that time. Undoubtedly she is an amazing singer and songwriter and her lyrics hold deep meaning that she often shares with her fans.
This song 'Love Story' is off her 2008, 'Fearless' album which no doubt is one of her successful songs and which talks about the most important things in life: finding that one person who is perfect for you and getting lost in that feeling. This is all very relatable for young people who are starting to date or go through a breakup. Besides, it is an awesome song and fun to play on guitar. Scroll down for the chords, strumming pattern, and a tutorial video of this song.
---
Love Story Chords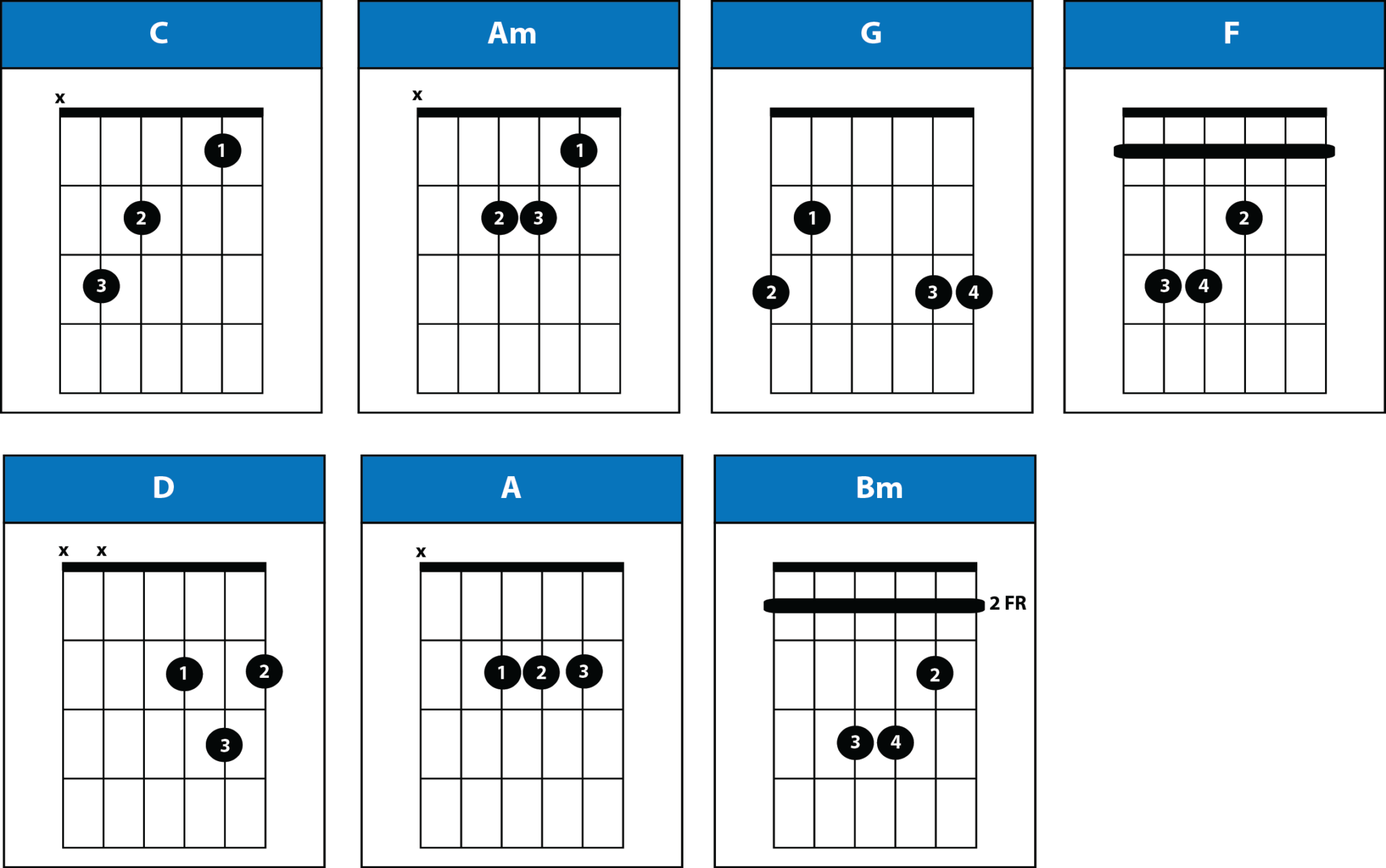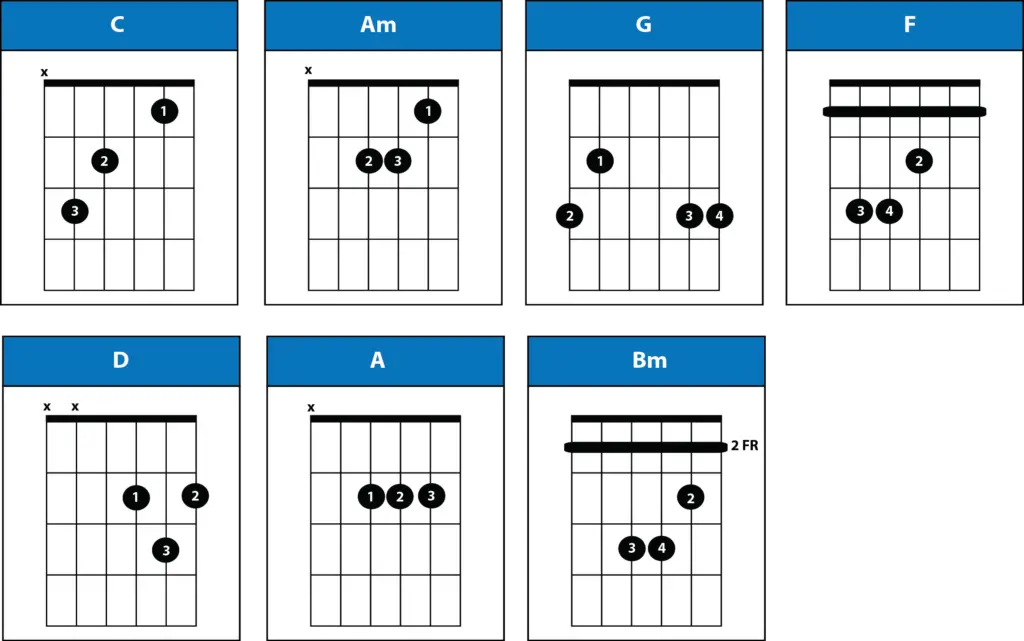 As you can see, the chords for Love Story by Taylor Swift are C major, A minor, G major, F major, D major, A major, and B minor. Except for a couple of barre chords rest are all are open chords and they are easy to play.
Love Story Strumming Pattern
There are basically two strumming patterns used in this song. The first one goes as D-D-D-D-D-D-D-D. Yes, all down strums but you have to mute it with your palm. This pattern is used in the intro. The second pattern goes as DD-DU-DU, which is a pretty common strumming pattern. This pattern is used in the rest of the sections of the song. Do refer to the video mentioned above to get a visual representation of both these patterns. It starts exactly at 3:40.
---
Song – Love Story
Artist – Taylor Swift
Chords – C major, A minor, G major, F major, D major, A major, and B minor
Capo – 2nd Fret
---
Love Story Lyrics with Chords
[Intro]
C G Am F
[Verse 1]
[C]We were both young when I first saw you
I [F]close my eyes, and the flashback starts
I'm standing [Am]there
On a balcony in [F]summer air
[C]See the lights, see the party, the ball gowns
[F]See you make your way through the crowd
And say, [Am]"Hello"
Little did [G]I know
[Pre-Chorus]
That [F]you were Romeo, you were [G]throwing pebbles
And my [Am]daddy said, "Stay away from [C]Juliet"
And I was [F]crying on the staircase
[G]Begging you, "Please don't [Am]go," [F]and [G]I said
[Chorus]
[C]Romeo, take me somewhere we can be alone
[G]I'll be waiting, all there's left to do is run
[Am]You'll be the prince and I'll be the princess
[F]It's a love story, [G]baby, just say "Yes" [C]
[Verse 2]
So [C]I sneak out to the garden to see you
[F]We keep quiet, 'cause we're dead if they knew
So close your [Am]eyes
Escape this town for a [G]little while, oh, oh
[Pre-Chorus]
'Cause [F]you were Romeo, I was a [G]scarlet letter
And my [Am]daddy said, "Stay away from [C]Juliet"
But you were [F]everything to me I was
[G]begging you, "Please don't [Am]go," [F]and [G]I said
[Chorus]
[C]Romeo, take me somewhere we can be alone
[G]I'll be waiting, all there's left to do is run
[Am]You'll be the prince and I'll be the princess
[F]It's a love story, [G]baby, just say "Yes" [C]
[C]Romeo, save me, they're trying to tell me how to feel
[G]This love is difficult, but it's real
[Am]Don't be afraid, we'll make it out of this mess
[F]It's a love story, [G]baby, just say "Yes"
[Solo]
[C G Am F G]
[Bridge]
I got tired of [Am]waiting
[F]Wondering if [C]you were ever coming around [G]
My faith in you was [Am]fading [F]
When I [C]met you on the outskirts of [G]town
[Breakdown]
And I said, [C]"Romeo, save me, I've been feeling so alone
[G]I keep waiting for you but you never come
Is [Am]this in my head? I don't know what to think"
He [F]knelt to the ground and [G]pulled out a ring, and said
[Chorus]
[D]"Marry me, Juliet, you'll never have to be alone
[A]I love you, and that's all I really know
I [Bm]talked to your dad, go pick out a white dress
[G]It's a love story, [A]baby, just say [D]'Yes'"
[Outro]
Oh, [A]oh
Oh, [Bm]oh
'Cause [G]we were both young when I first saw [D]you