If you're a swiftie and looking for chords to "Lover", then you have landed on the right page. This is also one of her most requested songs besides "Back To December". And the good news is, it is easy to play and requires only 7 basic chords.
In this post, I will guide you through everything you need to know to play "Lover" on your guitar, including chord diagrams and strumming patterns. So let's get started!
---
Lover Chords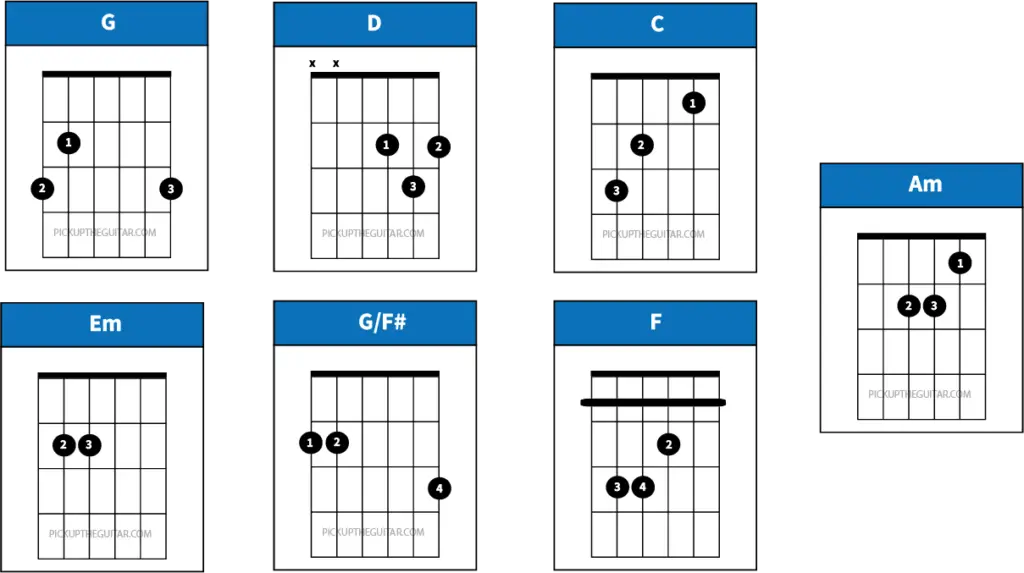 The chords used in this song are G, D, C, Em, G/F#, F, and Am. Here only the F bar chord could be a bit challenging for some guitarists; however, you can opt for the F open chord as an alternative to the bar version. Except for that, the rest of the song is easy to play.
---
Lover Strumming Pattern

The strumming pattern is perhaps the easiest part of the song. The pattern consists of simple downward strums that perfectly complement the song's melody. Do refer to the video mentioned above for visual representation.
---
Lover Lyrics with Chords
[Intro]
[G] [D] [C] [C] [G] [Em] [C] [C]
[Verse]
[G] We can leave the [D]Christmas light up till [C]January
[G] And this is our [D]place, we made the [C]rules
And there's a [G]dazzling haze
A [D]mysterious way [C]about you, dear
[G] Have I known you twenty [D]seconds or twenty [C]years?
[Chorus]
Can [G]I go [D]where you [C]go?
Can we [G]always [D]be this [C]close forever and ever
And [G]ah Take me [D]out and take me [C]home
You're [G]my, [G/F#]my, [Em]my, [D]my, [C] lover
[Verse]
[G]We could let our [D]friends crash [C]in the living room
[G] This is our [D]place, we made the [C]call
And I'm [G]highly suspicious that [D]everyone who sees you [C]wants you
I've [G]loved you three summers now, [D]honey,
But I [C]want them all
[Chorus]
Can [G]I go [D]where you [C]go?
Can we [G]always [D]be this [C]close forever and ever
And [G]ah Take me [D]out and take me [C]home
You're [G]my, [G/F#]my, [Em]my, [D]my, [C] lover
[Bridge]
[G]Ladies and gentlemen,
[D]Will you please stand?
[Em]With every guitar string [F]scar on my hand
[C]I take this magnetic [G]force of a man to be [Am]my [D]lover
[G]My heart's been borrowed and [D]yours has been blue
[Em]All's well that ends well to [F]end up with you
[C]Swear to be [G]overdramatic and true to [Am]my [D]lover
And [G]you'll save all your [F]dirtiest jokes [C]for me
And at every [Am]table, I'll save you a [D] seat, lover
[Chorus]
Can [G]I go [D]where you [C]go?
Can we [G]always [D]be this [C]close forever and ever
And [G]ah Take me [D]out and take me [C]home
You're [G]my, [G/F#]my, [Em]my, [D]my, [C]
Oh, you're [G]my, [G/F#]my, [Em]my, [D]my [C]
Darling you're [G]my, [G/F#]my, [Em]my, [D]my, [C] lover