The 90s saw the rise of many legendary male country singers who influenced the genre with their iconic music, impressive vocal abilities, and crossover appeal.
From Toby Keith and Alan Jackson paving their own paths for traditional country sounds, to Tim McGraw introducing smooth pop-country crooners into the mix – male artists helped shape what made the '90s such an enthralling time for fans everywhere.
Here we list our top 100+ best Country male singers from 1990 until 1999 – a definitive compilation honoring all those artists that made enduring impacts on the industry in a single decade alone!
Top 10 Best Male Country Singers of the 90s
While there are many deserving male artists across the country genre, here is a list of 10 who had particularly enduring impacts on music in the '90s:
Garth Brooks
Alan Jackson
Tim McGraw
Clint Black
Travis Tritt
Billy Ray Cyrus
George Strait
Vince Gill
Dwight Yoakam
Trace Adkins
Early, Mid, and Late 90s Male Country Singers
Throughout the 90s, a whole slew of male singers made an indelible mark on the genre.
For example, the early 90s saw a resurgence in traditional styles thanks to artists like Alan Jackson and Garth Brooks, whose blend of modern production techniques with classic themes made them household names.
The mid-90s saw the emergence of Bobbie Cryner and David Kersh, who both brought their own unique style to the genre and encouraged many other artists to make their mark in country music.
By the late 90s, new stars rose up including Tim McGraw, Lonestar, and Gary Allan – all of whom helped shape what would become known as "new traditional" country music.
Regardless of when they emerged, they all had one thing in common – they helped shape the landscape of country music in the 90s and made it an era to remember.
Early 90s Male Country Singers
Clint Black
Tracy Byrd
Mark Chesnutt
Mark Collie
Neal McCoy
Mid 90s Male Country Singers
Bobbie Cryner
Billy Dean
David Kersh
John Michael Montgomery
Rick Trevino
Late 90s Male Country Singers
Trace Adkins
Gary Allan
George Ducas
Lonestar
Tim McGraw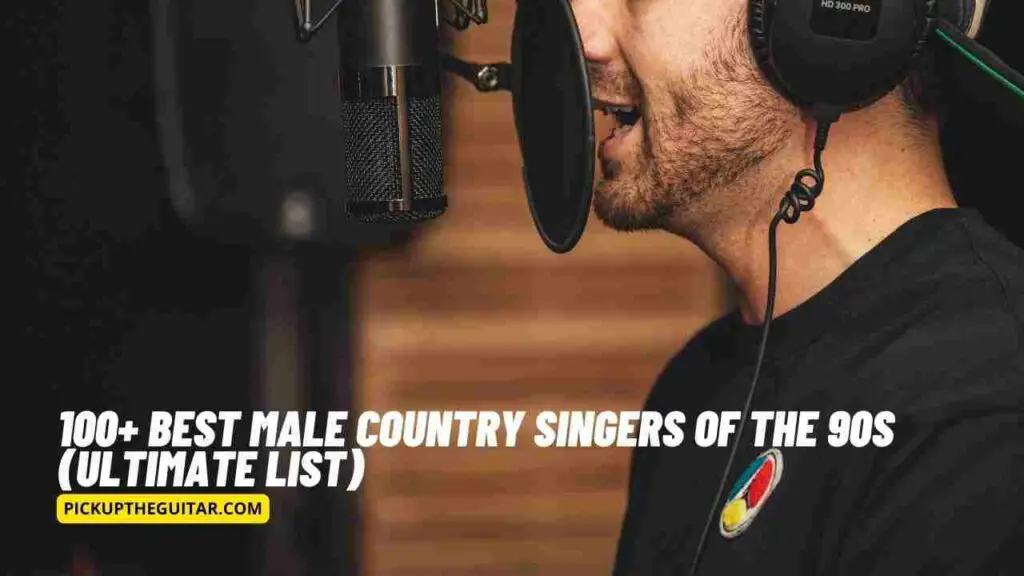 90s Male Country Singers One hit Wonders
There was a string of famous one-hit wonders in the country music genre during the 90s. Some of these singers only had one successful song but made a lasting impression on the genre.
For instance, Billy Ray Cyrus had one of the biggest hits of the decade with Achy Breaky Heart, while Joe Diffie's 'Prop Me Up Beside the Jukebox' found itself becoming a hit in 1992.
Although their success was short-lived, their influence on country music still remains strong. Here are other notable one-hit wonders of the 90s by male country singers.
David Lee Murphy – Dust On The Bottle
Billy Ray Cyrus – Achy Breaky Heart
Kevin Sharp – Nobody Knows
Bob Carlisle – Butterfly Kisses
The Tractors – Baby Likes to Rock It
Daddy's Money – Ricochet
Ty Herndon – Living In A Moment
Steve Azar – I Don't Have To Be Me ('Til Monday)
James Otto – Just Got Started Lovin' You
90s American Male Country Singers
The American Country scene of the 90s was a time of immense change in the world of country music. Combining elements of alternative, pop, and rock music, it was a decade that changed the sound and style of this traditionally rural genre forever.
Major artists like Garth Brooks, George Strait, and Shania Twain all helped shape the sound of the genre, while lesser but equally talented acts such as Collin Raye, Mark Chesnutt, and John Michael Montgomery also had great success in the decade.
Many popular country stars today such as Taylor Swift, Luke Bryan, and Rascal Flatts owe at least some part of their success to their predecessors from this era. Because without them, the genre may not have become as popular or beloved as it is today.
Keith Urban
Dwight Yoakam
Doug Stone
Aaron Tippin
Doug Supernaw
Hal Ketchum
Radney Foster
Skip Ewing
Tracy Lawrence
Sammy Kershaw
Forgotten Male Country Singers of the 90s
For some artists, the 90s was an era of one-hit wonders and fleeting fame. For others, the decade saw their careers take off and become long-lasting. But then there are those whose careers never quite took off and who eventually disappeared from the public eye.
Though their sales may not have been as impressive as other acts, their music was still influential in shaping the genre. And it is only waiting to be discovered by a new generation of fans. Here is our list of forgotten male country singers from the 90s that deserve to be remembered:
Bryan White
Joe Diffie
Rick Trevino
Wade Hayes
Michael Peterson
Aaron Tippin
Sammy Kershaw
Ty Herndon
Hal Ketchum
Mark Wills
Canadian Male Country Singers of the 90s
Cannada is known for many things, like its spectacular scenery, friendly people, and diverse music scene. But it is also home to some of the best male country singers in the world.
And when it comes to the 90s, there were a number of iconic Canadian country artists who made their mark on the genre. To name a few, there were Rick Tippe, Paul Brandt, and Aaron Pritchett, all of whom had huge hits in the decade.
In addition to these artists, there were also some lesser-known but equally talented singers such as George Canyon and Jason McCoy who kept the Canadian music scene alive. They may not have had the same level of success, but they still helped shape the sound of country music in the 90s.
Rick Tippe
Paul Brandt
Aaron Pritchett
George Canyon
Johnny Reid
Jim Cuddy
Deric Ruttan
Thomas Wade
Duane Steele
John Landry
90s Young Male Country Singers
This section of the article is dedicated to the young male country singers who emerged during the 90s. These artists were not only hugely talented, but they were also instrumental in helping shape the sound of the genre during this era.
Notable young artists from this generation include Tim McGraw, Brad Paisley, Collin Raye, and Chad Brock.
Tim McGraw in particular was one of the biggest stars of the decade. His string of hits included "I Like It I Love It" and "Something like That," which remain some of the most popular country songs ever.
Brad Paisley was another young star who had success in the 90s. His first album, "Who Needs Pictures" was a huge hit in the country music world and featured such hits as "He Didn't Have To Be," which won awards from the Academy of Country Music and the Grammy Awards.
Collin Raye and Chad Brock both released their major label debut albums in the 90s and had several top 10 songs. Raye's "Love, Me" was his signature hit of the decade and Brock's "Yes!" was another popular single.
Here are some other young male country singers of the 90s:
Keith Urban
Clay Walker
Daryle Singletary
Kevin Sharp
Tim McGraw
Rodney Atkins
Toby Keith
Billy Ray Cyrus
Brad Paisley
Collin Raye
90s Western Male Country Singers
Western country music is a style of traditional American music that originates from the roots of the old-time western and cowboy songs of the United States.
The defining characteristics of western country are its focus on stories that reflect traditional values such as patriotism and family loyalty. Its upbeat rhythms, catchy choruses, twangy guitars, fiddles, banjos, harmonicas, and steel guitars are all integral parts of this style.
Common topics covered in this type of music include rural life experiences such as work on a farm or ranching to tales about cowboys and their hard lives.
That said here are some of the classic western male country singers of the 90s who created some amazing music in this genre:
Kris Kristofferson
Hank Williams Jr.
Steve Earle
Kenny Rogers
Johnny Cash
Old Male Country Singers of the 90s
While the 90s saw a plethora of young and upcoming country singers, there were also some old-school artists who had made their mark on the genre prior to the decade. These singers had already established themselves in country music circles and were revered as legends by many fans.
Today, these singers are still celebrated by country music fans everywhere as pioneers of one of America's most beloved musical styles.
Willie Nelson
Waylon Jennings
Merle Haggard
John Denver
Glen Campbell
Frequently Asked Questions
What is considered 90s Country Music?
90s Country Music is defined by its use of upbeat tempos, crisp melodies, and heartfelt lyrics that evoke emotion in listeners. The sound was often more polished than previous eras, featuring prominent female vocalists who brought their own unique style to the scene. Additionally, many 90s country songs feature themes of love and family, celebrating the simple joys of life.
Who were some of the biggest male artists in country music in the 1990s?
Some of the biggest male artists in country music during the 1990s included Garth Brooks, Clint Black, George Strait, Alan Jackson, and Kenny Chesney. All of these singers had multiple hit songs throughout the decade and remain popular in the genre today.
What made male country singers of the 1990s so successful?
For one, they benefited from the emergence of modern production techniques that enabled them to create their own distinctive sound. This allowed them to create a unique style of music that appealed to both mainstream and traditional country audiences. They also had an advantage in being able to capitalize on the growing trend of crossover appeal—combining elements of rock, pop, blues, and other genres into their music.
Additionally, these artists tapped into stories of everyday life that resonated with listeners across all demographics. The combination of these factors helped them become some of the most successful country singers of the decade.
What are some of the most popular male country songs of the 1990s?
If you're looking for a good playlist to get your toes tapping, here are just a few of the most popular male country songs from the 90s: Alan Jackson's "Chattahoochee," Garth Brook's "Friends in Low Places" and George Strait's "Check Yes or No." Each of these tracks has become an iconic staple in country music history and they'll certainly have you singing along in no time.
What are some of the best male country albums of the 1990s?
When it comes to albums, some of the best male country releases from this decade include Garth Brooks' "No Fences," Clint Black's "Killin' Time," George Strait's "Pure County" and Alan Jackson's "A Lot About Livin'." Each of these albums offer a great selection of songs that capture the spirit of 90s country music.