Country music has been around for centuries, and over the years there have been countless amazing singers who have graced the genre.
However, with time comes forgetfulness, and many of today's country fans may not even know who some of the genre's greatest singers are.
So, in honor of those legends, we're going to take a walk down memory lane and highlight 15 of the best old-school country singers who changed music forever.
---
1. Hank Williams
Hailing from Alabama, first, we have Hank Williams who is widely considered to be one of the most important country music singers of all time. He was incredibly popular in the 1940s and early 1950s when he released hits like "Jambalaya" and "Your Cheatin' Heart."
At a time when country music was still very much in its infancy, Williams helped to shape the sound and style that would come to define the genre. Sadly, Williams' life was cut short by alcoholism and he passed away at the age of 29. However, his legacy continues on through his music which still sounds as fresh and relevant today as it did over half a century ago.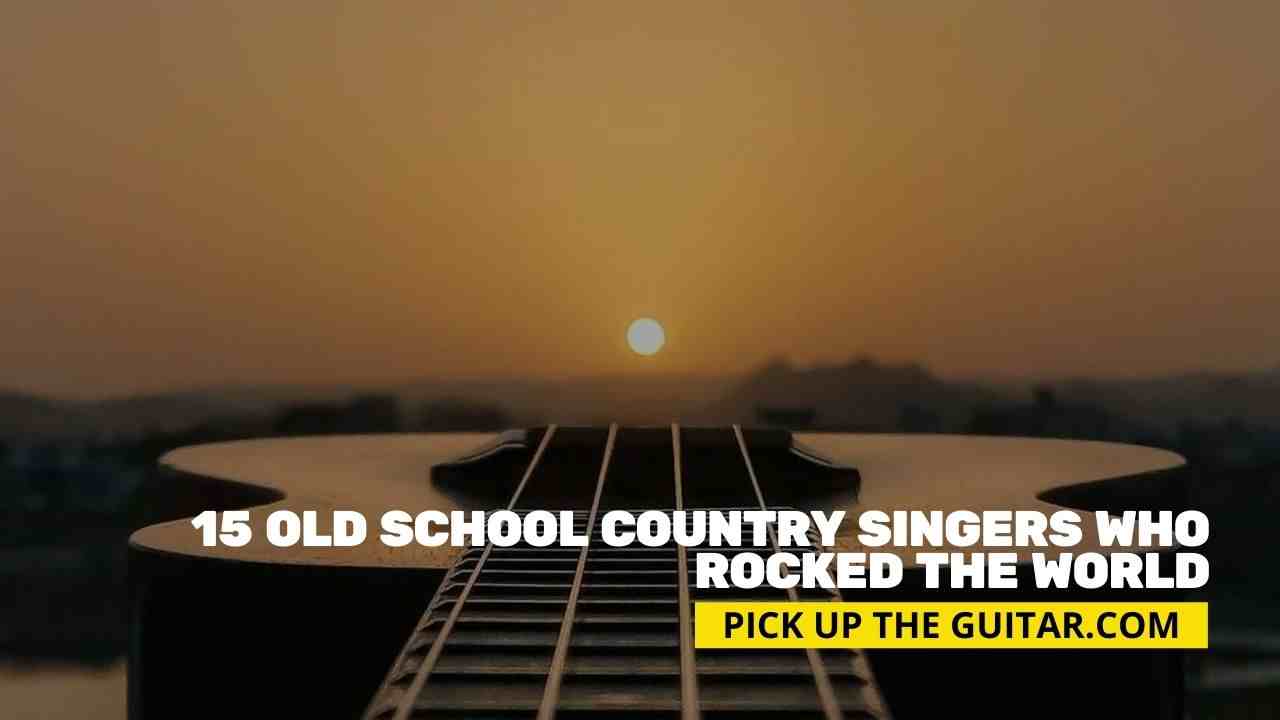 2. Patsy Cline
Arguably the most popular female country singer of all time, Patsy Cline was a true pioneer in the genre.
She first came to prominence in the early 1960s with hits like "Crazy" and "I Fall to Pieces," and is credited with helping to bring country music to a wider audience. Just like Hank Williams, Cline's career was tragically cut short when she died in a plane crash at the age of 30, but her music has lived on.
And since her death, she has remained an icon of both country music and popular culture.
3. Johnny Cash
Next up, we have the "Man in Black" himself, Johnny Cash. Known for his distinctive voice and dark, personal lyrics, Cash didn't back down from controversy throughout his lengthy career.
He recorded songs about everything from social injustice to drug addiction and was unafraid to tackle taboo subjects head-on. Cash was also a skilled musician and was proficient on a number of instruments including the guitar, harmonica, and piano.
In 1980 he was inducted into the Country Music Hall of Fame and continued to tour and record music until his death in 2003.
4. Jimmie Rodgers
Regarded as the "Father of Country Music," Jimmie Rodgers was one of the first singers to gain widespread popularity in the genre.
In the late 1920s, with hits like "Blue Yodel" and "In the Jailhouse Now,", he first rose to prominence that showcased his unique yodeling style. Since then he had been given many nicknames. Some of them include "The Blue Yodeler" and "The Singing Brakeman."
While his career was cut short by an early death (aged 35), Rodgers left behind a lasting legacy and is considered one of the most important figures in country music history. He has been also cited as an influence by a number of later country singers including Johnny Cash.
5. Waylon Jennings
Another country legend, Waylon Jennings, who is known for pioneering the "outlaw country" movement in the 1970s.
He was fed up with the slick, polished sound that was coming out of Nashville at the time and decided to rebel against the status quo.
He recorded a string of popular albums throughout the decade, including "Lonesome, On'ry and Mean" and "Are You Ready for the Country."
Jennings was also a skilled songwriter and had a hand in writing a number of hits for other artists including Kris Kristofferson's "Me and Bobby McGee.
And while he is no more with us, Jennings remains one of the most respected and influential country singers of all time. And his music continues to inspire new generations of country singers.
6. Dolly Parton
A veteran of both country music and the entertainment industry, Dolly Parton provided us with some of the most memorable country songs of all time.
Since her debut in 1967, Parton has released over 100 singles, many of which have become country classics.
And while she is best known for her work in country music, she has also enjoyed success in other genres including pop, gospel, and children's music.
In addition to her singing career, Parton is also an accomplished businesswoman and has her own theme park, Dollywood.
Some of her most famous songs include "Jolene," "9 to 5," and "I Will Always Love You."
"9 to 5" in particular, topped both the country and pop charts in 1980 bagging her 4 Grammy nominations and winning her an award for Best Country Vocal Performance, Female.
7. Willie Nelson
A favorite among country fans, Willie Nelson is a singer, songwriter, and actor who has been in the business for over six decades.
He got his start in the 1950s as a singer and songwriter for popular country artists such as Patsy Cline and Ray Price.
But it wasn't until the 1970s that he found solo success with a string of hits including "Good Hearted Woman," "My Heroes Have Always Been Cowboys," and "On the Road Again."
Nelson has continued to tour and release new music throughout his career and is showing no signs of slowing down.
He is also an outspoken activist on a number of issues including the environment, marijuana legalization, and same-sex marriage.
8. Loretta Lynn
Another country legend, Loretta Lynn is a singer-songwriter who rose to prominence in the 1960s with hits like "Coal Miner's Daughter" and "Don't Come Home A-Drinkin' (With Lovin' on Your Mind)."
Loretta began her career in the late 1950s as a local club singer and it didn't take long for her to be discovered by record label Zero Records.
They helped Lynn record her four original compositions including, "I'm a Honky Tonk Girl" which sold more than one million copies.
Since then, Lynn has gone on to release over 90 albums ( including studio, live, and video ) and continues to be a force in country music.
While Lynn is best known for her work in country music, she has also dabbled in other genres including gospel and pop.
9. Merle Haggard
After a troubled childhood which included time spent in reform school and jail, Merle Haggard went on to become one of the most successful country singers of all time.
Well known for his "outlaw country" sound, Haggard was a pioneer of the subgenre and recorded a string of hits in the 1970s including "The Fightin' Side of Me" and "Okie from Muskogee."
During his career, Haggard released over 70 albums and had 38 number one hits on the country charts.
He has also received numerous awards and accolades including the Grammy Lifetime Achievement Award and induction into the Country Music Hall of Fame.
11. Barbara Mandrell
Next is Barbara Mandrell, who hails from a musical family and is the sister of country star, Louise Mandrell.
Born in Houston, Texas in 1948, Barbara Mandrell started performing at a very young age.
As an adult, she found success as a country singer with hits like "(If Loving You Is Wrong) I Don't Want to Be Right," "I Was Country When Country Wasn't Cool," and "Woman to Woman."
Mandrell is also a skilled musician and plays more than 5 instruments including the drums, guitar, and accordion.
She has released more than 20 albums and had more than 25 singles charts on the Billboard Country charts.
She has also won numerous awards, including two Grammy Awards and seven American Music Awards.
12. Johnny Horton
Born in Texas in 1925, John LaGale Horton aka Johnny Horton was a mainstay on the charts during the 1950s and early 1960s.
He is perhaps best known for his hit song "The Battle of New Orleans," which was released in 1959 and became one of the biggest country hits of all time.
Horton's music was characterized by its strong southern feel, and he was often referred to as the "Singing Fisherman."
Unfortunately, Horton's life was cut short by a car accident on November 4-5, 1960, but his music has continued to live on.
13. Jerry Reed
Another great country singer from the south is Jerry Reed, who was born in Atlanta, Georgia in 1937.
Known as The Guitar Man, Reed was a highly skilled musician and often played the guitar on his records.
At the age of 18, he was signed by record producer Bill Lowery and released his first single, "If the Good Lord's Willing and the Creek Don't Rise."
However, it was not until the 1970s that Reed found widespread success with hits like "When You're Hot, You're Hot" and "Alabama Wild Man."
Since then, he has released more than 20 albums and has been awarded the Grammy Award for Best Country Vocal Performance, Male.
Apart from his work as a country singer, Reed also appeared in several films and TV shows including Smokey and the Bandit and Gator.
14. Jean Shepard
One of the few female singers on this list is Jean Shepard, who was born Ollie Imogene Shepard in Pauls Valley, Oklahoma in 1933.
Shepard began her career singing on the Grand Ole Opry and released her first single, "A Dear John Letter," in 1953.
The song became a huge hit, and she followed it up with several other successful singles including "Second Fiddle (To an Old Guitar)" and "Slippin' Away."
In addition to her solo work, Shepard also recorded duets with fellow country singer Ferlin Husky.
She was also inducted into the Country Music Hall of Fame in 2011.
15. Faron Young
Last but not least we have on our list is Faron Young, who was born in Shreveport, Louisiana in 1932.
He is a singer and songwriter who was one of the earliest artists to be associated with the Nashville sound.
Young's first hit song, "Goin' Steady," was released in 1952 and helped to launch his career.
He went on to have more than 50 singles chart on the Billboard Country chart, including such classics as "Hello Walls," "It's Four in the Morning," and "Young Love."
Sadly, Young committed suicide in 1996, but his music continues to be enjoyed by country fans all over the world.
Conclusion
These are just a few of the great old country singers that you may have forgotten.
So dust off those old records and give them a listen, you might be surprised at how much you enjoy them. We will be updating this list periodically, so check back often for more great old country singers. Thanks for reading!