If you're a fan of Miley Cyrus and want to learn how to play one of her most popular songs, "Party in the U.S.A.", you're in the right place! Not only is this song catchy and fun to sing along to, but it's also easy to play with just 5 chords.
In this tutorial, I'll walk you through the chords and strumming patterns needed to play "Party in the U.S.A." on guitar. Whether you're a beginner or a seasoned player, you'll be able to quickly learn the basics of this song and start playing it in no time.
---
Party in the U.S.A Chords (Capo 6)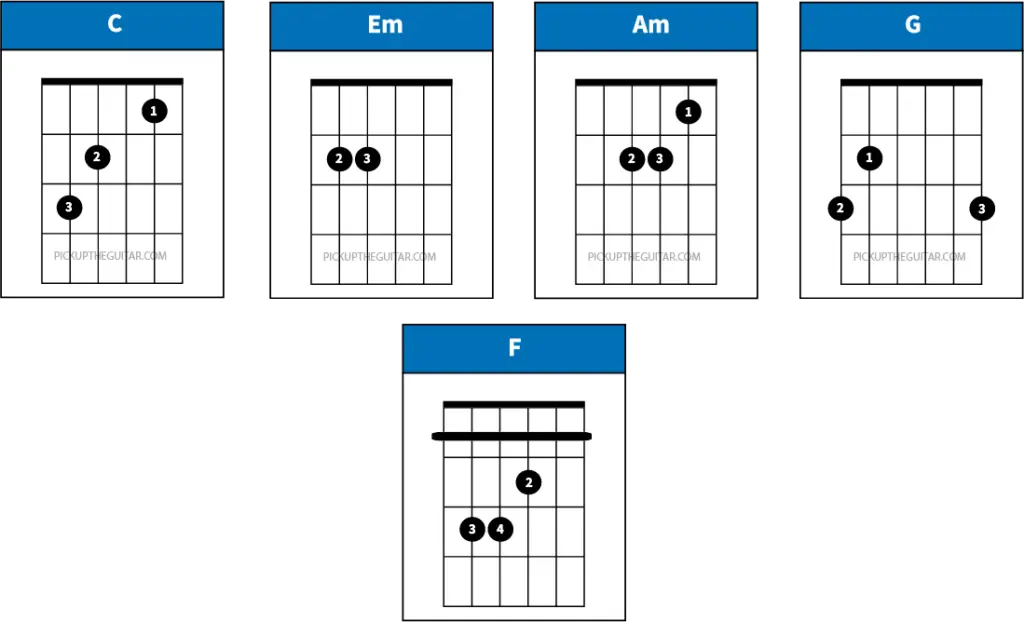 To play "Party in the U.S.A." on guitar, you'll need to know just 5 chords: C, Em, Am, G, and F. These chords are commonly used in many popular songs and are great for beginner guitar players. If you're not familiar with these chords, take some time to practice transitioning between them before you start playing the song. This will help you play the song smoothly and without any pauses or mistakes. Also as this is a capo version, make sure to use the capo on the 6th.
Party in the U.S.A Strumming Pattern
Once you have the chords down, you'll need to learn the strumming pattern for the song. The strumming pattern for "Party in the U.S.A." is fairly simple and uses a basic down-up strumming pattern. Do refer to the video above for a visual representation of the pattern.
---
Party in the U.S.A Lyrics with Chords
[Verse – 1]
I [C] hopped off the plane at [Em] L.A.X.
With a [Am] dream and my cardi-[G]gan
[C] Welcome to the land of [Em] fame excess,
[Am] Am I gonna fit [G] in?
[C] Jumped in the cab,
Here I [Em] am for the first time [Am]
Look to my right and I [G] see the Hollywood sign
[C] This is all so [Em] crazy
[Am] Everybody seems so [G] famous
[Pre-Chorus]
[C] My tummy's turnin'
and I'm [Em] feelin' kinda home sick [Am]
Too much pressure and I'm [G] nervous,
That's when the [C] taxi man turned on the [Em] radio
And a [Am] Jay-Z song was [G] on
And a [Am] Jay-Z song was [G] on
And a [Am] Jay-Z song was [G] on
[Chorus]
So I put my [C] hands up
They're [Em] playing my song,
And the [Am] butterflies fly a-[G]way
I'm [C] noddin' my head like [Em] yeah
I'm [Am] movin' my hips like [G] yeah
I got my [C] hands up
They're [Em] playing my song,
I [Am] know I'm gonna be o-[G]kay
[C] Yeah [Em], it's a [Am] party in the US-[G]A
[C] Yeah [Em], it's a [Am] party in the US-[G]A
[Verse – 2]
[C] Get to the club in my [Em] taxi cab
[Am] Everybody's looking at me [G] now
Like "[C] Who's that chick, that's [Em] rockin' kicks?
[Am] She gotta be from out of [G] town"
[C] So hard with my [Em] girls not around [Am] me
It's definitely not a [G] Nashville party
[C] 'cause all I see are [Em] stilettos [Am]
I guess I never got the [G] memo
[Pre-Chorus]
[C] My tummy's turnin'
and I'm [Em] feelin' kinda home sick [Am]
Too much pressure and I'm [G] nervous,
That's when the [C]D.J. dropped my [Em] favorite tune
And a [Am] Britney song was [G] on
And a [Am] Britney song was [G] on
And a [Am] Britney song was [G] on
[Chorus]
So I put my [C] hands up
They're [Em] playing my song,
And the [Am] butterflies fly a-[G]way
I'm [C] noddin' my head like [Em] yeah
I'm [Am] movin' my hips like [G] yeah
I got my [C] hands up
They're [Em] playing my song,
I [Am] know I'm gonna be o-[G]kay
[C] Yeah [Em], it's a [Am] party in the US-[G]A
[C] Yeah [Em], it's a [Am] party in the US-[G]A
[Bridge]
[Em] Feel like hoppin' on a [Am] flight (On a flight)
[Em] Back to my hometown to-[Am]night (Town tonight)
[Em] Something stops me every [Am] time (Every time)
[F] The DJ plays my song and I feel al-[G]right (Hey, hey)
[Chorus]
So I put my [C] hands up
They're [Em] playing my song,
And the [Am] butterflies fly a-[G]way
I'm [C] noddin' my head like [Em] yeah
I'm [Am] movin' my hips like [G] yeah
I got my [C] hands up
They're [Em] playing my song,
I [Am] know I'm gonna be o-[G]kay
[C] Yeah [Em], it's a [Am] party in the US-[G]A
[C] Yeah [Em], it's a [Am] party in the US-[G]A