One of Beatles' earliest hit singles, "She Loves You" is a classic pop song with a catchy chorus and simple but memorable melody. It is also quite easy to play on guitar and requires only a few basic chords and a simple strumming pattern.
Here is everything you need to know to learn this song from start to end.
She Loves You Chords (No Capo)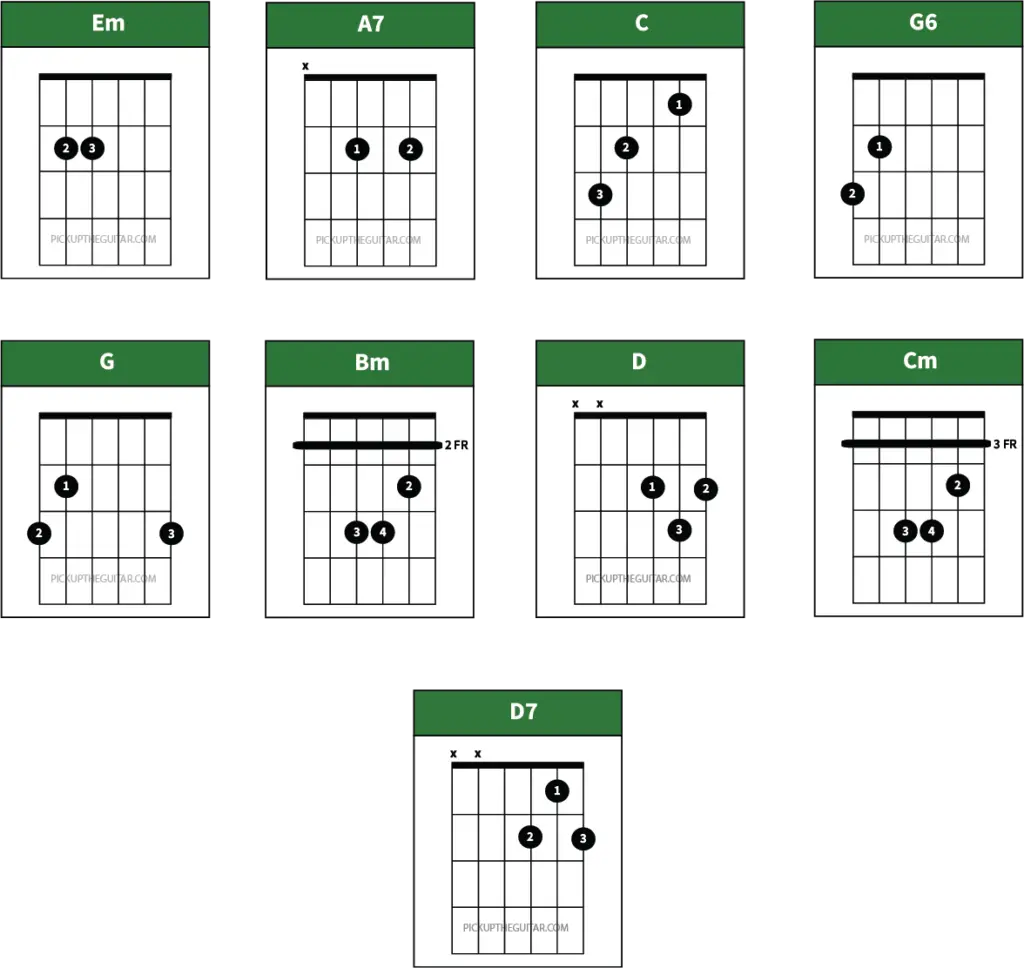 As you can see there is a total of 9 chords used in this song: Em, A7, C, G6, G, Bm, D, Cm, and D7. And they are all easy to play. Do refer to the video mentioned above for a detailed guide and playthrough.
---
She Loves You Lyrics with Chords
[INTRO]
She [Em]loves you, yeah, yeah, yeah
She [A7]loves you, yeah, yeah, yeah
She [C]loves you, yeah, yeah, [G6]yeah
[VERSE – 1]
You [G]think you've lost your [Em]love
Well I [Bm]saw her yester[D]day
It's [G]you she's thinking [Em]of
And she [Bm]told me what to [D]say
[CHORUS]
She says she [G]loves you
And you know that can't be [Em]bad
Yes she [Cm]loves you
And you know you should be [D]glad
[VERSE – 2]
She [G]said you hurt her [Em]so
She [Bm]almost lost her [D]mind
But [G]now she says she [Em]knows
You're [Bm]not the hurting [D]kind
[CHORUS]
She says she [G]loves you
And you know that can't be [Em]bad
Yes she [Cm]loves you
And you know you should be [D]glad
[POST-CHORUS]
She [Em]loves you, yeah, yeah, yeah
She [A7]loves you, yeah, yeah, yeah
With a [Cm]love like that
You [D]know you should be [G]glad
[VERSE – 3]
And [G]so it's up to [Em]you
I [Bm]think it's only [D]fair
[G]Pride can hurt you too [Em]
[Bm]Apologize to [D]her
[CHORUS]
[G]Because she loves you
And you know that can't be [Em]bad
Yes she [Cm]loves you
And you know you should be [D]glad
[POST-CHORUS]
She [Em]loves you, yeah, yeah, yeah
She [A7]loves you, yeah, yeah, yeah
With a [Cm]love like that
You [D]know you should be [G]glad [Em]
[CODA]
With a [Cm]love like that
You [D7]know you should be [G]glad [Em]
With a [Cm]love like that
You [D]know you should be [G]glad
[Em]Yeah, yeah, yeah
[C]Yeah, yeah, yeah, [G6]yeah