Summer of 69 is one of those songs that just screams summertime. Released in 1969, this song is quite popular among guitarists as it is easy to play. All you only need is seven simple chords and a simple strumming pattern to play this song from start to end.
Below you will find its chords, tabs, strumming pattern, and everything you need to know to learn this song from start to end on an acoustic guitar.
So, here it is.
---
---
Summer Of 69 Chords (Acoustic)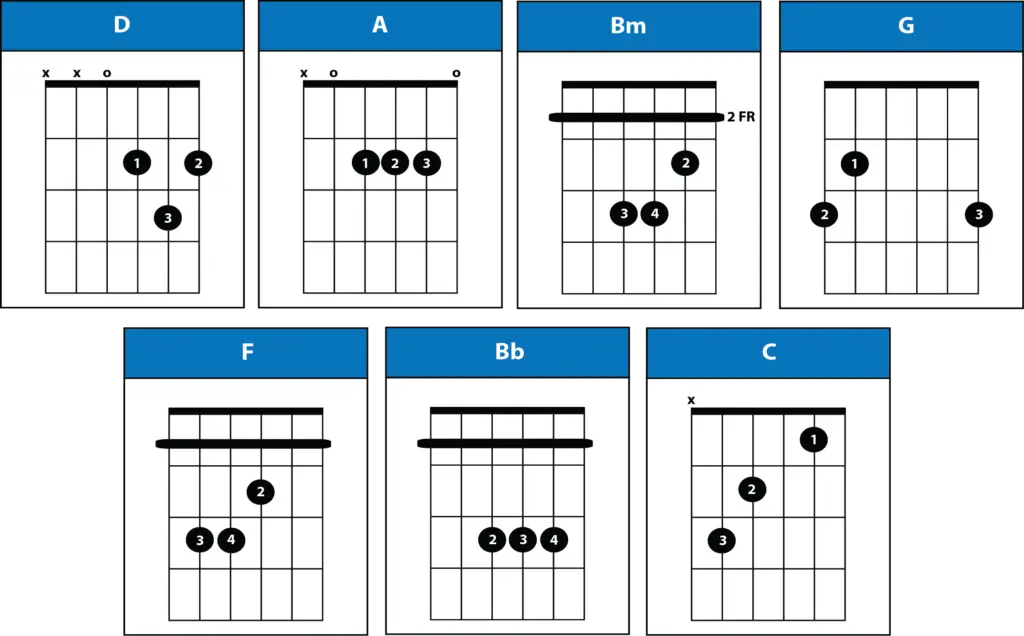 As you can see, the chords for Summer Of 69 are D major, A major, B minor, G major, F major, Bb major, and C major. All these chords are easy to play except for the barre chords which can be perfected with some practice.
---
Summer Of 69 Strumming Pattern

Although there are various strumming patterns to this song, you can use the one mentioned above. This pattern goes perfectly well with this song.
Summer Of 69 Strumming Chords with Lyrics
---
[Intro]
D
[Verse – 1]
[D]I got my first real six string
[A]brought it at the five & dime
[D]Played it till my fingers bled
[A]It was the summer of '69
[Verse – 2]
[D]Me and some guys from school
[A]had a band and we tried real hard
[D]Jimmy quit and Jody got married
[A]shoulda known we'd never get far
[Chorus – 1]
[Bm]Oh when I [A]look back now
[D]that summer seemed to [G]last for ever
[Bm]And if I [A]had the choice
[D]ya I'd always [G]wanna be there
[Bm]Those were the [A]best days of my [D]life
[Instrumental]
[D A]
[Verse – 3]
[D]Ain't no use complaining
[A]when you gotta job to do
[D]Spent my evenings down at the drive in
[A]and that's when I met you, yeah
[Chorus – 2]
[Bm]Standing on your [A]Mamma's porch
[D]you told me that you'd [G]wait forever
[Bm]Oh, and when you [A]held my hand
[D]I knew that it was [G]now or never
[Bm]Those were the [A]best days of my [D]life
[D]Oh Yea[A]h back in the summer of ' [D]69 [A]ohhh
[Bridge]
[F]Man we were [Bb]killin' time
We were [C]young and reckless
we [Bb]needed to unwind
[F]I guess [Bb]nothing can last [C]forever, forever no
[Instrumental]
[D] [A] [D] [A]
[Verse – 4]
[D]And now the times are changin'
[A]Look at everything that's come and gone
[D]Sometimes when I play my old six string
[A]I think about you, wonder what went wrong
[Chorus – 3]
[Bm]Standing on your [A]Mamma's porch
[D]you told me that you'd [G]wait forever
[Bm]Oh, and when you [A]held my hand
[D]I knew that it was [G]now or never
[Bm]Those were the [A]best days of my [D]life
[Outro]
[D] Oh Yea[A]h back in the summer of ' [D]69 Uh-[A]huh
[D] [A]