If you are looking for Wonderwall chords without the capo and landed here then look no further. In this post, I will show you the accurate chord progression and strumming pattern of this song which is easy.
Wonderwall is one of Oasis's biggest hits that was released 26 years back and still streams half a million times a week. It is a song that every guitarist wants to learn just because of its awesome strumming pattern. The tabs that you will find below are purely handwritten and as accurate as possible.
So, let's take a look at chords progression and strumming pattern for Wonderwall.
---
Wonderwall Chords No Capo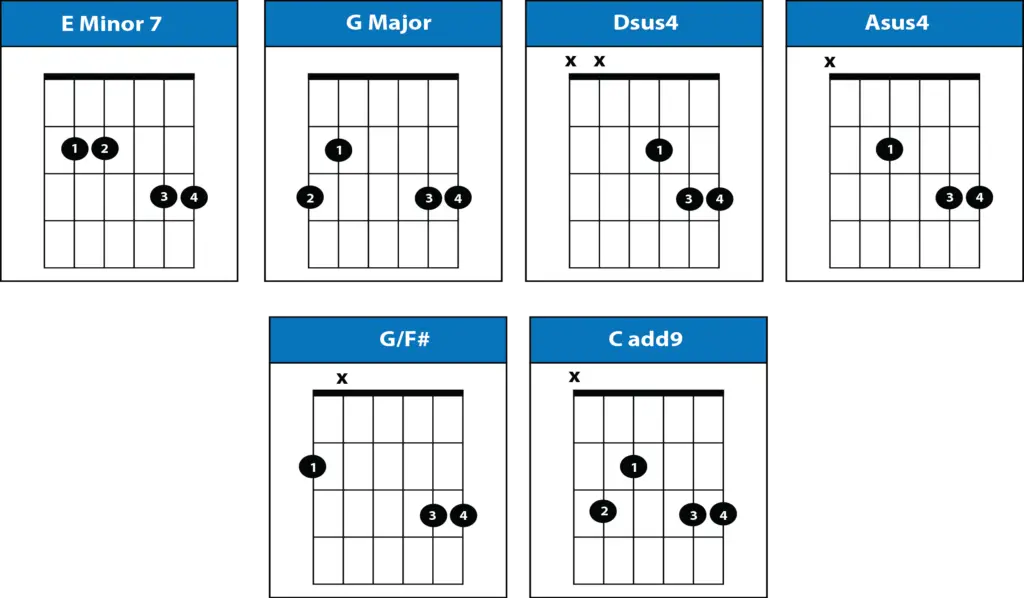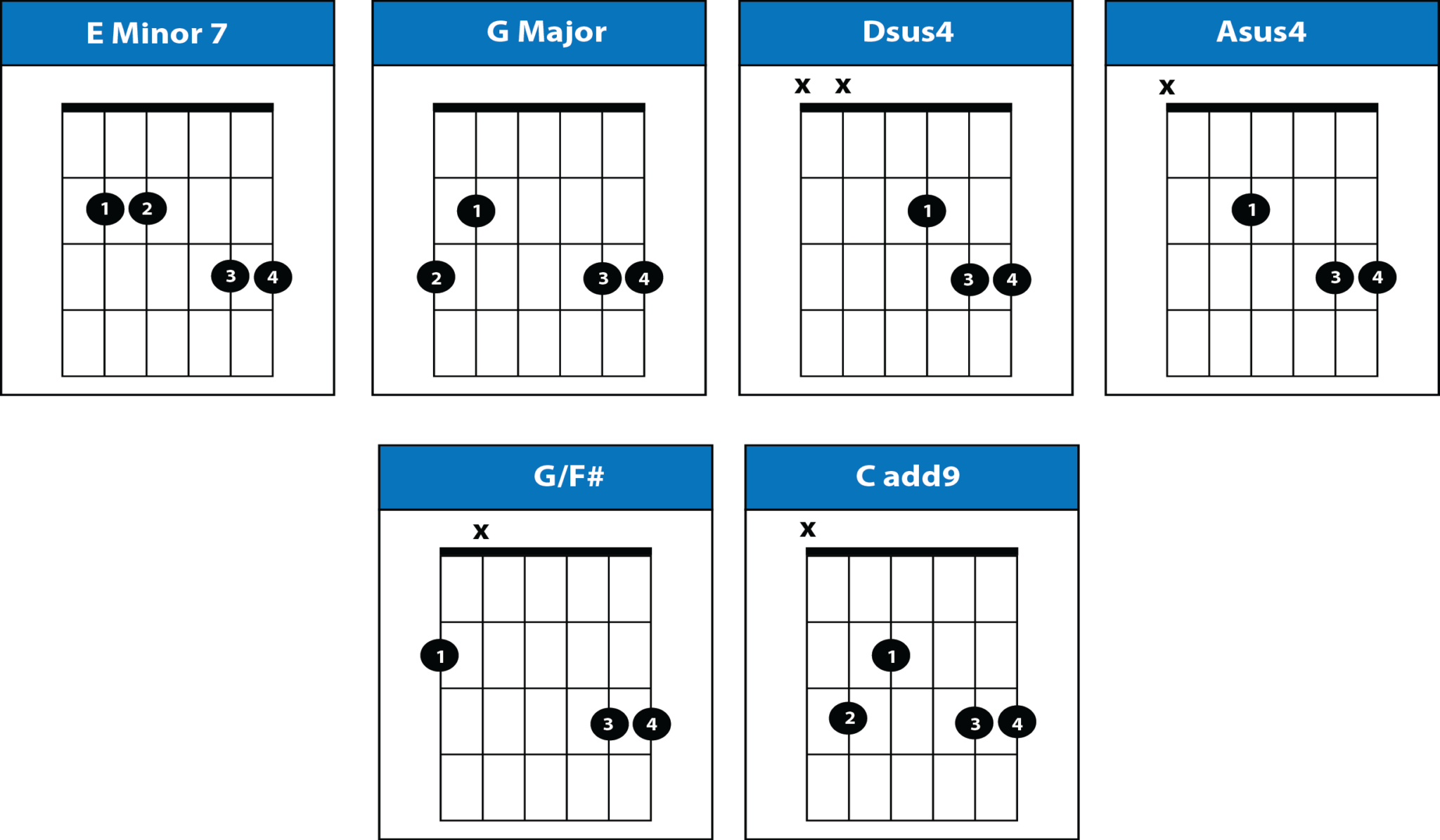 As you see above, the chords of this song without the capo are E Minor7, G Major, Dsus4, Asus4, G/F#, and Cadd9. All these chords are open chords that are easy to play.
Wonderwall Strumming Pattern

There are tons of different versions of this strumming pattern but the one mentioned above is closely accurate. Here 'D' represents down strums and 'U' represents up strums. I am sure you can play this pattern easily, if not then refer to the video lesson that I have mentioned at the end of this post.
---
Song – Wonderwall
Artist – Oasis
Chords – E Minor7, G Major, Dsus4, Asus4, G/F#, and Cadd9 ( No capo )
---
[Verse 1]
[Em7]Today is [G]gonna be the day
that they're [Dsus4]gonna throw it back to [Asus4]you
[Em7]By now, you [G]should've somehow
real[Dsus4]ised what you gotta [Asus4]do
[Em7]I don't believe that [G]anybody
[D]feels the way [Asus4]I do
about you now [Cadd9 Dsus4 Asus4]
[Verse 2]
[Em7]Backbeat, the [G]word is on the street
that the [Dsus4]fire in your heart is [Asus4]out
[Em7]I'm sure you've [G]heard it all before,
but you [Dsus4]never really had a [Asus4]doubt
[Em7]I don't believe that [G]anybody
[D]feels the way [Asus4]I do
about you now [Cadd9 Dsus4 Asus4]
[Pre-Chorus]
And [Cadd9]all the roads we [Dsus4]have to walk are [Em7]winding
And [Cadd9]all the lights that [Dsus4]lead us there are [Em7]blinding
[Cadd9]There are many [Dsus4]things that I would
[G]like to [G/F#]say to you[Em7]
But I [G]don't know [Asus4]how
[Chorus]
Because [Cadd9]maybe [Em7] [G]
You're [Em7]gonna be the one that [Cadd9]saves me [Em7] [G]
And [Em7]after [Cadd9]all [Em7] [G]
You're my [Em7]Wonder[Cadd9]wall [Em7] [G] [Em7] [Asus4]
[Verse 3]
[Em7]Today is [G]gonna be the day
that they're [Dsus4]gonna throw it back to [Asus4]you
[Em7]By now, you [G]should've somehow
real[Dsus4]ised what you're not to [Asus4]do
[Em7]I don't believe that [G]anybody
[D]feels the way [Asus4]I do
about you now [Cadd9 Dsus4 Asus4]
[Pre-Chorus]
And [Cadd9]all the roads that [Dsus4]lead you there are [Em7]winding
And [Cadd9]all the lights that [Dsus4]lead the way are [Em7]blinding
[Cadd9] There are many [Dsus4] things that I would
[G]like to [G/F#]say to you[Em7]
But I [G]don't know [Asus4]how
[Chorus]
I said [Cadd9]maybe [Em7] [G]
You're [Em7]gonna be the one that [Cadd9]saves me [Em7] [G]
And [Em7]after [Cadd9]all [Em7] [G]
You're my [Em7]Wonder[Cadd9]wall [Em7] [G] [Em7] [Asus4]
I said [Cadd9]maybe [Em7] [G]
You're [Em7]gonna be the one that [Cadd9]saves me [Em7] [G]
And [Em7]after [Cadd9]all [Em7] [G]
You're my [Em7]Wonder[Cadd9]wall [Em7] [G] [Em7] [Asus4]
[Outro]
I said [Cadd9]maybe [Em7] [G]
You're [Em7]gonna be the one that [Cadd9]saves me ( that [Em7]Saves me) [G]
You're [Em7]gonna be the one that [Cadd9]saves me ( that [Em7]Saves me) [G]
You're [Em7]gonna be the one that [Cadd9]saves me ( that [Em7]Saves me) [G]
---