As I run one of the world's greatest guitar and music websites, every now and then people contact me with interesting stories, inquiries, and ideas for potential posts.
A little while ago, Paul Cooper, a guitarist, fiddle player, bouzouki player, and balalaika player from Houston, contacted me with a story about a one-of-a-kind 1964 custom-modified Martin D-12-20 baritone. After Paul provided audio and picks, I felt like I had to help tell the story of this unique baritone guitar. If you're a fan of rare guitars, music gear stories, and baritones, then read on to learn the short but fascinating tale of the 64 Martin Modified Baritone.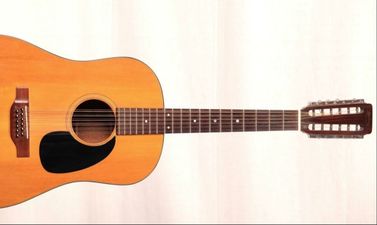 The Early Years
The 64 Martin Modified Baritone started life as a 1964 Martin D 12-20. A 12-string adaptation of Martin's famed D line, the guitar rolled out of the factory featuring a mahogany back and sides and a Sitka spruce top. As with other mid-century Martin 12-strings, the guitar featured a now-antique-looking double-cut headstock. See the current price of a Martin D-12 as these are getting a bit pricey.
From 12-string to Baritone
At this point, I will let Paul, the Martin Modified's owner, tell the story in his own words:
"I started thinking about a baritone when I discovered that a lot of songs I liked were either too high for me to sing or the guitar part really only worked in a certain key (e.g., Jim Croce's "Operator" had a cool guitar part that really worked best in G chord shape). So I started looking in the published listings (no internet in those days) for a baritone and found this guitar."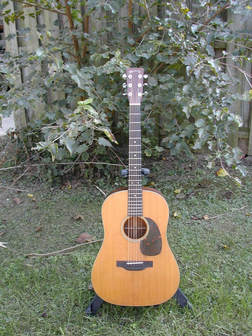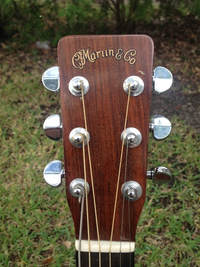 "Around 25 or 30 years ago, the guitar's owner ordered a 26 5/8" scale custom neck from Martin, and had a luthier in Alabama (I've lost track of who it was) install it. He did a wonderful, clean job. The guitar looks like it came from the factory that way. There is no adjustable truss rod, but the neck angle is good and has been stable for the 20 or so years I have owned the guitar."
A Word on Playability & Tone
Once again, Paul continues in his own words:
"The guitar has a wonderful, rich, warm tone and the intonation is excellent. Owning this guitar, I discovered that a baritone is not just a six-string tuned lower, but has a voice of its own that responds best to styles of play that bring out its own strong points. One of the strong points of this guitar is great sustain."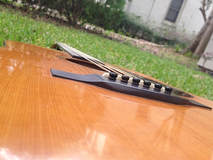 Having heard some audio samples from Paul, I can attest to the fact that the guitar retains the warmth and depth one would expect from a Martin while remaining very well-defined.
Wrapping Up
A big "thank you" goes out to Paul for sharing the story of the 64 Martin Modified Baritone with us. If you are ever in the Houston area, you can catch Paul playing in the local Celtic music scene and in the Houston Balalaika Orchestra.
As always, I appreciate you taking the time to read this article. If you're curious about what a baritone is and why you need one, check out the 5 Reasons to Buy a Baritone Guitar. If you like reading about rare used baritone guitars, check out our article on the Tacoma Thunderhawk – a rare used gem of a baritone.