Danelectro introduced the world to the electric baritone in the 1950s. Over half a decade later, they have one of the most commercially successful electric baritones on the market in the Danelectro 56 Baritone. The 56 Baritone is a fun guitar with a unique tone. As is typical of Danelectro guitars, some sacrifices in quality are apparent. However, what the Danelectro 56 lacks in quality it more than makes up in personality.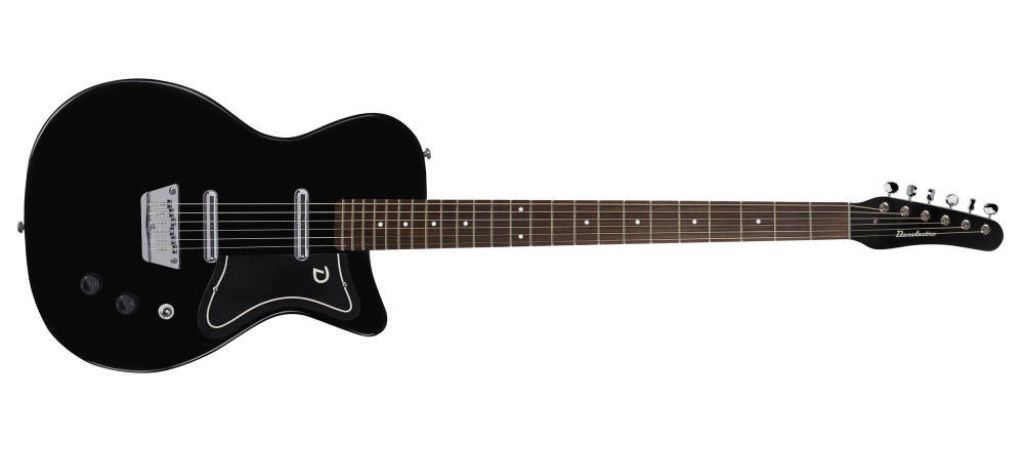 Current Price:
Check the current price of the Danelectro 56 Baritone Electric Guitar below.
Current Price: Guitar Center
Build Quality: 2.5 out of 5
When you pick up the 56 Baritone, the first thing you notice is the feel of the body. It is light and feels semi-hollow (which it is). With the exception of the black metal flake finish (a Guitar Center exclusive option), the guitar offers few aesthetic thrills. The hardware on the guitar looks and feels cheap – like something you would find on a Squire or low-end Epiphone. 
The quality issues also extend to electronics. Both the volume and tone nobs are not very responsive, with most of the twisting of knobs offering little impact on tone. Players who use the volume or tone nobs as an essential part of their sound crafting system may want to look elsewhere.
Finally, some have reported that the 56 Baritone's lower strings will occasionally pop out of their saddles when the guitar is played with too much vigor.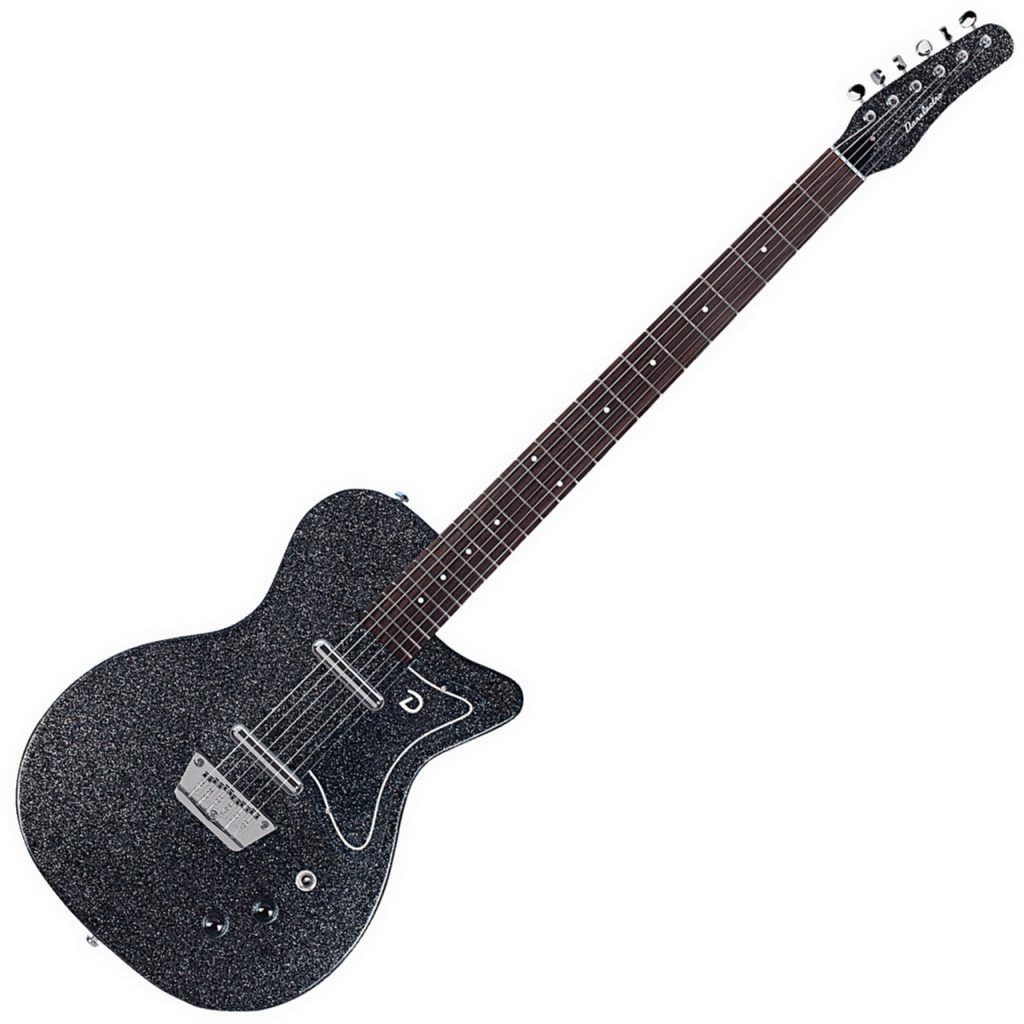 Ease of Play: 3.5 out of 5
Despite its quality of build issues, the Danelectro 56 Baritone is a very comfortable instrument. The neck thickness is reasonable, with a shape that feels reminiscent of a Fender (though, slightly wider and thicker). Your fingers will notice the longer, 29.75-inch scale, but the action is decent.
Though comfortable, the 56 Baritone is not a shred machine. Wild bends are pretty much a non-option. Moreover, as noted above, playing with wild abandon may not be a good option due to the risk of popping a string out of its saddle.
Tone: 4 out of 5
If you have ever played one of Danelectro's guitars (one built since the mid 90's brand revitalization) then the Danelectro 56 Baritone's tone will be familiar – it's the standard Danelectro tone, but lower and darker.
Played clean, the 56 Baritone has a classic-sounding "pop" to its tone which conjures up a bygone era of two-tone family cars and surf rock. Some have also described the Danelectro tone as having an earthy snap or spank. This is especially true with the three-way selector in the middle (both pickups) or the bridge pickup position. 
Thankfully, the 56 Baritone's tone is dark enough and warm enough to keep such tonal characteristics from being overpowering or annoying. However, even when subdued, those vintage vibes are always just below the surface.
Lest you think the 56 Baritone is a one-trick pony, it should be said this extended-scale electric also shines when you pull back on the attack, switch to the neck pickup and fingerpick your way through your favorite progression. Finally, the 56 Baritone also sounds downright inviting with a little bit of creamy distortion and some noodling or roots-rock chord work.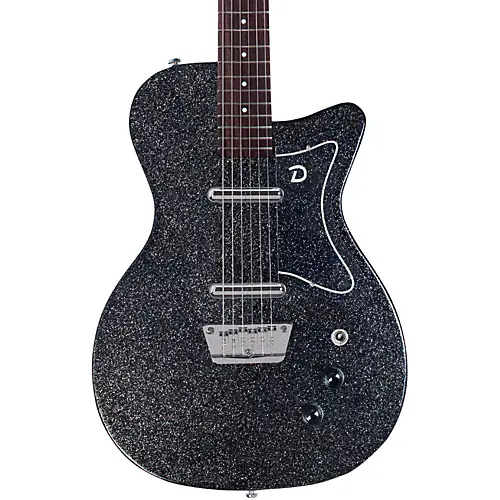 Overall: 3.5 out of 5
If you can settle for some quirks and lapses in the quality of build, you'll find the Danelectro 56 Baritone has a fun retro look and a useful pallet of tones. Though not the most versatile electric baritone on the market, those seeking sounds ranging from surf music to Elvis Costello-inspired retro prop and creamy roots rock will find the Danelectro 56 Baritone to be a great option. 
Perfect choice if…
You are in the market for a first electric baritone and can live with a few quality of build issues.
You are after a deep retro tone for your country, surf, spaghetti western, or Elvis Costello-inspired musical explorations.
Keep looking if…
You are in the market for an electric baritone to become your main instrument.
You play metal and need a guitar that can hang with your high-octane playing style.
Key Features & Specs
Current Price: Guitar Center
Body: wood composite, semi-hollow
Finish: black metal flake (Guitar Center only), other retailers, black
Neck: maple
Bridge: metal, adjustable individual saddles
Fingerboard: Rosewood
Tuners: closed, metal
Scale (inches) 29.75
Number of frets 24 (neck/body joint at 21)
Factory Tuning Setup: B-E-A-D-F#-B
Electronics

Two Danelectro lipstick single coils
3-way pickup selector
Tone nob and volume nob