There is a special joy to finding a unique guitar. When you stumble across that rare find in a small music store or random pawnshop, you can feel like you just stumbled across a piece of buried treasure. When that guitar also sounds good and plays well, the experience can leave you saying 'wow' as you contemplate ways to justify bringing home another guitar.
The folks over at Fender's Squier line of guitars have issued a baritone that feels like one of those 'Wow, I wasn't expecting this!' finds.  Best of all, you don't have to hunt through random stores and pawnshops to find this gem. The Squier Paranormal Series Baritone Carbota Telecaster is a truly unique option among today's baritone guitars. It features a truckload of tones, a mouthful of a name, and a price that won't exactly break the budget. But is it the right baritone electric for you?  Read on to see three reasons why you should check out this unique baritone.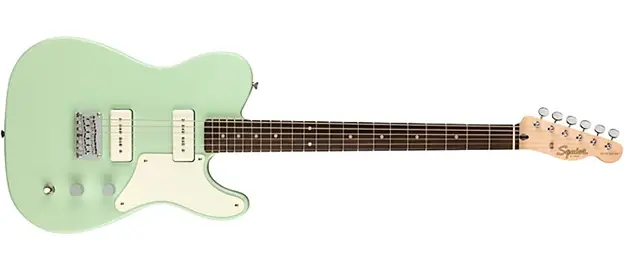 What's in a (Really Long) Name?
Before we talk through this guitar's unique appeal, let's talk about that name. Squier Paranormal Series Baritone Cabronita Telecaster – it's six words and nearly 50 characters long! So what's in the name? Well, first, the name Squier tells you that this guitar is a budget model from Fender's budget lineup. You can expect a few concessions on quality in favor of a lower sticker price. You may also need to do a bit of set-up work and adjusting after your purchase. Next, 'Paranormal' means that this guitar is part of the 2020 line of 6 guitars that call on past designs to create new out-of-this-world models.
Continuing on, the Spanish word 'Cabonita' can be loosely translated as 'little devil' or 'little [insert profanity]'.  The label Cabonita was originally used by Fender Custom shop luthiers who wanted to create a Telecaster with a little more edge and swagger. As one Fender employee described it, the Cabonita was supposed to be like the cousin who shows up at the Telecaster family reunion and 'kind of disrupts everything'.  At first, Fender only made custom shop Cabronita Teles. Later, they offered a brief but popular production run of Cabonita Teles in 2012
So, there you have it, this baritone guitar is marketed as a budget-conscious, unique, little devil cousin of a Telecaster. And here's the thing – it lives up to that description. Before we get to that, here are the important specs for this unique guitar.
Key Features & Specs
Body
Body shape: Single Cutaway
Body type: Solid body
Body material: Solid wood, Poplar 
Neck
Neck shape: Slim C with 9.5 radius 
Neck wood: Maple
Joint: Bolt-on
Scale length: 27″
Neck finish: Gloss
Fingerboard
Indian Laurel
Number of frets: 22
Inlays: Abalone Dot
Electronics
Pick Ups: Proprietary Soap Bar Sing Coil
Control layout: Master volume, Master tone
Pickup switch: 3-way
Now that you have some background on the Squier Paranormal Series Baritone Cabronita Telecaster and understand its basic specs, let's talk about three reasons you need to check out this Baritone Tele.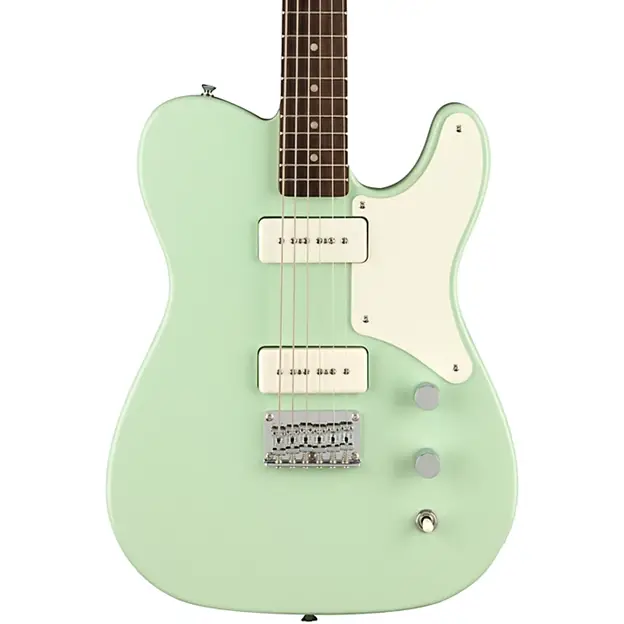 1. Quality Where it Counts. Compromise Where You Probably Won't Care.
At around $425, the Squier Cabronita Baritone can barely be considered a budget guitar. When I think of budget, I think of the price you would pay for a first guitar.  In my book, anything above $250 starts to feel like a stretch.
That being said, $425 is still cheaper than a lot of baritone guitars. Best of all, the Squier Cabronita Baritone doesn't feel cheap. Before I plug in an electric guitar for a review, I like to hold it, look it over, and see what my hands and eyes tell me about the build of the instrument. When I picked up the Squier Cabronita Baritone, the instrument had a solid feel to it. The neck feels smooth and clean. Zooming in for a closer look, the fret edges are clean and well rounded and the electronics and pickup mountings look and feel sturdy.
The model I played did have some minor blemishes on its seafoam green finish, but these were on the neck heal. The only thing that truly felt cheap were the tuning machine heads. It's hard to explain, but they felt like the same lower-quality tuners that you find on cheaper Squier 'bullet' Strats and Teles. Still, the model I played for this review stayed in tune just fine as I put it through its paces.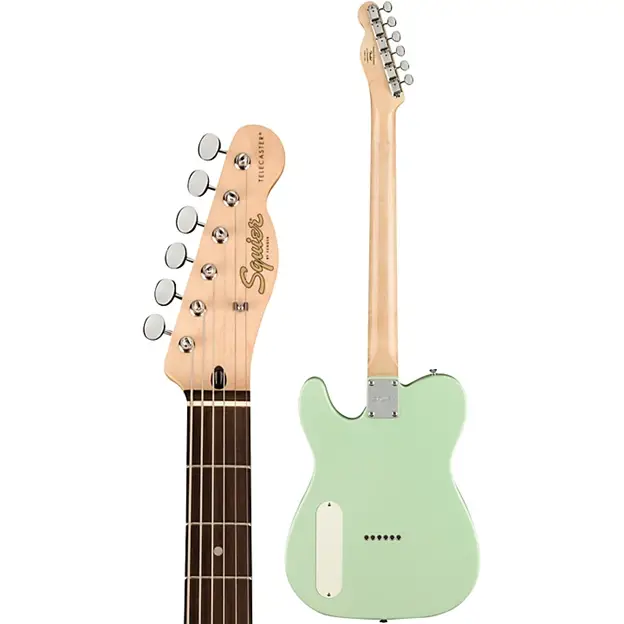 2. Comfortable Playability
The Squier Paranormal Series Baritone Cabronita Telecaster is a joy to play. Playing this guitar feels like stepping into your favorite pair of sneakers – it's familiar, functional, and comfortable all at the same time. Fans of Fender necks will find the 'slim C' profile and 9.5-inch radius to be a breeze for fretting chords and lead work. The Tele style body sits comfortably in the lap and, despite its extended 27-inch scale, it doesn't feel like you're holding a clunky bass.
Tuned in B standard (aka. 'B to B' or 'perfect 4th' tuning), the Cabronita can handle lead work on the upper register. I did my best Randy Rhoads impersonation by playing the solo from Crazy Train and the guitar felt great under my left hand. Despite the larger baritone strings, it handled the fret taping and bends very well. You won't need to fight against this baritone to play great lead lines.
Now, saying the Cabronita Baritone Tele handled a bad impersonation of an 80s guitar hero is not the same as saying the Cabronita Baritone Tele is built for shredding. If you're looking for the best possible shredding baritone, go hunting for a used Ibanez Iron Label RG Baritone. The Cabronita is a good, comfortable, and very playable baritone – especially for fans of Fender necks, but it is not the ultimate baritone shred machine.  
The only real knocks on the Cabronita's high marks for playability come from 1) its neck finish and 2) its reduced playability in A standard (aka. 'A to A' or 'perfect 5th' tuning). Concerning the neck, I personally feel that tung oil is the best option for guitar neck finishes – that might just be a matter of preference. Concerning A standard tuning, when I tuned the Cabrontita Baritone down another whole step, I started to get fret buzz in the upper register. This could have been mitigated with some setup work, but if you want to play lead lines in A standard, you may want to also check out the Squire Jazzmaster Baritone or the Ibanez Iron Label RG Baritone.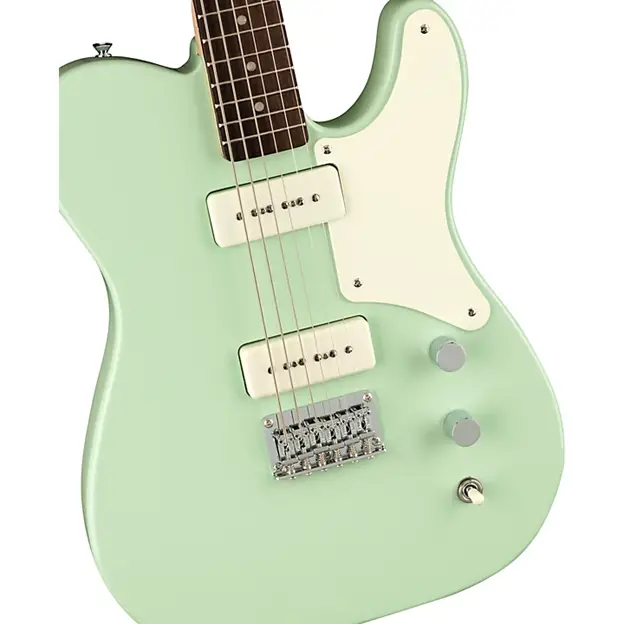 3. Exceptional Tone
The Squier Paranormal Series Baritone Cabronita Telecaster excels in the tone department. Before we talk about what this guitar's tone is, let's talk about what it's not. The Cabronita Baritone Tele is not a Telecaster when it comes to tone. You won't get the bright distorted sounds or pop and twang on cleaner tones that many folks associate with a Telecaster. Why does this baritone Tele not sound like a Telecaster? The answer is largely in the pickups.
The Cabronita Baritone Tele uses Fender Soapbar pickups. At first glance, you might think 'OK, this will sound like a Gibson P-90'. But the Soapbars deliver a sound that feels more like a hybrid between a Gretsch humbucker and a Stratocaster single coil. You could think of it as a meaty single-coil pickup.
Clean Tones
For this review, I first played the Cabronita Baritone Tele through a Fender Reverb Twin and then through a 30-watt Mesa Boogie combo. Running the bridge pickup through the Fender Twin, the Cabronita Baritone Tele produced balanced clean tones with just a little bit of stringy jangle. After adding the tiniest hint of overdrive, I found myself imagining the late great Tom Petty loving the clean sounds from this baritone.
As good as the bridge pickup was, clean tones really shined through the neck pickup. With a flick of the pickup selector, the Cabronita Baritone Tele delivered clean notes that were bell-like and smooth, but never overly dark. The evocative neck pickup clean tones invite songwriting and soulful leads. The same clean tones also sound great with a splash of delay and a tiny hint of overdrive.
Distorted/Overdrive Tones
I used a small Mesa Boogie combo to test out the Cabronita Baritone's higher gain sounds. Again, to get a feel for the tone, imagine a humbucker-equipped Gretsch and a single coil Strat got married and had a kid. The bridge pickup produced a balanced and smooth distortion tone with a wonderful gritty edge. With a distorted baritone, sometimes you can worry that your sound will get lost in the mix of a traditional four-piece rock band. Thankfully, the bridge pickup on the Cabronita Baritone remained clear and articulate, even as I cranked up the gain past seven.
Switching to the bridge pickup, I found myself dialling in a tone somewhere between 'Rock this Town' by the Stray Cats and 'Texas Flood' by Stevie Ray Vaughan. Lead lines and single notes open up nicely and have a nice earthy warmth with the gain at mid-level.
All things considered, there wasn't a sound that I didn't like on high-gain settings, regardless of the pickup choice. I did find myself leaning toward the sound of the neck pickup, but unlike some budget baritone guitars, I never felt like a certain tone or amp setting was off-limits.
Clean or distorted, the Baritone Cabronita Telecaster is a versatile and practical tone machine. To help you get a feel for the Cabronita Baritone's sound, check out this video:
Conclusion
The Squier Paranormal Series Baritone Cabronita Telecaster is a great-sounding, easy-playing, versatile electric baritone at a great price. You could save a little money and find a Danelectro Baritone, but you will sacrifice on quality of build, tone, and versatility. If you can stretch your budget closer to $700 or $1000 bucks, the Ibanez RGIB6 and the Reverend HC represent great upscale options.
You could also look for a Squier Vintage Modified Baritone Jazzmaster. However, you won't regret picking a Squier Paranormal Series Baritone Cabronita Telecaster.  This electric baritone is a budget-conscious, unique, little devil cousin of a telecaster that sounds great. Whether you're going to use it as your main guitar or your secret sonic weapon, you cannot go wrong with the Cabronita Baritone Telecaster.