The Eastwood Sidejack Baritone DLX's unique body profile is based on mid-century Morsite brand guitars. Morsite guitars were popularized by the Ventures and other 1960s rock outfits. While flaunting vintage looks, the Sidejack is promoted as offering modern tone and playability. Does the Eastwood Sidejack Baritone DLX live up to its manufacturer's claims? Is the Sidejack the right electric baritone for you? Read our full review to find out.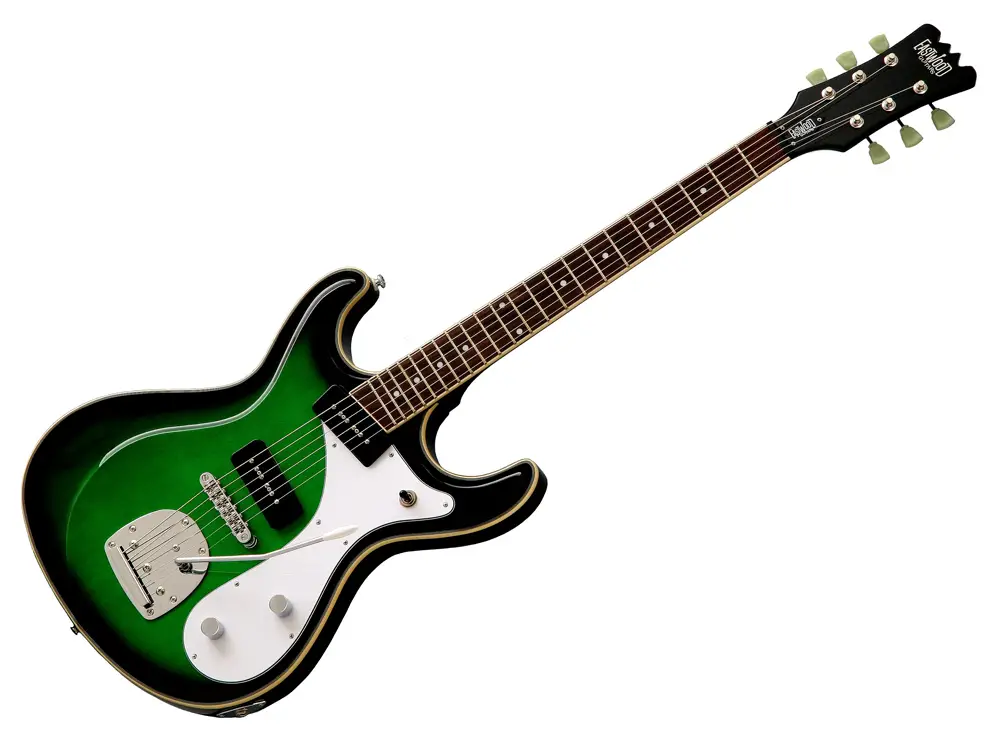 Current Price:
Check the current price of the Eastwood Sidejack Baritone DLX below:
Current Price: Eastwood
Build Quality: 3.5 out of 5
Thanks to its basswood body, the Sidejack DLX is light on the shoulder. Aesthetically, the black finish on our test model was without flaw. The binding and gold hardware give the Sidejack a retro swanky appeal – like the guitar could have walked out of a Sean Connery Bond flick.
The Sidejack gets its less-than-perfect mark for a simple reason: fret buzz. Our test model featured some sting buzz in the upper register, starting around the 13th fret. After some research, I found that other players were experiencing similar issues. This seems to have started in 2015 when production of the Eastwood Sidejack was moved from South Korea to China. Thus, you might want to consider picking up a used Eastwood Sidejack if there's one available.

Ease of Play: 4 out of 5
The Eastwood Sidejack DLX sports a 28″ scale neck, which is about three inches longer than a Standard Stratocaster. The neck sports a 12-inch radius and a flat profile, a shape and feel that puts it somewhere between a Fender Stratocaster neck and an Ibanez Wizard neck.
​If the Sidejack DLX is your first baritone experience, you will probably find that your fret hand has some adjusting to do as you navigate the extended scale. This adjustment is to be expected – it's a natural issue about which I like to warn all first-time baritone buyers.
Experienced baritone players will probably consider the Sidejack DLX a breeze to play – especially those comfortable with wide/thin profile necks. This is one baritone that invites fancy fretwork. During my test of the Sidejack DLX, I found myself plowing into a baritone rendition of Crazy Train. To my delight, aside from some fret buzz issues, I didn't need to fight or work against the neck to nail my Randy Rhoads impersonation.
The Sidejack DLX loses a point in the playability category for two reasons: fret access and fret noise.  First, I find the reverse strat shape to be an aesthetic adaptation at the expense of fret access. Though you might be asking "Hey, who needs the 22nd fret on a baritone?" I am surprised the folks at Eastwood didn't ask themselves, "Hey, why not adjust these cutaways so you can play all those frets we slapped on the darn thing?"
Concerning fret noise, the Sidejack DLX's string buzz was enough to impact my playing and make me question the setup and fretwork of the folks at Eastwood Guitars (or, their contracted manufacturers). As I played above the 13th fret, I found that some chord shapes caused buzzing on one or two specific spots and that bends were problematic in a few spots on a few of the lower strings.
While this buzzing is problematic, it need not be a show stopper with a price point under $500. It may also be possible to mitigate some of the fret noise through a careful setup job.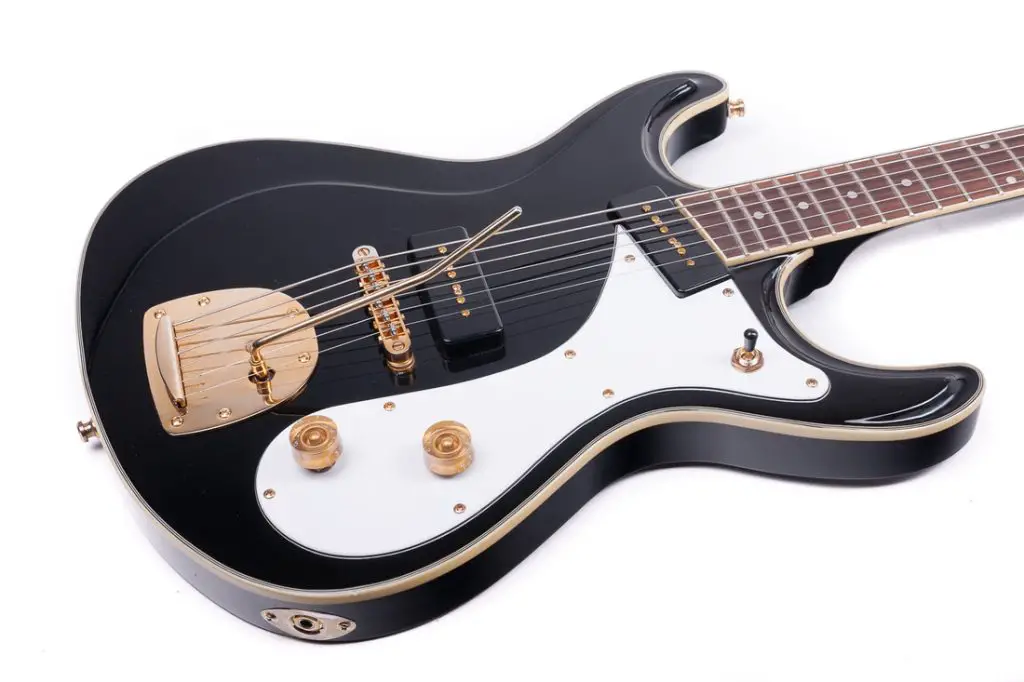 Tone: 4.5 out of 5
If you mixed the tone of a 1970s P-90 equipped Les Paul (vintage grit and warmth) with a splash of a high-end Ibanez (high output, tight and balanced), you'd have the Sidejack DLX.
Played through a Mesa Boogie combo amp, the Sidejack DLX can dish out high-gain tones that range from creamy and idyllic to a gritty "Are You Gonna Be My Girl" style nu-retro tone.
On lower gain settings, the Sidejack's voice is warm and balanced, with the most dynamic tones available with both the neck and bridge pickups selected. The clean tones beg you to play a sparkling fingerpicked number or even your favorite jazz tune. With just a hint of distortion left in the channel, it's easy to dial in a tone similar to Bob Marley's solo on "No Woman No Cry"
All of these tonal possibilities are truly astounding when you consider that the Eastwood Sidejack DLX Baritone is very affordable.
Overall: 4 out of 5
Is the Eastwood Sidejack DLX the electric baritone for you? The answer might come down to three questions:
1) Do you want your baritone axe to stand out visually?
2) Do you prefer higher output pickups but still want some versatility?
3) Is your budget under $600?
If you answered yes to all three questions, the Eastwood Sidejack DLX Baritone might be the baritone electric for you. Sure, you may have to put up with some fret noise (a risk you may be able to mitigate by acquiring a used, pre-2015 model). However, even with a little buzzing, this axe offers great tone and an awesome vibe for less than half a grand and should definitely be on the shortlist of every budget-minded musician looking for a baritone electric.
If you prefer a more modern rock/shred feel, check out our review of the Ibanez Iron Label Baritone. Or, if you want to check out another affordable baritone with a retro vibe, see our review of the Squire Vintage Modified Baritone Jazzmaster.
Perfect choice if…
You are on a budget but desire modern playability and tone.
Keep looking if…
Key Features & Specs
Current Price: Eastwood
Body: Basswood
Finish: Metallic Blue, Black, Greenburst
Neck: Maple, Set Neck
Bridge: PRO Adjustable Roller Bridge, Fender style tremolo
Fingerboard: Rosewood, 12″ Radius
Scale: 28″
Number of Frets: 22 medium jumbo
Factory Tuning Setup: B-E-A-D-F#-B
Electronics

Eastwood Vintage EW P-90s
3-way pickup selector
Tone and volume controls

Case: Eastwood 602 Hardshell Case, sold separately.