If you've been playing baritone guitar for more than a few months, I'm sure you've discovered that strings have a huge impact on tone. When it comes to acoustic baritone guitars, this impact is even more pronounced. String materials change the tonal quality of the instrument – the strings you choose can add brightness or warmth, and affect finger and fretboard noise. Moreover, old grimy strings can make a $1,000 guitar sound like a $100 starter instrument!
As baritone strings generally cost more than standard guitar strings, we thought it would be helpful to put together a profile of our 3 best baritone acoustic guitar strings, to save you from having to buy and test every brand under the sun!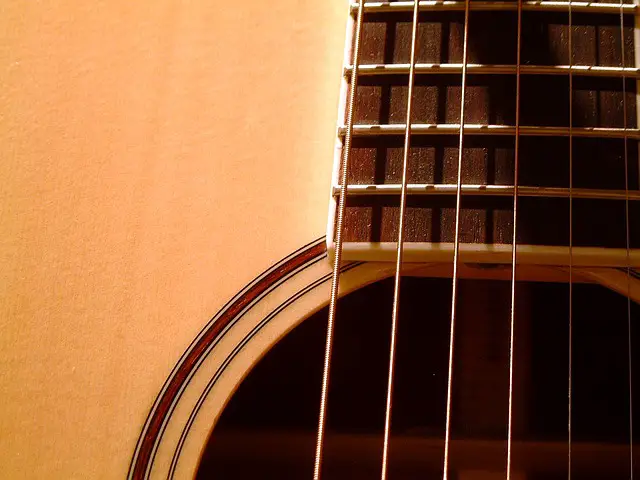 Our Top 3 Best Acoustic Baritone Strings
Gauges: 16-22-30-47-59-70
Tone: Less bright than would be expected for bronze guitar strings, Elixir's acoustic baritone set offers a balanced tone that is less lively than our 2nd and 1st place options from Martin and D'Addario.
Feel and Durability: Bronze strings will typically show signs of corrosion and discoloration earlier than phosphorous bronze strings. However, Elixir's coating (which is the most pronounced of any of our top three options) may mitigate any durability concerns. The noticeable presence of string coating changes the feel of the string (and likely also contributes to the less lively tone), creating a silkier experience for your fret hand. Fans of Elixir strings may find the feel of this baritone string set familiar and prefer it to our first and second-place options.
Gauges: 14-20-30-42-54-70
Tone: Bright and earthy, Martin's phosphorus bronze baritone string offering will enhance the tone of your acoustic baritone by adding color and pop.
Feel and Durability: Martin's "Lifespan" strings are "treated" (an industry euphemism for lightly coated) to enhance durability. The coating isn't noticeable while playing. On a note of personal preference, I find the gauge of this Martin set to be peculiar. I prefer the feel of the beefier high strings offered by the D'Addario (see our top pick). Tonally, I feel that larger high B and F# (when tuned to B standard) strings add a little girth and growl to the higher side of your baritone acoustic. Of course, this may be a matter of preference. If you prefer lighter strings under your fingers, this set from Martin may be perfect for you. 
Current Price: Amazon, Guitar Center
Gauges: 16-22-29-48-60-70
Tone: The brightness typical of phosphorous bronze strings is slightly subdued by the string coating. The result is a tone that is bright and pops but doesn't add too much tenor to your baritone acoustic. The tonal palette of these strings is well-matched to most baritone guitars, which can suffer from a lack of brightness due to their lower register and extended scale length. As alluded to above, the thicker gauge of this set's high strings also enhances the brightness and clarity of your baritone's lighter side.
Feel and Durability: D'Addario's light coating is barely noticeable while playing. This minimalist coating creates a best-of-both-worlds situation for the player, adding durability and longevity to the string with minimal impact on feel and tone.
Conclusion
The D'Addario XT Acoustic Phosphor Bronze, Medium, Baritone, 16-70 string set is a great option at a decent price. The tonal flavor of these strings will brighten up your baritone, adding sparkle and natural-sounding tones to your instrument. While D'Addario's is our top pick, you also can't go wrong with a set of Martin MSP7700 Lifespan Phosphorous Bronze Baritone strings or a set of Elixir Acoustic Baritone Guitar Nanoweb Strings, Bronze.  Fans of Elixir strings may prefer the feel of the Nanoweb set.  Fans of smaller gauge strings may want to check out the offering from Martin.
We hope you enjoyed this guide to acoustic baritone guitar strings. If you're searching for electric baritone guitar stings, please check out Baritone Guitar Strings – Ultimate Guide to Buying Baritone Strings.
And if you're thinking of buying a new baritone guitar, check out our acoustic baritone reviews and electric baritone reviews!