Ibanez introduced the RG series in 1987. The RG has since become arguably the brand's most recognizable line, known for simplicity, speed, and durability. The Ibanez RGIB6 Baritone is part of the "iron label" collection of RG guitars, a sub-species touted as being optimized for metal players.
Ibanez bills the RGIB6 as the ultimate baritone electric for metal and rock enthusiasts and as a top-notch working musician's instrument. Does the RGIB6 live up to its manufacturer's claims? Is it the electric baritone for you?  We've got five reasons that the answer to both questions should be yes.
Oh, and reason five contains one of the boldest claims we've ever placed in an electric baritone review.

1. Solid quality on a working musician's budget
The RG Iron Label Baritone punches above its price category when it comes to design and quality of build. You can expect your RGIB6 to feature solid fretwork, without rough edges or stray spots of adhesive, and a great finish without blemish. Like all of its Ibanez RG cousins, the RGIB6 is a balanced and comfortable guitar.
This baritone is not cheap, but it's also not out of financial reach for most working musicians who are serious about their craft. Thanks to the clean design and solid build we've come to expect from the RG series, the Iron Label RGIB6 seems to have hit the mark in the "quality you can afford" category.
2. The Ibanez RGIB6 has all the features you need (unless you need a flashy design)
Now, if you find yourself attracted to flashier guitars, this Ibanez baritone may not be your cup of tea. It is the opposite of a BC Rich Warlock or anything with a Flying V or Explorer body. The RGB6's almost mirror-black finish, right angles, and binding give it a simple-but-sharp suit and tie vibe.
Even the electronics are simple, perhaps even stripped down. The Iron label RGIB6 features a volume knob and a three-way selector. If the lack of a tone knob leaves you perplexed, try and recall the last time you needed to use the tone knob on any guitar.
All things considered, the build and design of the Ibanez Iron Label Baritone are high in quality and simplicity. No fret markers, no tone knob, no wacky design quirks. The Ibanez RGIB6 Baritone is truly a working musician's axe that delivers on functionality.
For those of you who like bullet points, we've listed all the features the folks at Ibanez have packed into the Iron Label Baritone at the bottom of this article.
3. Kill switch
There is one exception to the Iron Label Baritone's ethic of simplicity – the kill switch. The kill switch is a simple toggle switch that shuts on and off the guitar's output. It's a fun and useful effect employed by folks as diverse as Tom Buck of REM and Tom Morello of Rage Against the Machine. Searching for "kill switch guitar" on YouTube will give you numerous examples of the effect in action.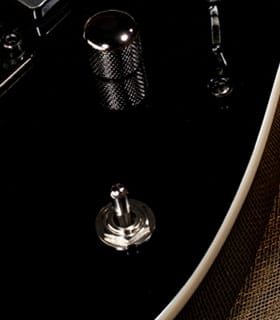 The effect is as distinctive as it is addictive – so have fun but don't overuse it. Thankfully, the folks at Ibanez have placed the kill switch out of the way on the lower bout of the guitar, so unless you are doing a crappy Pete Townsend windmill impression, you shouldn't worry about accidentally hitting the switch.  On a less thankful note, it's a toggle switch. In our opinion, old-school buttons generally work better for kill switches, because they offer a more quick-firing action.
4. Idyllic metal and creamy rock tones
The Ibanez RGIB6 Baritone delivers crisp, high-output lead tones through its EMG 81 bridge position ceramic humbucker. The combination of the EMG 81 with the guitar's basswood body and scale length makes for a guitar whose output has a strong attack and a balanced response, with notes remaining defined even in high-output situations – it's the perfect tonal weapon for your hardest-hitting rock numbers.
Things get interesting when the neck position pickup is engaged. Many purveyors of rock-oriented guitars have opted for two EMG 81 pickups – doubling down on the high output, modern sound. With the Iron Label baritone, Ibanez has opted for an EMG 60 ceramic humbucker in the neck. The EMG 60 offers slightly more subdued tones, more akin to a higher output Les Paul. In this way, the RGIB6 offers more versatile tones than similar guitars equipped with a pair of EMG 81s.
5. It's the most shred-ready baritone on the market
Now, anytime you say that a given guitar is the "most [insert any desired quality] on the market," someone somewhere is bound to have a contrary opinion. However, I am going to crown the Ibanez Iron Label RGIB6 as the most shred-ready baritone on the market for the following reasons:
The Ibanez Nitro Wizard Baritone neck is the best articulation of a modern thin neck design we've seen on an extended-scale electric. If you like modern thin/flat radius necks, this is the baritone for you.
The RGIB6 features an oil-finished neck, which is the optimal finish for fast and nuanced play. If you have heretofore only played finished necks with layers of friction-inducing paint and lacquer slowing down your fret hand, you owe it to yourself to pick up an oil-finished neck like the one offered on the RGIB6. You will feel the difference instantly.
The smooth heel joint on the RGIB6 offers playable access to the 24th fret.
All these features, combined with the guitar's balance and solid feel, combine to create a baritone electric that seems built for solos, sweep picking, and raging speed metal – all on .014 to .064 gauge strings tuned a full fifth lower than a standard guitar.

Conclusion
The Ibanez Iron Label RGIB6 Baritone might offer too modern a feel for some players. A few might also find its no-nonsense design to be too understated. If you feel this Ibanez baritone might not be for you, check out our review of the Reverend Descent Baritone.
However, if you are shopping for a highly playable and road-ready baritone electric, the RGIB6 belongs on your list. 
You should consider the Ibanez RGIB6 if you are…
Interested in a baritone that can put in significant reps as a primary instrument.
Looking for a baritone whose voice is optimized for harder-hitting rock and metal sounds.
Shopping for a guitar that will let your rhythm tone shake the floor while also enabling your fingers to fly through solos.
Key Features & Specs
Neck type: Nitro Baritone 3pc Maple/Bubinga neck
Scale: 712mm/28″
Radius: 400mm/15.74
Body: Basswood
Fretboard: Bound Rosewood
Frets: Jumbo
Bridge: "Gibraltar" fixed
Neck pickup: EMG® 60 (H) (Active/Ceramic)
Bridge pickup: EMG® 81 (H) (Active/Ceramic)
Factory tuning 1B, 2F#, 3D, 4A, 5E, 6B
String gauge: 014/.018/.026/.044/.056/.068
Hardware: Cosmo black
Electronics:

Volume
Three-way pickup selector
Kill switch