The Ovation Elite TX D-Scale blends striking good looks with exceptional playability and amazing electronics into a truly unique entry into the extended range world.
It should be noted that, as set up "out of the box," the Elite TX D-Scale is tuned one step down (D-G-C-F-A-D) from standard tuning, whereas most baritones come tuned a fourth lower (B-E-A-D-F#-B). However, with a set of higher gauge strings, the Elite TX D-Scale could accommodate a lower tuning. Moreover, as we will discuss later, there are some sonic advantages to occupying the middle space between a baritone and a standard guitar.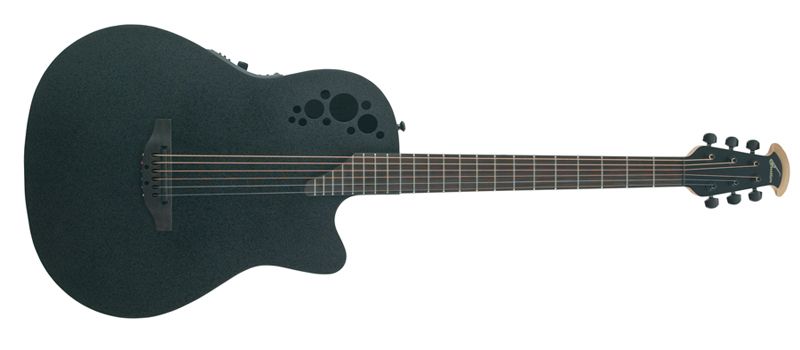 Current Price:
Check the current price of the Ovation Elite TX D-Scale Baritone Guitar below:
Current Price: Amazon
Build Quality: 4.5 out of 5
The Ovation Elite TX D-Scale is an excellent example of quality craftsmanship in a simple-but-pleasing design. Its textured black finish is without visible flaws. The construction feels solid. All elements, from tuning pegs to strap pins, give off the vibe of clean and solid production work.
The clean and solid theme is nowhere more pronounced than the Elite TX D-Scale's neck. There are no signs of sloppy glue work or unfinished fret edges. The entire length of the neck is inviting, resulting in an instrument that welcomes creative chord work and upper-register antics.
Like all ovation guitars, the Elite TX D-Scale's bridge does not have string pins. This delightful omission comes courtesy of Ovation's novel string-through bridge design.
Ease of Play: 3.5 out of 5
Out of the box, the Ovation Elite TX D-Scale came wonderfully set up. The action was great with no fret buzz to be found – not an easy feat for an extended-scale acoustic.
Compared to most of its baritone cousins, the Elite TX D-Scale is easy on the fretting hand. While one might notice the longer scale length (especially on lower frets), most guitarists will find that the Elite TX D-Scale requires minimal adjustment to the left-hand technique. This is in part thanks to the fact that typical medium gauge strings come standard.
As eluded to in the previous section, the Elite TX D-Scale maintains its ease of play all the way up the neck. For this reason, the body cutaway is not just for looks – it's for accessibility to a highly playable upper register
Two features kept the Elite TX D-Scale from earning 5 out of 5 in the ease of play category: the rounded back and the offset sound hole. Ovation has often marketed its roundback design as "forward thinking" or "advanced." However, I personally find it uncomfortable. Played standing or sitting, the guitar has a tendency to shift in position.
Concerning the offset sound hole, some players may be in for a surprise when they find that their playing style has grown accustomed to having a hole directly below the strings. If you use finger picks (those little picks that attach to each finger) or an aggressive style with a standard pick, you may find that your plectrum scrapes against the textured spruce stop – resulting in a scraping noise that will be caught by the piezo pickups. 
For these reasons, try one of Ovation's roundback guitars in both a sitting and standing position and with and without a pick before you order the Elite TX D-Scale.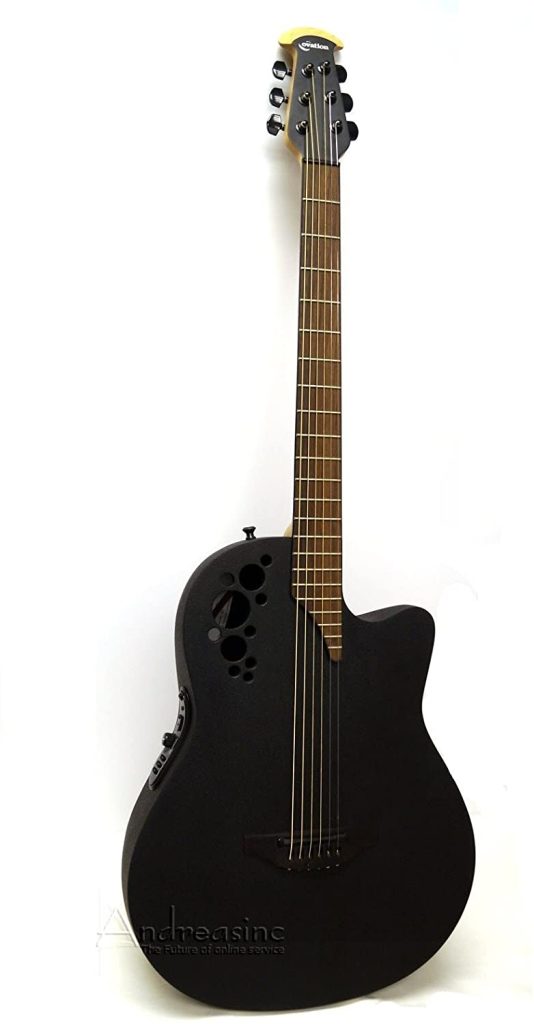 Tone: 4 out of 5
The second drawback of the roundback design is the sacrifice of the unplugged tone.  Unplugged, most roundback guitars simply sound thinner and less dynamic. The Ovation Elite TX D-Scale is no exception.
Fortunately, the Elite TX D-Scale features great electronics. Plugged in, its tone is clear and tight – with strings ringing out beautifully and distinctly. the Ovation OCP-1K in-saddle piezo crystal pickup is responsive with a balanced tonal pallet; neither highs nor lows overpower.  There's not a hint of the lifeless and thin sound often associated with cheap piezo pickups.
The Ovation OCP-1K preamp also provides lots of tonal control – perfect for situations in which the person behind your mixing board either doesn't know how or refuses to sculpt your guitar's sound.  Even on a cheap combo amp, dialling in an idyllic tone is simple.
Because the Elite TX D-Scale is not set up as a true baritone, you do sacrifice the low end. In musical situations in which a guitar tuned B to B might sound dramatic and enveloping, the Elite TX D-Scale ends up sounding interesting or novel.
However, the potential upside is that the Elite TX D-Scale wins high marks in the "plays well with others" category.
In some musical situations, replacing a standard guitar with a traditional baritone will result in a muddled soundscape. Thanks to its reduced low range and the fact that a capo on the second fret takes you to standard tuning, the Elite TX D-scale doesn't fall prey to this limitation. Thus, Ovation has positioned the instrument as a very versatile extended-range offering.    
Overall: 4 out of 5
The Ovation Elite TX D-Scale's versatility, fretboard playability, high-quality electronics, and solid construction make it an attractive option to add to any sonic arsenal – especially if you are comfortable substituting a low D for a low B. However, because of the potential impact of its offset soundhole as well as the acquired-taste nature of its roundback design, one should definitely dip their feet in the Ovation family pool via a few test drives of similar guitars before diving in and making a purchase.
Try out a few Ovations at a local dealer. Play them sitting, standing, with a pick, and with your fingers.  If you find that you can hang with the ovation design, then the Elite TX-D-Scale could be the perfect extended-range option for you.
Thanks for taking the time to read this article, we hope you found it valuable. And be sure to check our other acoustic baritone reviews!
Perfect choice if…
You value playability over tonal range.
You plan to use the guitar in a band situation in which a traditional baritone's range might result in a muddied tonal landscape.
You have tried (and enjoy) the feel of a guitar featuring a round-back and an offset sound hole.
Keep looking if…
You value the deeper range of traditional baritones.
Your playing style incorporates aggressive pick work.
You prefer traditional body styles over round backs and offset sound holes.
Key Features & Specs
Current Price: Amazon
Top Wood: AA Grade Solid Spruce
Back & Sides: Round Back Lyrachord
Finish: Black textured finish
Bracing: Scalloped X Bracing
Bridge: Rosewood
Fingerboard: Rosewood
Tuners Die-Cast
Overall Length (inches) 59
Body Width (inches) 19.6
Body Depth (inches) 6.8
Scale (inches) 28 1/3
Number of Frets 20
Nut width (inches): 1 and 11⁄16
Factory Tuning Setup: D-G-C-F-A-D
Factor String Gauge: 012-.053
Electronics

Preamp: Ovation OP-Pro
Pickup: Ovation OCP-1K (in-saddle piezo crystal)
3-band EQ
Chromatic tuner