Paul Reed Smith (PRS) Guitars unveiled the Tremonti Baritone in 2016. The folks at RPS reached out to us on the Tremonti's official release date and were gracious enough to provide us with the details on this new baritone guitar.
If you are in the market for a truly premium electric baritone experience or simply have an eye for fine guitars, you'll want to get your hands on the PRS Tremonti Baritone. Check out the official scoop provided by the PRS staff as well as our BaritoneGuitar.org take on the Tremonti Baritone.
From the Folks at PRS (Their Official Press Release):
PRS Guitars is pleased to continue its relationship with Mark Tremonti of Alter Bridge and Creed fame with the announcement of the Limited Edition Tremonti Baritone model. Based on Mark Tremonti's signature PRS model, this limited edition guitar features a longer 25.5" scale length that allows players to tune down but ditch the wound "G" so they have the freedom to play lead as well as rhythm.
Tremonti's signature pickups are a perfect fit with an aggressive, articulate tone and the "Pattern Thin" figured maple neck makes playing a breeze all the way up the neck. "This is one of my favorite guitars I've ever played. It's a dream come true for people who like to tune low and still be able to solo. I absolutely love it," said Mark Tremonti in a recent video interview.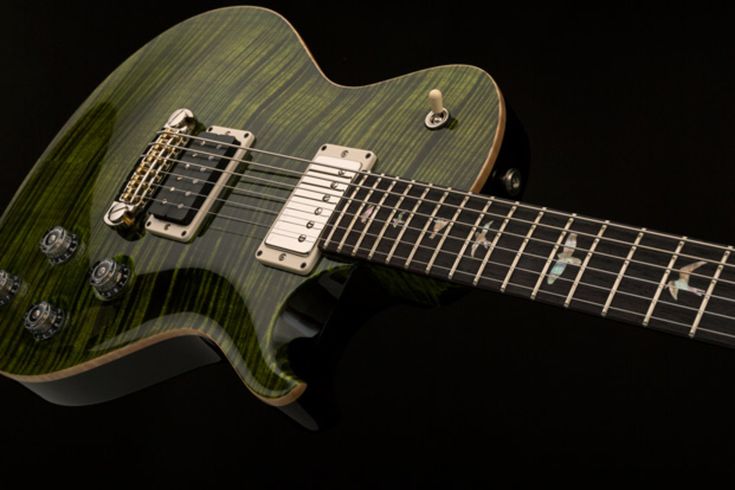 The Tremonti Baritone Limited Edition is offered in six colors and all feature stained figured maple necks. Finishes include Black Gold Wraparound Burst, Charcoal Contour Burst, Copperhead, Faded Whale Blue, Fire Red Burst, and Jade.
Guitars will ship tuned to C# [C#, F#, B, E, G#, C#). Additional specs include:
Artist Grade figured maple top
Mahogany back
22 fret, figured maple neck with East Indian Rosewood fingerboard, Green Abalone "Old School" Bird inlays
PRS Adjustable Stoptail bridge
PRS Tremonti signature treble and bass pickups with volume and tone control for each pickup and a 3-way toggle pickup selector on the upper bout
Our Thoughts on the PRS Tremonti Baritone.
After careful examination of the Tremonti Baritone's features, specs, and manufacturer info, a few interesting points stand out. Let's dive a little deeper into the PRS Tremonti Baritone below.
The Tremonti comes set up in C# standard tuning. While C# is nothing to turn up your nose at, it's also not the B Standard tuning many of us associate with baritone guitars. It will be interesting to see how the Tremonti holds up under B standard or even A standard tuning.
The Tremonti should be a joy to play. The guitar is set up for an unwound "G" (or, E, in the C# standard tuning). This will create a more natural feel. The PRS "Pattern Thin" neck shape and profile is a truly comfortable option for your fret hand.
Many players use an electric baritone as a special weapon, something deployed on stage or in the studio for specific songs. The Tremonti might carve out a noteworthy exception and become the go-to axe for players who can afford one. C# tuning may result in a more versatile instrument when compared with a typical baritone.
The PRS Tremonti Baritone's price may be prohibitive for many, but if you've got an eye for quality, this might be the baritone for you. As far as specs are concerned, it's certainly the most impressive hybrid baritone we've ever seen!
Conclusion
The PRS Tremonti Baritone looks to be an exceptionally high-quality instrument that may bring more to the table than your average baritone electric guitar. However, it's not cheap, so if you decide that the Tremonti is beyond your budget, please check out our full list of electric baritone guitar reviews.