Reverend Guitars promotes the Descent W Baritone as the instrument of choice for those who want "thunderous" baritone lows on an instrument that plays and feels almost like a normal guitar. Does the Descent W live up to the hype? Is it the baritone instrument for you? Check out our complete review to find out.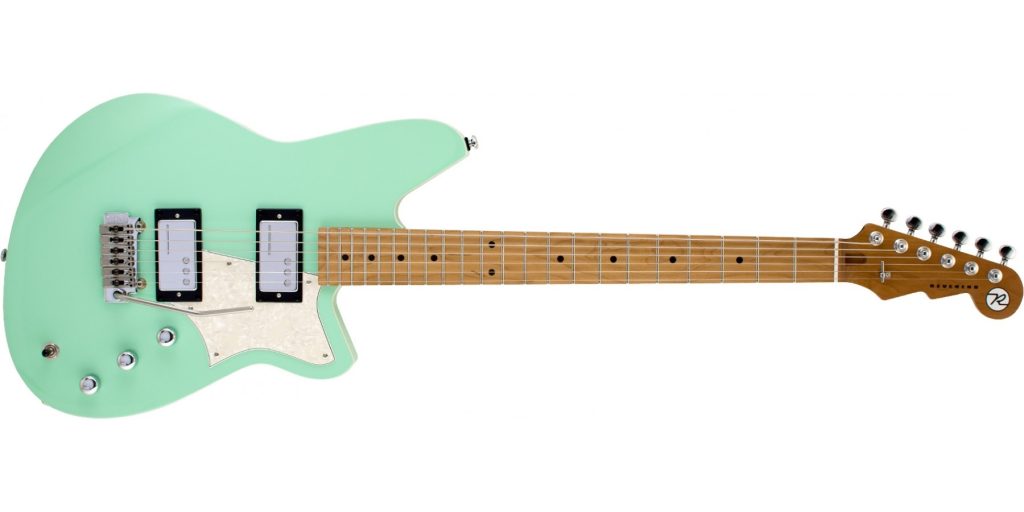 Current Price:
Check the current price of the Reverend Descent W Baritone Guitar below:
Build Quality: 5 out of 5
When you pick up the Reverend Descent W, the first thing you'll notice is the weight. The guitar feels light on your shoulder or in your hands thanks to the Korina (aka. White Limba) body.
Despite it being lightweight, the guitar feels solid. The neck and fretwork all give off the vibe that the folks at Reverend care about the details. The same is true of the Descent W's finish. The "oceanside green" finish on our test model was without flaw.
The Descent W has a few appointments that discerning players will appreciate, including a Wilkinson tremolo (a tune-o-matic with stop tail bridge model, the Reverend Descent RA, is also available), locking tuners, and a graphite nut – all of which promote tuning stability. The Descent W also features a satin-finished neck, which, in my opinion, is second only to tung oil as a neck finish option.
Like other Reverend guitars, the Descent W features a bass contour control. Twisting this nob is a bit like adjusting a low-end presence nob on an amp. While it might sound odd, the bass contour is truly useful. It can tighten up your sound or flood it, taking your tone from humbucker-esque to a P-90-ish sound or even to a high-output single coil feel.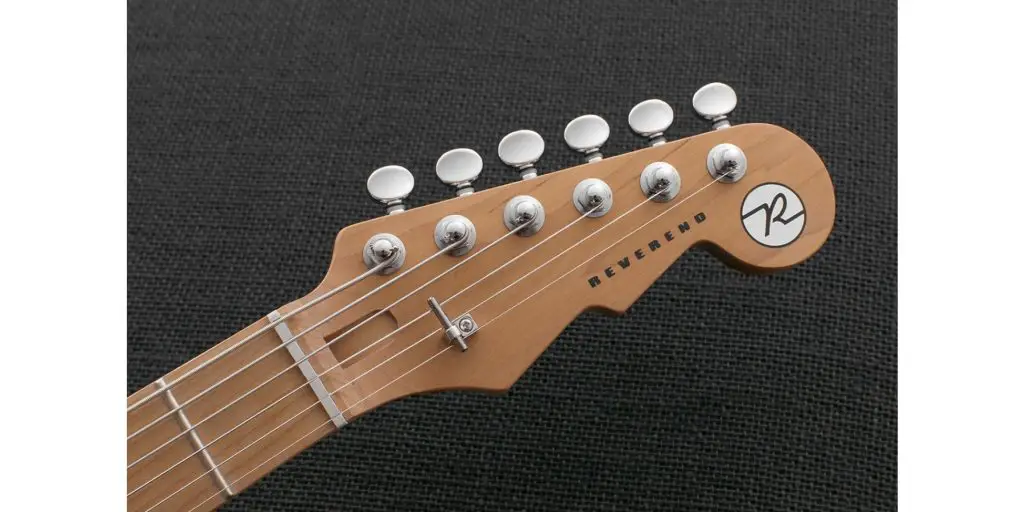 Ease of Play: 4.5 out of 5
The Reverend Descent W sports a 26 3/4″ scale neck, which is just over one inch longer than a Standard Stratocaster. The neck sports a 12-inch radius and a profile that is best described as medium oval, a shape and feel that approximates the experience of modern Fender necks.
​The Descent W's more traditional scale and neck profile combine to make it one of the most agreeable baritones you'll ever play. You'll love jamming on this guitar for the same reason you love your favorite pair of jeans – the feel is natural, inviting, and comfortable.
I would have given the Descent W a full 5 out of 5 in this category if it weren't for two factors: the instrument's neck joint and its loss of string tension at lower tunings.
Concerning the neck joint, the heel is a bit obtrusive when playing in the upper register. A sculpted heal would improve playability. If you're comfortable playing traditional bolt-on-neck models, this may not be an issue.
Concerning string tension, the Descent W becomes a bit buzzy when you experiment with alternative baritone tunings, such as A standard or dropped G. The tremolo also complicates tuning down further than standard B to B baritone tuning. Again, this may not be an issue for most players.
Tone: 5 out of 5
Plugged into a small Mesa combo and running through the clean channel, the Reverend Descent W delivers fat, well-defined, lively tones that feel like the love child of a modern P-90-equipped Les Paul and a humbucker-equipped Stratocaster.
With a little compression and just a touch of overdrive, I was able to dial in a sound that felt like Mark Knopfler on steroids. Overall, the Descent W's clean tones feel instantly usable – with minimal work, you can create a clear crisp tone that will be a boon to any studio or stage situation.
The Descent W also shined when I switched amp channels. Rolling back the bass contour, I was able to dial in a baritone "brown sound" that would have Eddie nodding in approval.
A little more adjusting and the Descent W had me thunderstruck, delivering P90-esque tones perfect for gritty no-nonsense ACDC-style rock. The Descent W's chameleon-like capabilities are possible because of the guitar's bass contour control and its unique RailHammer brand pickups, which I must admit I first wrote off as a gimmick. In truth, the RailHammer pickups offer up a tonal response that's between modern humbuckers and singles, while also delivering a balanced response.
Overall: 4.5 out of 5
Is the Reverend Descent W the electric baritone for you? The answer might come down to three questions:
1) Can you live without a Floyd Rose tremolo and easy access to 24 frets?
2) Do you prefer a classic neck feel over a wide/thin Ibanez-style neck?
3) Do you love dialling up idyllic tones with ease?
If you answered yes to all three questions, then the Reverend Descent W might be the electric baritone you've been waiting for. And remember, if you don't want a fixed bridge, you may want to check out the Reverend Descent RA instead.
If you prefer a more modern rock/shred feel, check out our review of the Ibanez Iron Label Baritone. And if the cost of the Reverend (or Ibanez) puts you off, check out our review of the Squire Vintage Modified Baritone Jazzmaster.
Perfect choice if…
You are in the market for a quality electric baritone capable of delivering classic tones.
Keep looking if…
You are hell-bent on hell-razing metal and shred
Key Features & Specs
Current Price: Guitar Center
Body: Korina
Finish: Rock Orange or Oceanside Green
Neck: Maple
Bridge: Wilkinson WVS50 Tremolo (tuneomatic with stop tail also available).
Fingerboard: Rosewood or maple, 12″ Radius
Tuners: Locking
Nut: Graphite
Scale (inches) 26.75
Number of Frets: 22 medium jumbo
Factory Tuning Setup: B-E-A-D-F#-B
Electronics

3-way pickup selector
Tone, volume, and bass contour controls

Case: Reverend Two-Tone Premium Standard Case, available separately.
About the Manufacturer
Currently based in Toledo, Ohio, Reverend Guitars started in 1997 out of an east-Detroit garage. All of their guitars are designed stateside, manufactured in South Korea, and set up by Revered Guitar staff back in Ohio before shipping to dealers.