The Taylor Special Edition 326ce Baritone Grand Symphony represents the gold standard in production-model baritone guitars. A treat for your ears, your fretting hand, and your eyes, the 326ce epitomizes the USA-made quality we've come to expect from a premium name like Taylor. If you're still undecided after you've read this review, be sure to check out our other acoustic baritone reviews!
Build Quality: 5 out of 5
The quality of luthier work on the 326ce Grand Symphony cannot be overstated. The guitar feels luxurious without being pretentious or giving off the vibe that it's somehow more of a museum piece than a musical instrument.
All of the 326ce Grand Symphony's appointments back up this 'luxury you can play' feeling. The satin finish is beautiful and without blemish. The ebony fretboard is flawless – even under close inspection, you won't find an unfinished fret or a drop of glue out of place.
The guitar is also remarkably ergonomic for a baritone. Its body is thinner than most baritone acoustics at about 4.5 inches. This has a noticeable impact on comfort, as some thicker guitars can leave you feeling like you have your arms wrapped around a 20-inch television from 1992. With the exception of its higher gauge strings, the 326ce Grand Symphony offers a level of comfort that one would expect from a standard acoustic.
Ease of Play: 5 out of 5
As alluded to above, the Taylor 326ce Baritone Grand Symphony is a very comfortable baritone – and the guitar's fretboard is no exception.  Fans of Taylor's standard guitars will find that this baritone offers a familiar feel thanks to its low action and 1 and 3/4-inch neck width (the same width as most standard Taylors). Indeed, the 326ce Grand Symphony boasted the best overall neck feel of any acoustic baritone we have reviewed at PickUpTheGuitar.com!
Another great ease of play feature is the 326ce Grand Symphony's ability to handle unorthodox baritone tunings without losing playability. Drop it down to A-D-G-C-E-A, and the guitar still plays well and sounds great.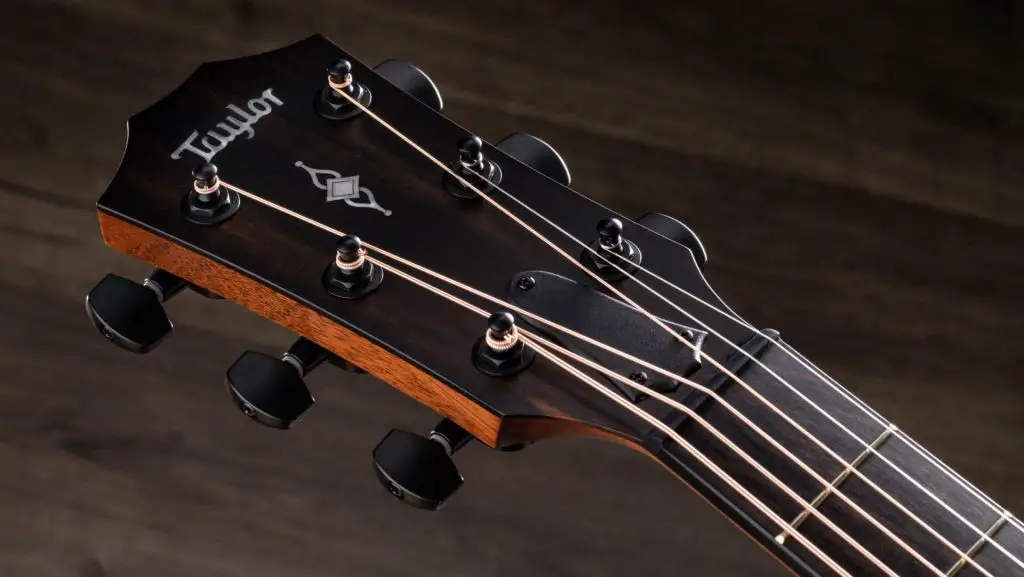 Tone: 4.5 out of 5
The Taylor 326ce Baritone Grand Symphony's tone is warm, with plenty of growl. It's as if the folks at Taylor took the soul of your favorite vintage Les Paul and combined it with the responsive tone of one of their acoustics.  The overall effect is similar to that of a great cup of coffee and a comfortable chair – you're at once awakened and enveloped by the musicality of the guitar's inviting voice.
Plugged in, the Taylor Expression 2 pickup and preamp deliver a great (but not exceptional) tone.  The central feature of the Expression 2 system is the adjusted location of the piezo pickup components. Taylor promotes the Expression 2 as an improvement on traditional piezo systems. 
In truth, the Expression 2 does a better job than most piezo pickups at reproducing authentic acoustic tone. At half the cost, I would be blown away by its performance. However, some of the liveliness of the unplugged tone is lost when amplified. At the 326ce Grand Symphony's price, I believe Taylor could do a little better.  
Offering this critique of the 326ce Grand Symphony's plugged-in tone is a bit like watching a mid-90s Michael Jordan NBA game and focusing on his missed shots. Jordan and the 326ce Grand Symphony are both exceptional, and failure to be perfect in every aspect of the game does not negate the quality of either the athlete or the guitar.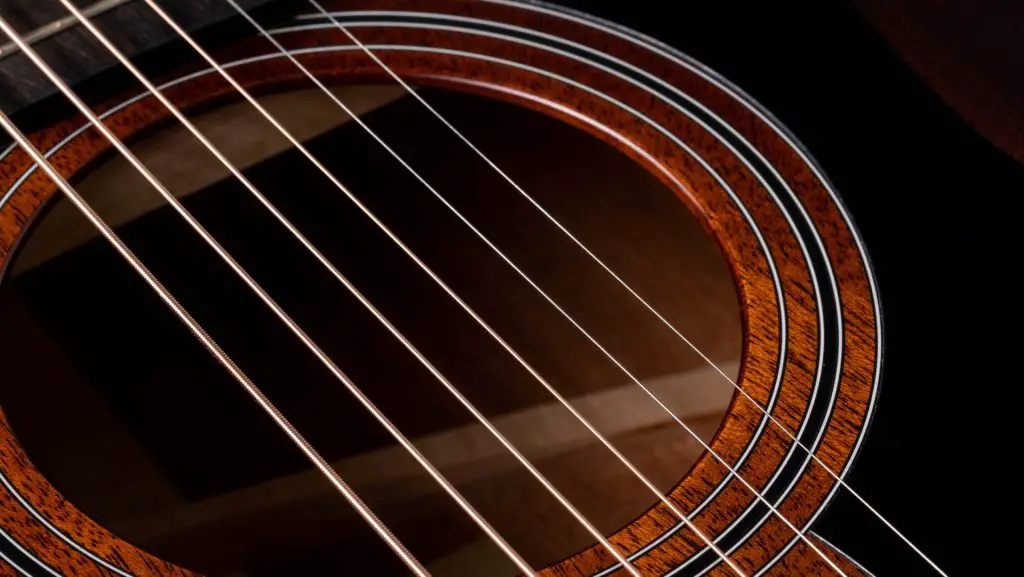 Overall: 5 out of 5
The Taylor 326ce Baritone Grand Symphony is an instrument of the highest quality.  You'll be hard-pressed to find a more playable or better-built acoustic baritone guitar, even when compared with boutique instruments. If you're a committed baritone player with discretionary cash on hand, pick up the Taylor 326ce Baritone Grand Symphony.
Perfect choice if…
You are ready for and are able to invest in a baritone of exceptional quality.
Keep looking if…
You can't afford the price tag.
You're not sure if the baritone will become a big part of your playing, songwriting and producing or not.
Key Features & Specs
Current Price: Guitar Center
Style: Grand Symphony with Soundport Cutaway
Top Wood: Tropical Mahogany
Back & Sides Wood: Tropical Mahogany
Finish: Satin
Bridge: Ebony
Fingerboard: Ebony
Nut & Saddle: Micarta/Tusq
Tuners Die Cast
Overall Length (mm)L 1065
Body Width (inches): 16 and 1/4
Body Depth (inches): 4 and 5/8
Scale (inches) 27
Number of frets 20 (neck/body joint at 14)
Nut Width (inches) 1.75
Factory Tuning Setup: B-E-A-D-F#-B
Electronics

Expression System 2 (piezo pickup)
2 Band EQ preamp
Thanks for taking the time to read this article, we hope you found it valuable. And be sure to check our other acoustic baritone reviews!